Pundit goes on crazed rant attacking trans health official he wants "chased out" of the state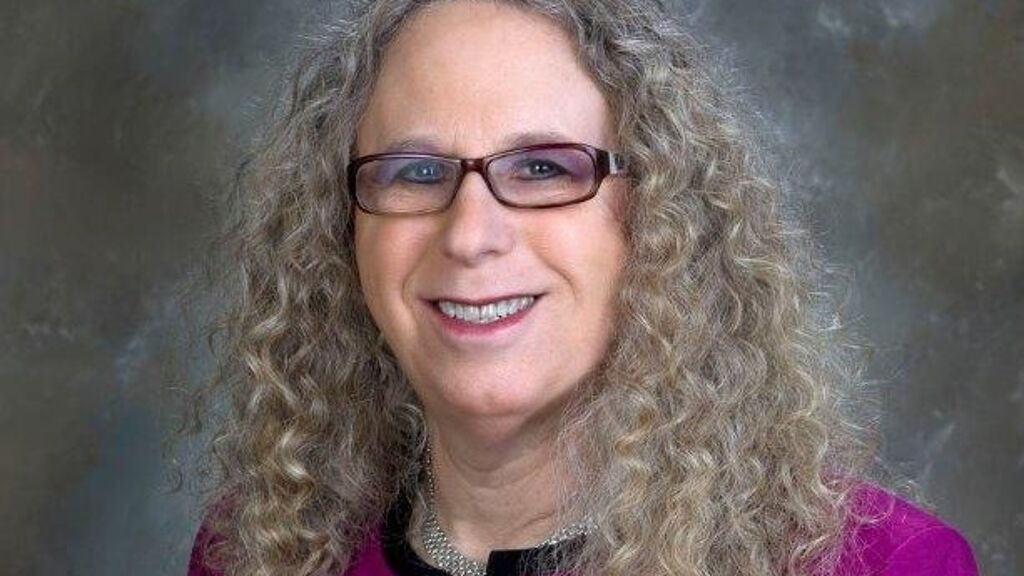 Dr. Rachel Levine, the Health Secretary of Pennsylvania, has once again become the target of bigotry, this time from a White House credentialed-news program.
Rick Wiles, evangelical pastor and host of TruNews, encouraged viewers to do everything possible to "rise up" and "chase" Dr. Levine out of the state. He repeatedly referred to her as "it", "a man", and a "freak transvestite."
Related: Trans top COVID doctor says that an apology for the transphobia she has faced is "insufficient"
The comments came during a two hour program on November 17, focused on pushing conspiracy theories on China led to a segment discussing governmental restrictions during COVID-19. Wiles and another guest ranted on about Dr. Levine, accusing her of pushing undue restrictions and trying to limit personal freedoms.
"That's a man in a dress," Wiles began, "you're mentally ill, Dr. Levine. You're mentally ill, and no normal person should listen to you. You need mental health counseling. You need deliverance."
"To the people of Pennsylvania, you are absolutely insane if you let that transvestite freak rule your life. … You're going to that transvestite freak? Seriously?"
Wiles then became irate, yelling "Chase that freak out of the state. Chase it out of the state. Rise up in Pennsylvania, and chase that freak out of the state! You don't have to tolerate this stuff."
According to Right Wing Watch, Dr. Levine's announcement that the state was expanding its mask-wearing mandates, to cover all outdoor and indoor areas in an effort to stop the spread of COVID-19, was the incitement for Wiles.
Outraged about COVID mask requirements in Pennsylvania, radical right-wing broadcaster Rick Wiles unleashed a bigoted rant against the PA health secretary, who is transgender, and called on the people to rise up and "chase that freak out of the state." https://t.co/D0HXhsEX43 pic.twitter.com/26rMPQqnmh

— Right Wing Watch (@RightWingWatch) November 19, 2020
Wiles has pedaled conspiracy theories and personal attacks for years, with his pandemic-era claims including that coronavirus was used by God to punish an LGBTQ advocate, that the virus was the result of trans kids and sexual immorality, and that it was God's way of "dealing with [Jews] who oppose his son, Jesus Christ."
Just in the program before, Wiles promised that liberals in Florida were going to be targets under a supposed new law being considered by Governor Ron DeSantis that would "empower citizens to shoot and kill" anyone supporting the "[left's] communist revolution," even inviting the FBI to track him via a watchlist. "We're not going to put up with this stuff anymore," he threatens. "The left, you better pack up and flee."
TruNews claimed on Twitter that Right Wing Watch was attempting to "do a hit piece on Rick Wiles & TRUNEWS" by sharing the video from the broadcast.
Today's attempt by @RightWingWatch to do a hit piece on Rick Wiles & TRUNEWS – End Times broadcaster Rick Wiles says America is facing a Satanic communist takeover that will crush the church and so Christians must prepare themselves to be gunned down in the streets as they resist https://t.co/GUUr6SNp8S

— TruNews™ (@TruNews) November 20, 2020
While Dr. Levine has become frequent target for hate-based comments, this attempt to encourage thousands of viewers to "rise up" against her has raised concerns online.
Previously, one Republican official in the state resigned after insulting Levine, and another refused to apologize for deadnaming her. A county fair paid someone to dunk them in water while dressed as her, and named menu items after her in a derogatory fashion.
Despite the bigotry, Dr. Levine has handled them masterfully, and is now reportedly under consideration for Surgeon General in Joe Biden's cabinet. She became Pennsylvania's Secretary of Health in 2017, previously serving as Physician General from 2015.
Dealing with hate has become part of the job for Dr. Levine, who has been overseeing COVID-19 response in the Commonwealth with 12 million people, alongside Pennsylvania Gov. Tom Wolf. "Frankly, I do not have time for intolerance," she told LGBTQ Nation in an interview this year. "My heart is full with a burning desire to help people. And my time is full with working toward protecting the public health."
"I think that we need to continue to educate people about LGBTQ individuals," she shared. "We are just here, we're part of the community. We are doctors, we are nurses, we are teachers. We work in restaurants. We work everywhere, and it's our children. So I think if an apology means, 'Okay, I apologize. This is all done,' then it is insufficient."
Beyond herself, Dr. Levine is "very concerned that the public health response to COVID-19 has become politicized," striving to implore people that "wearing a mask is not a political issue or a partisan issue. It's just a public health issue, and study after study has shown that wearing a mask when you're in public can help prevent the spread of COVID-19."
"I do not view wearing a mask as a civil liberties issue," she said. "It's a public health issue and with our civil liberties come a responsibility to the common good."
We must remain united in stopping #COVID19. Wear a mask, wash your hands, stay apart and download the COVID Alert PA app. If you test positive, please answer the call of the case reviewer and provide information that can help protect others. It's the selfless, right thing to do. https://t.co/e1dximlpCY

— Dr. Rachel Levine (@SecretaryLevine) November 17, 2020
Actual Story on LGBTQ Nation
Author: Juwan J. Holmes