Pop star comes out by brazenly kissing both a man & woman on national TV
Author: Juwan J. Holmes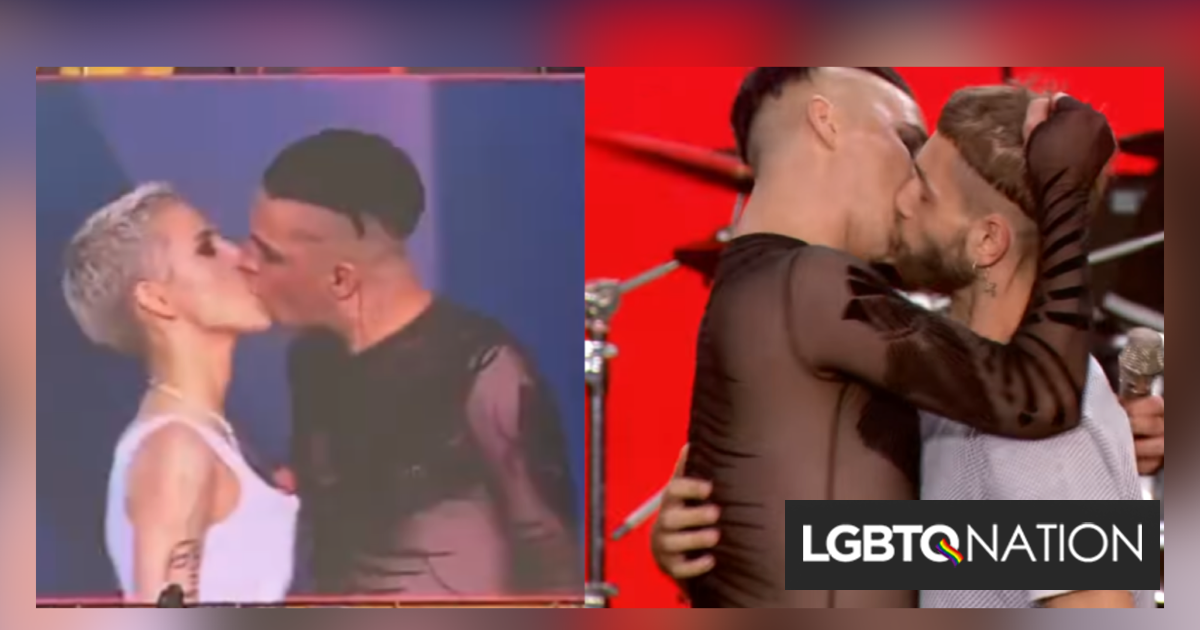 An internationally acclaimed singer-songwriter came out right at the end of a performance at a music festival, which was being broadcast live on network television. The way he did so apparently stunned the audience — and broadcasters, too.
As 24 year-old Mélovin was ending his Atlas Weekend set, he stood beside a woman and a man he had performed with. They took his shoulder-strapped keyboard off of him, and the man took it to the side. Mélovin then grabbed the woman and began kissing her, before walking over to where the man was, and kissed him, too. The pop star then grabbed a Pride flag and waved it while yelling, "yeah!"
Related: FCC received hateful complaints about Lil Nas X's "disgusting and disturbing" on-air kiss

Footage of the double kisses was instantly shared online, but Mélovin later learned that it wasn't included in the television broadcast. M1, the Ukrainian music channel that was airing the festival, had apparently cut the feed away from his set when the coming out commenced.
"My official coming out, which took place on the stage, was cut from the M1 live broadcast," he stated. He also said that "my video is still not uploaded to YouTube," referring to the lack of footage from his set posted to the festival's channel.
"All because I showed my essence," he wrote in an Instagram post in his native Ukrainian.
The singer shared a fan's clip on his Instagram though, and the kisses are now being seen all across the internet.
He noted that it "doesn't matter" to him what one's "colour, faith, or gender" is, "because you need to love a person, body, soul…"
But, "at the same time, such love is not recognized by [some], blocked and simply not released on air."
He criticized his native country and suggested that if they can't accept him, he may have a hard time staying there.
"Should the fight for [our] own rights and freedoms be censored?" he asked. "If not, I unequivocally support you [all]. And if so, I'm not sure if I want to exist in such a future of Ukraine."
According to the Pew Research Center, acceptance of LGBTQ people is low in Ukraine, similar to other countries in Eastern Europe such as Hungary. Less than 20 percent of Ukrainians are reported to support acceptance of LGBTQ people into society.
M1, for their part, issued a statement saying they did not intentionally cut from Mélovin's set, as they didn't know it was going to happen.
"We are all sorry that such an important moment of the artist's statement did not get into the live broadcast," the network said, but then noted "It's a shame that the channel team wasn't informed about the planned moment and the broadcast continued on traditional broadcast principles — switching activity, changing locations and participants for greater dynamics and vibrancy of the frame."
Mélovin won the sixth season of X-Factor Ukraine in 2015. He was chosen to represent Ukraine at the 2018 edition of Eurovision. He already has several charting songs in both Ukraine and Sweden, including two top 10 singles, "Under the Ladder" and "Ty (Ти)."
He is just the latest in a string of music artists to use an on-stage kiss to influence change and make a statement. Just two weeks ago, Lil Nas X made waves with his on-stage kiss at the BET Awards.
Mélovin, like Nas, performed a song that has thematic connections to the devil. The song Mélovin was performing before his coming out was "Dance with the Devil."
The woman that Mélovin kissed is Margarita Verhovtseva, a model who is also out. The other man's identity was not immediately clear.
M1 has since made the footage available, but their YouTube upload only captures a part of his kiss with Verhovtseva before he moves on to kissing the man.
The network also pledged to produce content educating viewers on what "coming out" means.
Actual Story on LGBTQ Nation
Author: Juwan J. Holmes