Taiwan will host WorldPride festivities in 2025 after beating out Washington DC's bid
Author: Juwan J. Holmes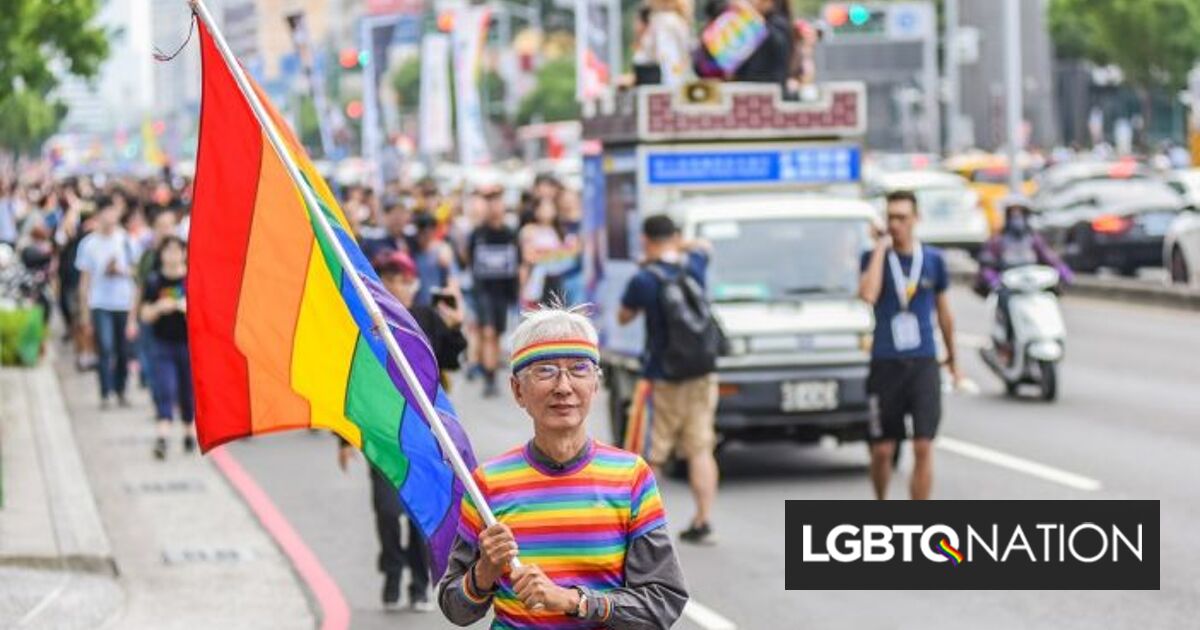 Taiwan, an island nation in East Asia, will become the first country in the region to host the WorldPride international events. Its southern special municipality territory, Kaohsiung, will hold the festivities in 2025, following Sydney, Australia, who is hosting it in 2023. This year's WorldPride was held between the neighboring cities of Copenhagen in Denmark, and Malmö in Sweden, the first time the festivities were held in two nations.
Kaohsiung was chosen by members of WorldPride's organizers, InterPride, in a final vote to decide the host this week, choosing between the territory and the Washington, D.C., a bid which was represented and exhaustively lobbied for by the Capital Pride Alliance.
Related: Russia deems queer activists "foreign agents" as China shuts down LGBTQ advocacy group
In announcement of the decision, InterPride pointed out their enthusiasm to finally bring the famed international festival closer to the home of millions of LGBTQ Asians.
"Bringing WorldPride to this region for the first time will create a significant impact to the much-needed visibility and awareness of human rights for the LGBTQIA+ community there while providing the ability for millions more to participate from surrounding countries and territories, including China, Hong Kong, Japan, South Korea, Malaysia, Singapore, Thailand, the Philippines, Vietnam, and Indonesia," InterPride co-president Julian Sanjivan said in a statement for InterPride.
"The WorldPride Taiwan Team 2025 would like to thank all before us who lit the way, to thank InterPride who built this wonderful organization and platform and thank our supporters who have bestowed this amazing opportunity for Taiwan and Asia," Kaohsiung Pride spokesperson Darien Chen said in another statement.
"This is the beginning of a four-year journey that we plan to ignite change in Asia, to promote InterPride's mission, and to advance human rights in the world," Chen added.
PRESS RELEASE: InterPride is excited to announce that Kaohsiung Pride in the region of Taiwan has won the bid to host WorldPride in 2025. With this monumental vote by InterPride members, a WorldPride will be held in East Asia for the first time. Read More: https://t.co/kw3EdzPLtx pic.twitter.com/Jij94ZfuJP

— InterPride (@InterPride) November 13, 2021
Following Taiwan's becoming of the 1st country in Asia to legalize same-sex marriage, Taiwan's Kaohsiung City has been chosen to host #WorldPride 2025, making 🇹🇼the 1st Asian host of this global festival which aims to promote LGBTIQ+ issues on an international level.🌈🌏 https://t.co/EZee0AKzxw

— Taiwan in the US (@TECRO_USA) November 14, 2021
Congrats to our partners at Kaohsiung Pride in the country of Taiwan for their successful bid. Thank you to the very hard work of everyone at @CapitalPrideDC for our alternative bid. Looking forward to celebrating World Pride in the first East Asian country in 2025! 🇹🇼🏳️‍🌈🏳️‍⚧️ https://t.co/qB1BTtk18Z

— Anthony Musa (@anthonydmusa) November 13, 2021
Kaohsiung and Washington, D.C. were the only two bids officially placed in hopes of hosting the event in 2025, although InterPride's general conference this week included "More than 300 member organizations worldwide participated in the voting process, workshops, plenary sessions, regional and board meetings during the 8-day virtual event."
Whether the aftermath of the height of the pandemic, the ongoing recovery from it, or other factors dissuaded other regions from bidding remains to be seen. Capital Pride Alliance, the organizers of annual Pride events in the D.C. area, saw hosting WorldPride as a chance to both recognize their 50th anniversary and possibly rake in hundreds of millions — if not billions — in tourism revenue for the region in four years.
New York, which hosted WorldPride in 2019, had similar results, as it coincided with the 50th anniversary of the Stonewall Riots, which led to the first organized Pride marches in the world the very next year.
Metro Weekly reports that Capital Pride generates north of $370 million with Pride events every year, based on a recent study, and WorldPride could have easily doubled that amount.
Executive Director Ryan Bos said in a statement, "The Capital Pride Alliance congratulates Kaohsiung Pride on being awarded the opportunity to produce WorldPride 2025. We extend to them our heartfelt best wishes for a successful event."
Instead of planning to host the additional millions of tourists, "Capital Pride will use the next three years to continue with our long-standing plans to commemorate the 50th Anniversary of Pride in Washington D.C. in June 2025," Bos said.
This will be the first WorldPride held in Asia since the festivities were held in the Middle East in 2006, when Israel hosted the delayed festivities amidst a war with Lebanon.
Similarly, Washington D.C. narrowly missed out on the chance to host the Gay Games in 2022. In 2017, their bid came in second to Hong Kong, which is similarly the first Asian country to host those festivities.
Like Hong Kong, Taiwan has a complicated LGBTQ rights and human rights record. The 2022 Gay Games have already been postponed for a year as pressure mounts for the organizers to relocate or cancel the events in light of the city's changing political landscape.
While Hong Kong is a special administrative region and nominally operates independently of China, China has continued to insist that Taiwan — largely consisting of one island just 120 miles east of China, which they refer to as the Chinese Taipei — is their territory. While China has threatened military action in years past, the issue has largely become a peaceful impasse at present.
The longstanding diplomatic issues contribute as to why China is known as the People's Republic of China (PRC) at the Olympics, while Taiwan is referred to as the Republic of China (RoC). The United States and several other nations recognize Taiwan as their own country and consider them an ally.
In 2019, Taiwan became the first country in Asia that officially legalized same-sex marriage. A court ruling in 2017 deemed  alaw that didn't allow marriage equality to be unconstitutional, and the country's legislature was tasked with passing a revision of the law. Ultimately, marriage equality succeeded regardless of the outcome — even if the legislature didn't pass a bill allowing marriage between two people of the same sex, then the court system would automatically begin to recognize those marriages on their own.
The bill lagged struggled due to conservatives opposition, funded by American anti-LGBTQ groups such as the National Organization for Marriage (NOM) and MassResistance, which helped the US$30 million effort and led to a meaningless referendum that led to 70% of voters in Taiwan declare they were against marriage equality.
Still, LGBTQ parenthood rights, transgender rights, the right to adopt, and several other measures of LGBTQ equality are missing in Taiwan. Under the law passed in 2019, for example, married same-sex partners can only adopt children if they are the biological child of one of the two spouses. Otherwise, LGBTQ people can try to adopt as single individuals. Most reproductive health services are also limited to straight people in Taiwan.
Taiwan's legislature also made laws in the last few years that protect LGBTQ people from hate crimes or discrimination in the workplace. Taiwan teaches gender identity and sexual orientation in school, although voters meaninglessly objected to it in a referendum as well.
Homosexuality was never outlawed in the island nation and conversion therapy was outlawed in 2018. In part because of Brokeback Mountain, directed by Taiwanese director Ang Lee, LGBTQ identity became less of a taboo and more generally accepted in the country thanks to media representation from the 1970s onward.
Trans people are just getting many rights but are still socially ostracized in Taiwan. The country is planning to add a third gender option to state identification and passports, just as the United States' federal government did this year. Taiwan also made it legal for people to change their gender legally without surgery as a requirement
However, also like the United States, men who have sex with men can't donate blood freely (unless they pledge to abstinence for five years), and a lifelong ban was only lifted in Taiwan in 2016. While people of any sexual orientation could serve openly in the military since 2002, trans people may not serve.
Editor's Note: This article previously incorrectly identified the town of Malmö as a part of Switzerland, instead of Sweden. We regret the error.
Actual Story on LGBTQ Nation
Author: Juwan J. Holmes