Trans group sues South Dakota governor over yanked grant funding
Author: Molly Sprayregen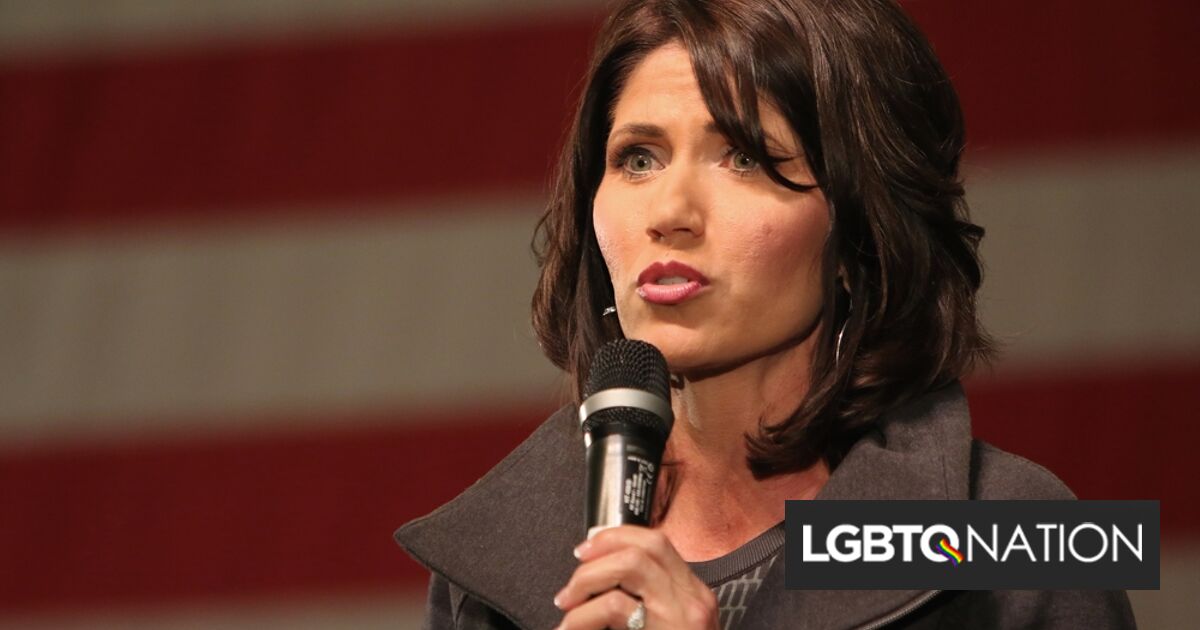 A trans advocacy group is suing South Dakota Gov. Kristi Noem (R) after the state ended its contract with the organization, resulting in its loss of a $136,000 grant.
The Transformation Project claims the canceled contract was discrimination, while Noem's administration says the group did not meet the terms of its contract and also that Gov. Noem never consented to the contract being signed. In addition to Noem, the lawsuit names the head of the state's Department of Health.
"We believe that our contract was not broken and that the State's claims against us are unfounded," the organization's director, Susan Williams, told the Associated Press, adding that the cancellation of the contract was "uncalled for and was, in fact, discrimination."
The grant lost by the organization would have allowed it to hire a community health worker, according to local CBS affiliate KELO.
"We're very concerned with the state's actions and particularly the impact it has on South Dakota's LGBTQ community," said Brendan Johnson, a partner at the Robins Kaplan Law Firm, representing the Transformation Project. "So we wanted to take a stand and send a message that we will fight any unconstitutional or unlawful action by the state of South Dakota."
Johnson also declared that "it's not okay to discriminate against any community in South Dakota."
"It's not okay to discriminate against our LGBTQ neighbors. In my view, our LGBTQ community is a beautiful and proud part of the fabric of our state and we want to make sure that their constitutional rights are protected."
After the Noem administration announced it had canceled the contract, right-wing news outlet The Daily Signal claimed she did so after its journalists brought it to her attention. Noem's chief of communications, Ian Fury, told the outlet that "South Dakota does not support this organization's efforts, and state government should not be participating in them."
"We should not be dividing our youth with radical ideologies," Fury continued. "We should treat every single individual equally as a human being."
And yet, Noem – widely believed to have presidential ambitions – has devoted her time as governor to terrorizing trans youth.
Last February, she signed a bill banning transgender girls and women from participating in school sports, saying she was "grateful" to be able to sign the ban.
Several weeks prior, Noem released a national television ad that was entirely about the upcoming transgender sports ban, saying it was "the strongest law in the nation protecting female sports."
"In South Dakota, only girls play girls' sports. Why? Because of Governor Kristi Noem's leadership," she tweeted.
And just last week, South Dakota's Republican-led state senate approved a bill to ban gender-affirming healthcare. The bill now heads to Noem's desk, and she is expected to sign it into law.
The bill, H.B. 1080, forbids doctors from validating any minor person's transgender identity. It also forbids them from providing puberty blockers, hormone replacement therapy (HRT), any sterilizing surgery, any surgery that constructs genitalia differing from the gender a person was assigned at birth, and any removal of "healthy or non-diseased body part or tissue," USA Today reported.
The procedures are only banned in the context of transitioning. That is, state lawmakers didn't ban a set of medical procedures because they believed they are too dangerous; they only banned a class of people from getting the procedures for a specific purpose.
These restrictions, for example, don't apply to doctors conducting non-consensual surgeries on minors with intersex characteristics. The law specifically says that doctors can use any of the listed treatments to change the appearance of an intersex child's body so that it looks like the sex doctors assigned the child.
The broadly written law would go so far as to ban the provision of puberty blockers to transgender children. These reversible medical treatments are used to give trans youth and their families more time to understand their identities before the permanent effects of puberty set in. The bill also says that any minor who'd be harmed by stopping their use of puberty blockers or HRT must systematically reduce their use and stop using these treatments entirely by December 31, 2023.
If a doctor provides any of the forbidden types of care, they can have their professional state licenses and certifications revoked. They can also be sued for civil damages up to three years after providing the care or until their minor patient reaches the age of 25. This will allow parents to sue if they disapprove of their children's transitions.
Actual Story on LGBTQ Nation
Author: Molly Sprayregen