Stanford Marching Band mocks BYU with gay wedding skit during football game
Author: Molly Sprayregen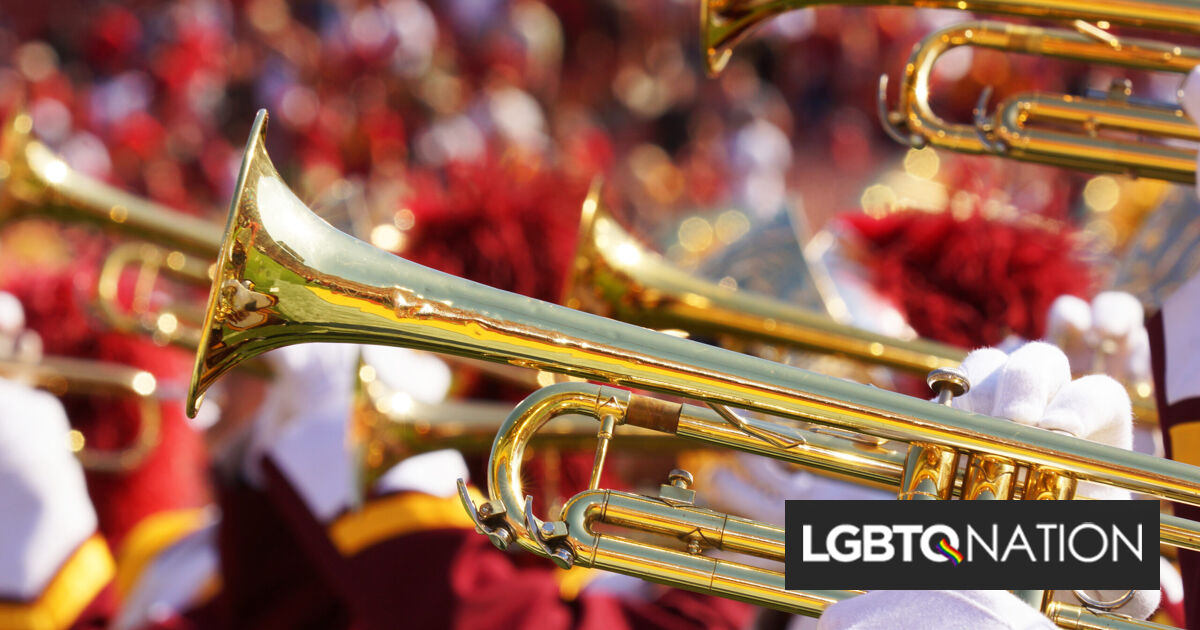 The Stanford University Marching Band mocked the Mormon-run Brigham Young University's anti-LGBTQ+ policies during a recent football game between the two schools.
As part of its performance, the band performed a skit entitled "gay chicken" that culminated in two women getting married. Throughout the fake ceremony, the band members used religious language used in Mormon wedding ceremonies, such as swearing to love one another "for time and all eternity" and "may you be fruitful and multiply."
Video from the Stanford Band's halftime performance during the #BYU game.

The dialogue is in captions on the scoreboard.

More on @kslsports. https://t.co/wbs2r849Ep pic.twitter.com/HnkIecLGXA

— Mitch Harper (@Mitch_Harper) November 29, 2022
BYU fans reportedly booed throughout the antics of the band, which has long been known for trolling audiences with controversial performances. The last time Stanford and BYU met on Stanford's field in 2004, the band made fun of polygamy with a skit involving five women wearing veils.
This time around, the band ended up apologizing to BYU.
A statement from the Stanford Athletic Department provided to both KSL Sports and BYU's student newspaper The Daily Universe stated that "The Leland Stanford Junior University Marching Band (LSJUMB) has a long history of lighthearted and satirical halftime performances. Unfortunately, some of the language that was used in Saturday's halftime show did not reflect Stanford University's values of religious freedom and diversity, inclusion, and belonging. The LSJUMB deeply regrets that this performance caused offense to spectators, and the halftime performance review and approval process is being adjusted to ensure that issues like this do not occur again."
BYU has a long history of supporting ex-gay therapy and anti-LGBTQ+ scholarship. In 2011, the school's Honor Code included a prohibition on homosexual advocacy, defined as "seeking to influence others to engage in homosexual behavior or promoting homosexual relations as being morally acceptable." The prohibition sounds similar to Russia's law forbidding all "homosexual propaganda." The school also recently threatened to arrest any students who protest the school's anti-LGBTQ+ policies
Though the school's policies don't explicitly mention transgender students, by 2017, faculty members had been advised that any women with shaved heads or men wearing makeup should be reported for violating the Honor Code. The school removed its official ban on "homosexual behavior" from its Honor Code in early 2020 but the school maintains its same-sex dating ban. In January, the U.S. Department of Education opened a civil rights investigation into BYU's disciplinary measures against LGBTQ+ students.
Actual Story on LGBTQ Nation
Author: Molly Sprayregen