San Francisco names D'Arcy Drollinger the nation's first-ever drag laureate
Author: John Russell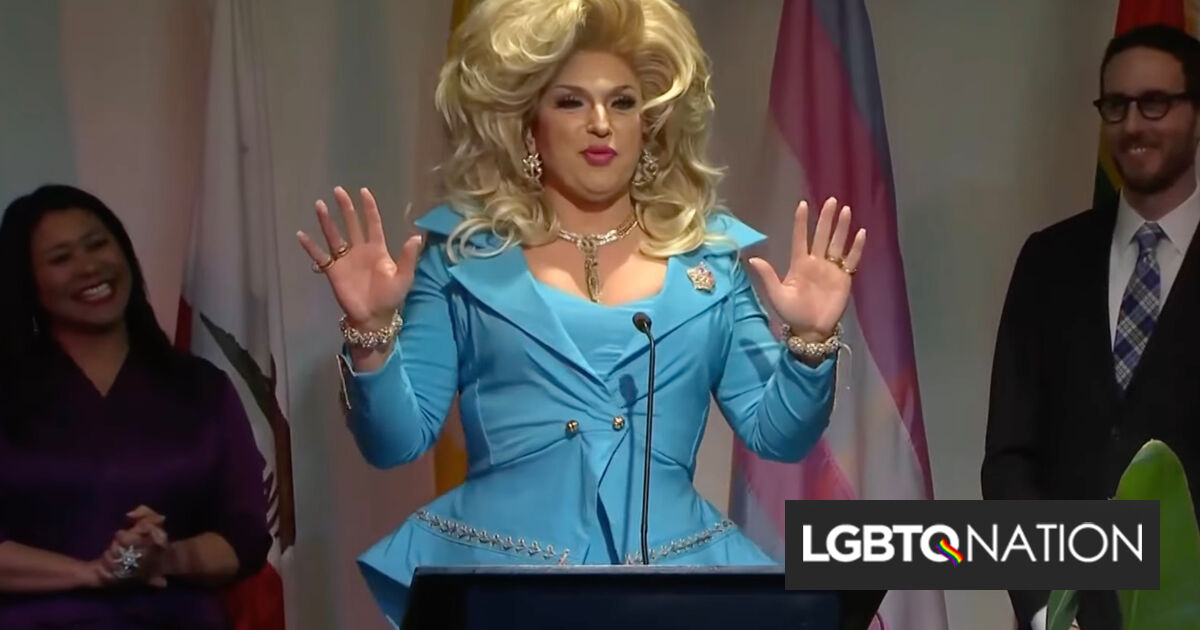 D'Arcy Drollinger, a drag performer and owner of San Francisco LGBTQ+ nightclub Oasis, has been named the city's first-ever drag laureate, honoring her outstanding creative achievements.
On Thursday, San Francisco Mayor London Breed announced her selection of Drollinger for the new role. Breed's office created the role in conjunction with the city's Human Rights Commission and the San Francisco Public Library, which also oversees the city's poet laureate position.
"The job description starts with 'be fabulous all the time,'" Breed joked at a Thursday press conference. "It also is an important part of representing San Francisco — representing San Francisco in our values for inclusion."
"As the first drag laureate, I am dedicated to continuing my mission to uplift my fellow members of the LGBTQIA+ community and spread joy throughout this city," Drollinger said. "This role builds bridges and creates partnerships while elevating and celebrating the art of drag. I'm looking forward to the positive effects this will have on the community, on San Francisco, and the world at large. And I'm sorry L.A. and New York, but we beat you to it!"
According to the San Francisco Chronicle, Drollinger's duties will include fostering relationships between the drag and LGBTQ+ communities and city agencies, creating new drag events for the city, being a spokesperson for San Francisco's LGBTQ+ community, and helping to preserve and promote the art of drag in the city. He will also reportedly have a major role in San Francisco's upcoming Pride celebrations, raising the Pride flag at City Hall on June 2. Drollinger will reportedly receive a $55,000 stipend for his 18-month tenure.
"This is a huge honor," Drollinger said. "And now, I have a lot of work to do. This is an important position I hope is going to be replicated in other cities and states. I want to mold what the drag laureate is with the help of the community. I owe it to everybody to do the best job I can."
Drollinger was chosen from among 15 applicants for the position. The 11-person vetting committee overseeing the selection reportedly searched for a full-time San Francisco resident with knowledge of the city's drag history and a background in community activism and philanthropy, according to The Chronicle.
An actor, writer, musician, director, producer, and choreographer as well as a drag performer and business owner, Drollinger founded Oasis Arts, a nonprofit supporting queer artists in the Bay Area, in 2002. Drollinger also organized last month's "Drag Up! Fight Back!" march. The demonstration saw thousands of drag queens and supporters take to the San Francisco streets to protest anti-LGBTQ+ legislation introduced in dozens of states across the U.S., including laws aimed at banning or severely restricting drag performances.
"D'Arcy has been such a leader in the community and has used his platform to bring people together, to promote fun and excitement despite many of the challenges that continue to persist," Breed told The San Francisco Chronicle.
"It tells you what kind of city San Francisco is that the drag laureate position was created before all of this new rhetoric started," Drollinger said of the position, which was initially suggested in a 2020 report by the city's LGBTQ+ Cultural Heritage Task Force.
"Fighting for drag is going to be part of my reign, but I also refuse to let it kill the sparkle, the artistry and the joy," she continued. "Fighting back sometimes means sparkling harder and inspiring communities in places dealing with this legislation."
San Francisco is the first city in the U.S. to appoint a drag laureate. As The Chronicle's Datebook blog reported last year that proposals for a drag laureate have been in the works in the city since 2019. As Drollinger alluded in his speech Thursday, L.A.'s West Hollywood area has approved a similar role and is expected to appoint someone to the position in the coming weeks, while New York City's proposal for a drag laureate has remained stalled in a committee since 2021, according to the Associated Press.
Actual Story on LGBTQ Nation
Author: John Russell