Organizers postpone the Gay Games in Hong Kong until 2023 as pandemic rages on
Author: Juwan J. Holmes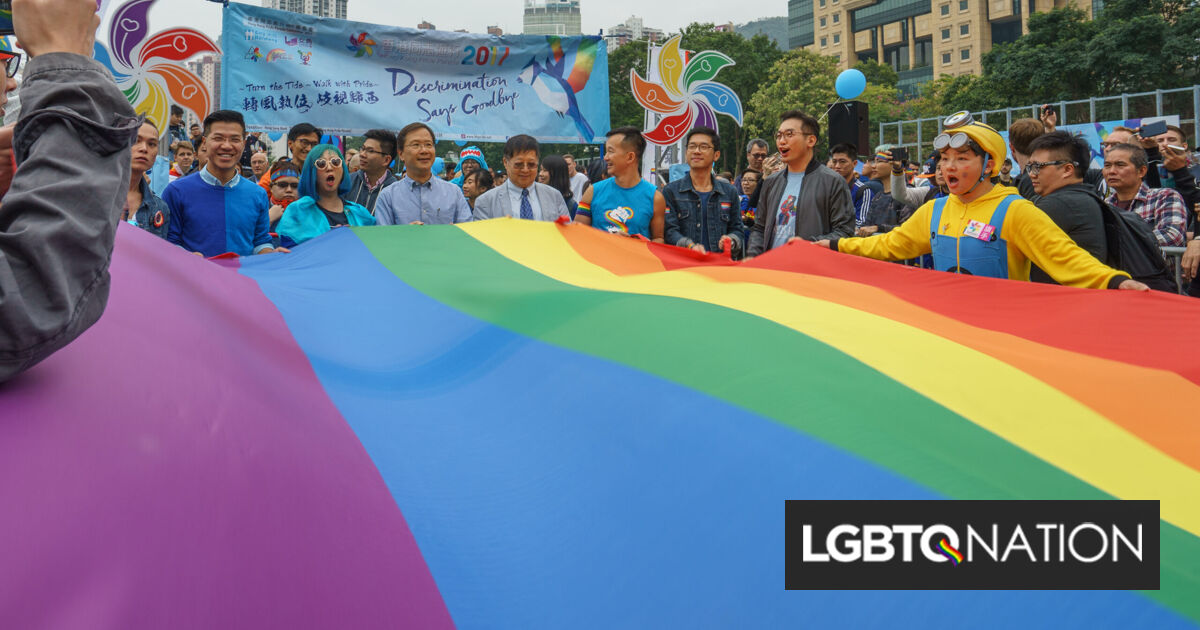 The Federation of Gay Games (FGG), organizers for Gay Games 11, have announced that they are rescheduling the upcoming edition of the international sports competition gathering from November 2022 to November 2023.
"The unpredictable progression of COVID variants and corresponding travel restrictions continue to make it challenging for participants from around the world to make plans to travel to Hong Kong," Gay Games co-chair Dennis Philipse said in the organizers' statement.
Related: China bans "sissy men" from television in latest crackdown
While acknowledging that "The world today is radically different from 2017 when we won the bid to host the first Games in Asia," Philipse said he and other organizers behind Gay Games 11 "remains steadfast and committed to our original vision of organising the most inclusive and diverse Games celebrating its 40 year history."
Despite the Olympics and Paralympics taking place this summer in Tokyo, albeit without spectators and with heavy restrictions on athletes and Olympic staff, FGG organizers expressed uncertainty that they could secure the travel arrangements needed to make the Games happen.
"Given the ongoing uncertainty regarding the state of travel restrictions internationally and in Hong Kong, we have decided to postpone the Games now to give sufficient time for FGG member organizations to develop an appropriate training schedule for the Games, and make alternate arrangements for their 2022 tournaments," Philipse stated.
"The Hong Kong Games play a critical role to bolster our city's modern, cosmopolitan image internationally," Carrie Lam, the chief executive of Hong Kong, stated. She noted that Hong Kong was selected over 17 cities in 2017 and they still believe the Gay Games are "providing a highly visible platform for Hong Kong to show a global audience how and why it truly is Asia's World City."
Several other Hong Kong politicians and FGG officials expressed support for the decision.
Specific dates for the opening and closing of Gay Games 11, or any events being held during the gathering, have not been determined.
The last time Gay Games events were held was in 2018, when Gay Games X commenced in Paris. Those games had over 10,000 participants from over 90 countries, according to FGG.
While Hong Kong was the decided finalist four years ago, there are guidelines for committees representing other host city candidates to seek an opportunity to host the games should the selected home city not be able to, but officials in the committee representing Hong Kong and Gay Games 11 have not given up, and other candidate host cities have yet to step in.
The Games' insistence on being held in Hong Kong, despite rapid restriction of civil rights within the special administrative region in China, has led to scrutiny and criticism.
"The Gay Games Federation should act quickly to relocate the first Gay Games in Asia to another city that does stand for equality, civil rights, and the values we as an LGBTQ community hold dear," National Democratic Institute senior advisor Adam Nelson wrote in LGBTQ Nation in July.
Sports writer and veteran organizer Britni de la Cretaz also criticized the Gay Games for their issues similar to those affecting the Olympics and Paralympics. "Queer, marginalized people reproducing systems of power — Not the answer," they told LGBTQ Nation.
Later in July, Gay Games 11 co-chairs Dennis Philipse and Lisa Lam also wrote an article for LGBTQ Nation, stating "This city's LGBTQ+ community in 2021 is thriving more than ever before, with a growing public interest in pro-queer social groups and events."
They acknowledged that "A number of legal victories have also been achieved in support of Hong Kong's LGBTQ+ movement in areas, such as spousal rights. Yet in spite of this progression on all fronts, there remains a level of conservatism with regards to LGBTQ+ rights both in Hong Kong and other parts of Asia."
Philipse and Lam wrote, "We are resolute and united against those efforts."
In August, University of Hong Kong professor John P. Burns also wrote in an LGBTQ Nation article supporting the Games remaining in Hong Kong.
"The Hong Kong games mark the first time they will be held in Asia, a milestone for an area steeped in colonial state-sponsored homophobia and 'traditional' values," Burns wrote. "The call to boycott the games because Hong Kong has become authoritarian is misguided. Hong Kong has always been authoritarian, first as a British colony, and later as a part of China."
Still, a politician in Hong Kong last month with support for pro-Beijing policies, said that the Gay Games are "disgraceful" and represent a "harmful culture."
After revealing the postponement, Gay Games organizers suggested they remained steadfast in holding the gathering in the city, despite the security and safety concerns from potential participants and supporters.
"Anti-inclusion objections to Gay Games Hong Kong from a small but vocal minority have galvanized the resolve of our 300 volunteers, and brought overwhelming support from the general public, business community and establishment legislators," Philipse stated.
FGG is currently accepting donation for support while the Games remain in limbo.
Actual Story on LGBTQ Nation
Author: Juwan J. Holmes