Minneapolis schools are spying on queer students & outing them to teachers and parents
Author: LGBTQ Nation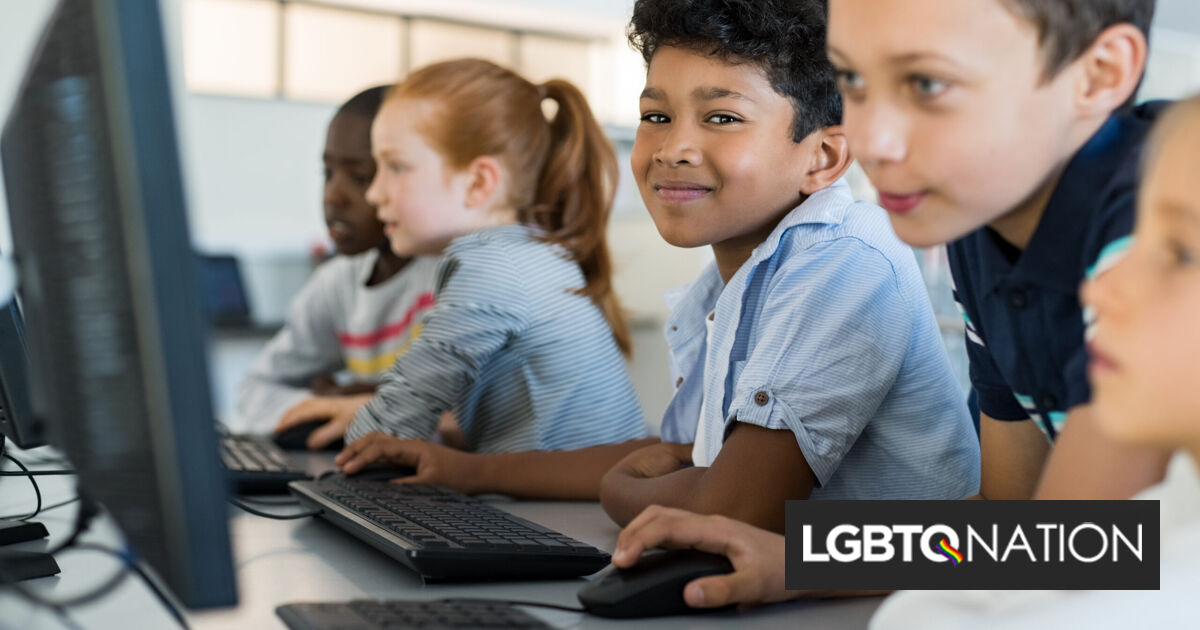 Since spring 2020, Minneapolis schools have been using an online surveillance application called Gaggle to spy on students' online activity. The software flags LGBTQ-related terms and has already reported outed at least one LGBTQ student to their parents.
Gaggle monitors students' online behavior 24 hours a day and seven days a week, by tracking their school-issued Google and Microsoft accounts. Such accounts are likely to be used more often by poor students who lack personal home computers.
Related: Over half of LGBTQ middle & high school students have been bullied in the last year
Gaggle scans students' "emails, chat messages and other documents, including class assignments and personal files, in search of keywords, images or videos that could indicate self-harm, violence or sexual behavior," wrote Mark Keierleber, a reporter with The 74, a non-profit, non-partisan news site covering education in the United States.
Gaggle's moderators then evaluate the flagged content and report any troubling finds to school officials. Officials can then contact a student's parents or the police.
The response is entirely up to the school, though Jason Matlock—the Minneapolis district's director of emergency management, safety and security—said the district uses Gaggle to help troubled kids rather than get them into trouble.
Minneapolis has paid more than $355,000 to partner with Gaggle until 2023. The city started using Gaggle as students went entirely online for virtual and distance learning during the ongoing pandemic COVID-19 pandemic. However, most students and parents weren't even aware that students had started being monitored.
Gaggle flags LGBTQ-related terms like "gay" and "lesbian", ostensibly to track online pornography. In three-dozen Minneapolis-based incident reports over the last year, Gaggle flagged keywords related to sexual orientation, The 74 reported. Gaggle founder and CEO Jeff Patterson told CBSN AM that LGBTQ terms are included in the software to help protect LGBTQ students from bullying.
The flagging caused an LGBTQ student to be outed to their parents, Aesha Graffunder, a sophomore at Roosevelt High School in Minneapolis told The Southerner, a publication of South High School.
"School administration didn't talk to [the student with the flag] at all before their parents were called," Graffunder said.
Gaggle also incorrectly caused a transgender teen's parents to be notified after they wrote about their past suicidal thoughts in response to a school assignment.
Teeth Logsdon-Wallace, a 13-year-old student, was flagged after he wrote about his past struggles with mental health. Gaggle flagged his mentions of "suicide", even though his essay discussed how he had recovered from his past suicidality after receiving mental healthcare.
A school counselor contacted Logsdon-Wallace's parent two days after he turned in the assignment. Logsdon-Wallace called the incident "retraumatizing."
"I was trying to be vulnerable with this teacher and be like, 'Hey, here's a thing that's important to me because you asked," Logsdon-Wallace told The 74. "Now, when I've made it clear that I'm a lot better, the school is contacting my counselor and is freaking out."
Discussing Gaggle's flagging of LGBTQ terms, Logsdon-Wallace added, "When people are just talking about being gay, anything they're writing would be flagged. They have 'gay' flagged to stop people from looking at porn, but one, that is going to be mostly targeting people who are looking for gay porn and two, it's going to be a false positive because they are acting as if the word gay is inherently sexual."
Gaggle has claimed that its service potentially saves children's lives. The company boasts that it saved more than 1,400 lives during the 2020-21 school year. But there isn't really much research to determine whether Gaggle and other services like it have an overall positive effect on helping kids who experience mental health crises or other troubles.
Last school year, Gaggle flagged over 10 billion student content items nationally. Only 360,000 were sent to district officials, the company said. In a study of content flagged by Gaggle, roughly 75 percent of flagged incidents occurred when students were off campus.
Recently, some Democratic lawmakers wrote letters to Gaggle and other student monitoring companies to explain their business practices, worrying that the nonstop monitoring may violate federal laws about child online privacy.
"Education technology companies have developed software that are advertised to protect student safety, but may instead be surveilling students inappropriately, compounding racial disparities in school discipline and draining resources from more effective student supports," the lawmakers wrote.
Gaggle also offers an additional paid service, not used by Minneapolis, which offers to connect students with mental health professionals. However, the additional cost of that service could bias Gaggle to refer kids for mental help more often. There are more positive ways to make kids aware of mental health resources, critics say, and the awareness of constant monitoring is making some students less willing to share and explore in their schoolwork.
"Most kids in that situation are not going to share anything anymore and are going to suffer for that," said Jennifer Mathis, the director of policy and legal advocacy at The Bazelon Center for Mental Health Law in Washington, D.C. "It suggests that anything you write or say or do in school — or out of school — may be found and held against you and used in ways that you had not envisioned."
Approximately 81 percent of teachers said their schools use monitoring software similar to Gaggle, the Center for Democracy & Technology said, citing a recent survey. As a result, 58 percent of students said they don't share their "true thoughts or ideas" in electronic school assignments. Approximately 80 percent said they're more careful about what they search for online, knowing they're being watched.
Actual Story on LGBTQ Nation
Author: LGBTQ Nation