KKK distributes anti-LGBTQ fliers in Virginia after religious right disrupts school board
Author: LGBTQ Nation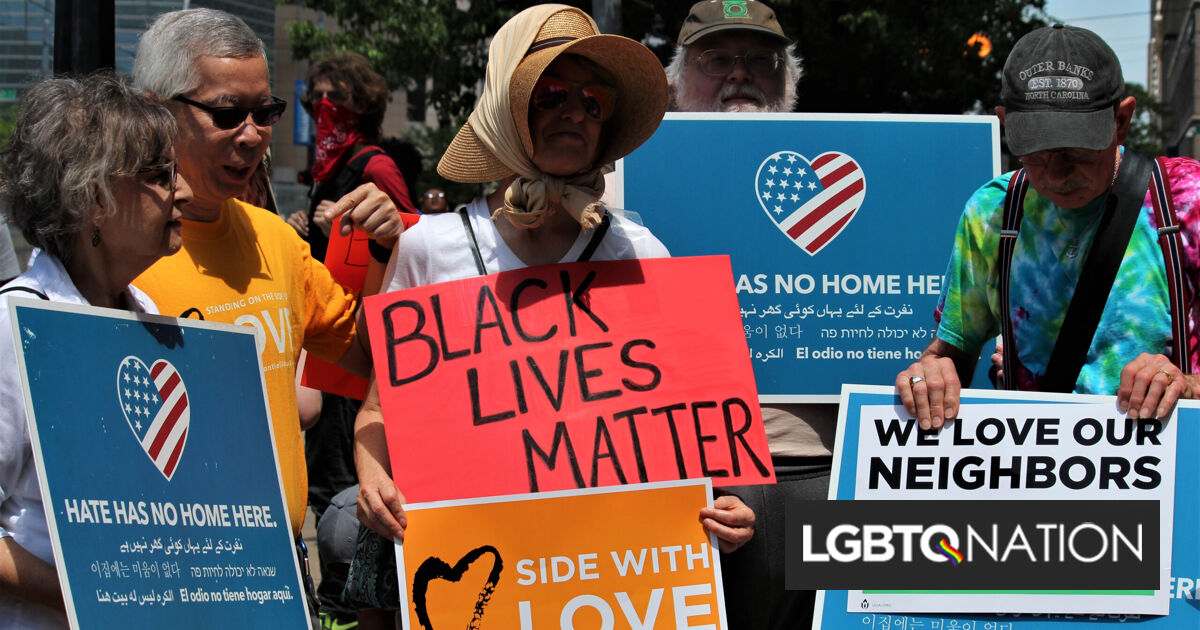 Police in the town of Leesburg, Virginia have recovered about 35 flyers distributed locally by a white supremacist group. Their appearance follows Tuesday's chaotic Loudoun County school board meeting that ended early due to transphobic, religious-right protesters.
The fliers came from the Loyal White Knights, otherwise known as the Ku Klux Klan (KKK), a long-running anti-Black domestic terrorist organization. The fliers appeared at homes in a Loudoun County neighborhood. The fliers were sealed in plastic sandwich bags and weighted down with rocks and birdseed.
Related: KKK threatens gay Florida political candidate with chilling message
The fliers read: "LOUDON COUNTY, VA- OPPOSE QUEER-LOVING, CRT-CRAZY SCHOOL BOARD! CITIZENS, WORK TOGETHER WITH LAW ENFORCEMENT- WE'LL NEED EACH OTHER TO STOP THE COMMUNISTS!!! … 100% AMERICANISM – PRAY FOR WHITE AMERICANS"
The flier also contained a web address, a phone number, a brief podcast ad, and the U.S. Constitution's First Amendment (with spelling errors). The First Amendment guarantees freedom of religion, speech, press, assembly and petition.
The Leesburg Police Department's deputy chief of police and acting public information officer, Major Vanessa Grigsby, told LGBTQ Nation that the KKK has left fliers locally before. But it usually happens around the mid-January Martin Luther King Jr. Day holiday, she said. The fliers have never before mentioned the school board, she added.
So, the Klan has been leaving these flyers around Loudoun County after the School Board was supposed to discuss implementing state law requiring protections for trans students.

I don't think I can say it more plainly that the far right is jumping in on trans people. pic.twitter.com/x2x3iKziUp

— Cassandra of Troy (@BrynnTannehill) June 24, 2021
The flier's reference to "CRT" alludes to Critical Race Theory, an academic field exploring the social and historic consequences of race and racism taught in law schools. In Tuesday's school board meeting, protestors demanded that the board ban its teaching in district schools, even though the K-12 district's schools don't teach it.
Anti-CRT groups have worried that district teachers are secretly being trained to introduce CRT into class lessons. This is because of a district teacher training on the "Culturally Responsive Framework." The training aims to make teachers more responsive to students from different backgrounds, the Loudoun Town Mirror reported.
At Tuesday's school board meeting, two local anti-CRT groups—Parents Against Critical Theory (P.A.C.T.) and Fight for Schools—spoke against CRT. They also opposed a draft policy that would require teachers to address students by their proper pronouns and names. The policy would also put the district's standards for transgender bathroom access in line with state and federal law.
During the meeting, a woman looked directly at a police officer who was trying to remove her fellow protesters.
"You know they're trying to replace you, right? Trying to replace you in the police force?" she told the officer. Another woman pointed her finger at the policeman's face while accusing him of "not protecting our rights." One protester's sign read: "EDUCATION NOT INDOCTRINATION."
"You are fascist and the county taxpayer pays your salary, shame on you!" another woman yelled at the seated members of the school board. "The parents have a duty to defend their children!"
Former President Donald Trump repeatedly tried to ban CRT, diversity training, and transgender civil rights. His administration believed that CRT teaches that white people are evil and that citizens should "hate our country." His policies repeatedly tried to ban trans people from joining the military, playing sports, receiving medical care, using bathrooms and more.
Trump's former Justice Department spokesman, Ian Prior, runs Fight for Schools, one of the aforementioned right-wing groups that took over the Tuesday board meeting.
Actual Story on LGBTQ Nation
Author: LGBTQ Nation