Fast food worker goes on full-out homophobic rant & kicks out gay delivery drivers
Author: Juwan J. Holmes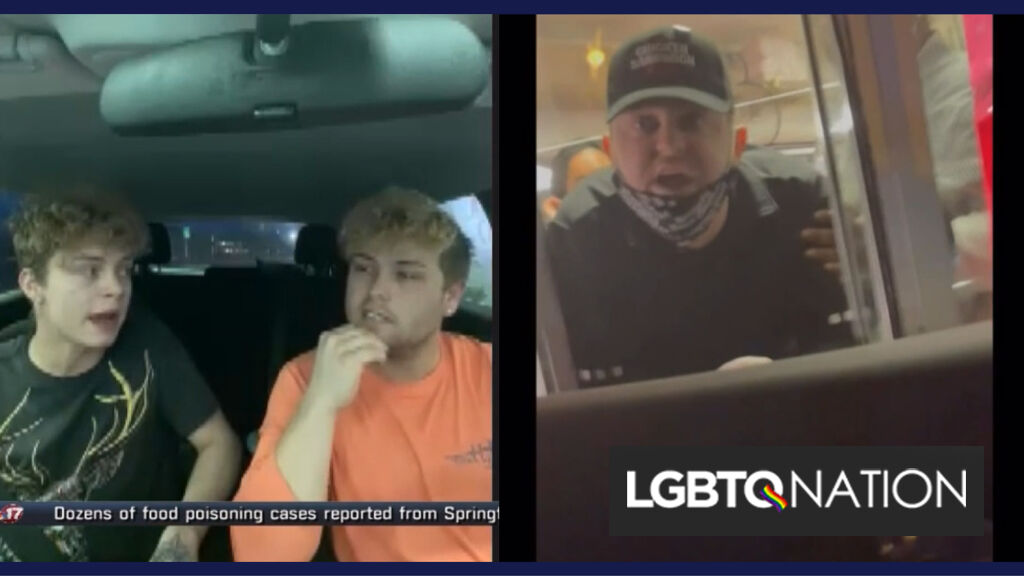 A KFC employer was recorded in a viral rant yelling homophobic remarks at a gay couple that happened through his drive-thru. The restaurant chain has announced that the franchisee was fired after the video went viral online.
"You're f*cking queer, so you need to get the f*ck out of here," the worker demanded to Joshua Garner and Lee Walls. "F*ck the video, f*g," he screeched as he walked away from the couple, simply trying to complete delivery of a DoorDash order.
Related: Man sues city after he was attacked by anti-LGBTQ street preacher

"We're really gay though," one of the two appears to yell back, "you can't do that," regarding his use of slurs at the pair. "I don't give a f*ck," he yells back.
The incident took place at a franchise of the iconic fast food restaurant in Springfield, Illinois, and local media identified the worker as Payton Burke. Apparently, a hand gesture by one of the two set off Burke and others, even though it was not intentionally directed at them.
A worker that appeared to be a supervisor on duty later pushed Burke back, but did nothing to stop his hateful remarks.
"The behavior of the team member in this video is completely unacceptable, and the team member has been terminated," KFC said in a statement. "The franchisee who owns the restaurant has been in touch with the guest regarding this incident and offered an apology."
In a later statement, the restaurant further pledged that the actions of these workers don't reflect their values. They added that "this KFC franchisee has committed to additional anti-harassment and non-discrimination training for all employees at its restaurants."
The franchisee also reported that other employees, including one who stood next to Burke in the drive-thru window on the phone while he went on the hateful tirade, were suspended pending an investigation. She also declared she "didn't care" while Garner and Walls told them they were recording the abusive rant.
Walls, a military veteran, told local media that "I have done two tours in Afghanistan and I have seen some crazy things, but never have I had that happened to me where I don't know what to do and I freeze up… [in that moment]."
The incident took place on February 24, and both told local NBC affiliate WAND News that they did not deserve the hatred for being who they are while working.
Garner also notes that the only person that came to their defense was his little brother, positioned in the back seat, who witnessed the entire ordeal. A police report was filed with the Springfield police, but "it's unclear if there's actually investigation into what happened," WAND reported.
On Reddit, the video got tens of thousands of interactions from a bewildered internet. "KFC = instant decline no matter the tip or distance. The stores are absolute trash," the top comment in one subreddit read.
Garner posted the entire ordeal to Facebook, where he was subject to even more abuse. Commenters derided them as "drama queens" and proclaimed that they just "should have moved" instead of holding up the line.
"I will f*ck y'all up," a user named Keeno Lee, an alleged family member of the other unnamed worker in the video, commented. He claimed the worker is his "Nice [sic]" and "she['s] still a kid."
"We just sat there and took that," Garner said after, "we should have never had to have taken anything like that."
"I regret not standing up for myself, and I regret not doing something more."
Now, instead, the engaged couple is calling for the KFC franchise to "clean house."
So lee and I are out door dashing and this traumatic experience happened at KFC on 6th street Springfield Illinois. Please watch the whole thing closely. Idk what to do or who to talk to but I know people are going to be out of jobs.

Posted by Joshua Garner on Wednesday, February 24, 2021
Actual Story on LGBTQ Nation
Author: Juwan J. Holmes