Far-right podcaster claims conservatives need to bash Lil Nas X & gay people more to win votes
Author: Juwan J. Holmes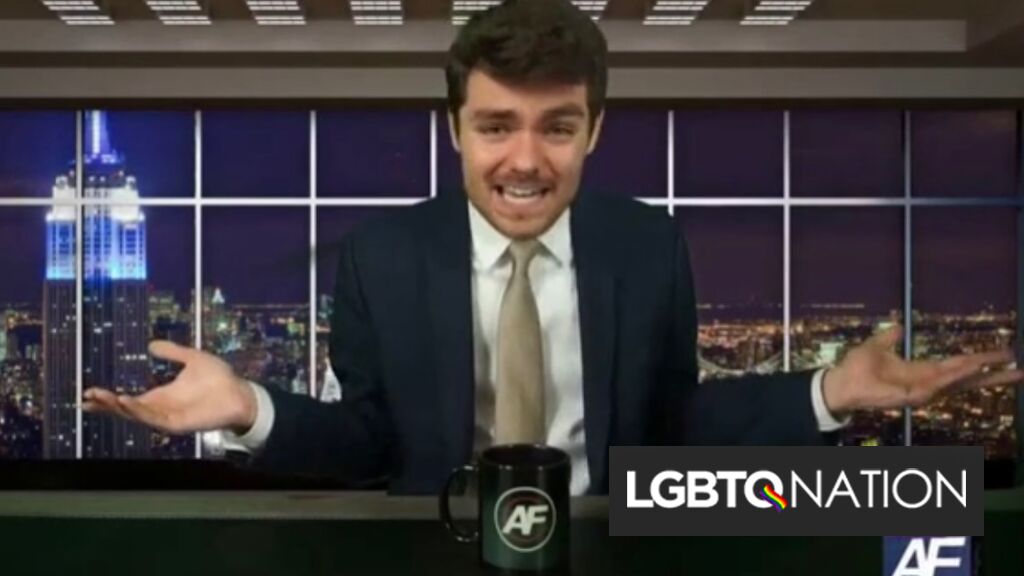 Far-right organizer and internet personality Nick Fuentes has issued the latest tirade over Lil Nas X's controversial music video, using homophobic and racist slurs to encourage Black people and Republicans to bash the out rapper for his sexuality. On his podcast, he also slammed the GOP for not being homophobic enough, and called for them to stand "against the rainbow flag" if they're actual conservatives.
He added that he "can't wait" for a "big backlash… from Blacks" over Lil Nas X's sexuality, and then advocated for Republicans to "run an ad in the ghetto" depicting him with Dr. Rachel Levine or Sam Smith, in an attempt to deter people from the Democratic Party.
Related: Lil Nas X's proud dad is a gospel singer. A rightwinger on Twitter found out the hard way.

The comments were sparked by Lil Nas X's video for "Montero (Call Me By Your Name)" and his subsequent release of similarly-themed unofficial "Satan Shoes."
In the music video, he used gay and religious imagery, including a scene where he wears underwear and stiletto boots and gives the devil a lap dance. Right after, he partnered with the boutique MSCHF to sell unofficial custom re-designed Nike shoes, which have a pentagram, an inverted cross, and allegedly contain human blood.
Nike filed a lawsuit and a judge blocked the shipping of the already sold-out shoes, much to the chagrin of the rapper.
Fuentes is the host of the America First podcast and the creator of the America First Political Action Conference (AFPAC), considered to be a white nationalist-aligning gathering meant to compete with the Conservative Political Action Conference (CPAC). He has previously mocked LGBTQ Republicans, and he and his "Groyper Army" were prominent participants in pro-Trump rallies on January 6, right before the storming of the U.S. Capitol building.
Angry White Men, a blog tracking white supremacist and alt-right activity online, reviewed and republished clips totaling over nearly nine minutes of Fuentes commenting on the backlash.
"The guy — Lil Nas X — he makes songs for kids. He's on TikTok. He performs his songs for children. He has a children's book. And he's been openly gay for, I think, like a year. Nobody had anything to say about that?" Fuentes wondered.
"This is my problem with conservatives," he said, adding that "there's a lesson in this."
He claimed that in conservative circles, "nobody cares" about his sexuality, and most of them "think it's just fine." But now that "the gay pop star who has the reach with children makes a video where it's Satan and Hell and blood and a pentagram and all of that," conservatives have "something to say."
He name-drops South Dakota Gov. Kristi Noem (R), who got into a Twitter exchange with Lil Nas X, for "quoting Bible verses at Lil Nas X."
"By the way, saying nothing about the fact that he's a homosexual, nothing about anything else… but just the overt Satanic imagery. That's where they draw the line," Fuentes said of conservatives.
"All the conservatives that have a problem with this, have a problem with the horns and the pitchforks and the hellfire and all of that… but they don't have a problem with the rainbow flag," he complained. "Don't tell me that you're against the devil shoes if you're not against the gay. Don't tell me you're against the lap dance for Satan, if you're not against the rainbow flag. I don't want to hear it."
He began resorting to slurs and stereotypes to express his hope that Black people will come out and condemn Lil Nas X for his sexuality.
"I got to imagine Nas… you know, the original Nas… I wonder what he must think," Fuentes pondered, referring to the rapper Nas, who Lil Nas X's name is partly derived from. He seemed unaware that Nas is not only aware of Lil Nas X, but that the two have collaborated in performances and songs.
Fuentes adds that he doesn't like Nas because he's supposedly a "Black nationalist, militant, political guy… but he was actually a good rapper. He actually made good albums."
"He makes one of the best rap albums of all time, and now, his name is being appropriated by this f-g! Right?" Fuentes exclaimed. "Then he's gonna rap about like, having sex with guys… it's gotta be very embarrassing."
"There needs to be, like, a big backlash against this stuff from Blacks," he continued. "I can't wait. I'm just waiting on it… a major 'Blacklash' against gay people, because I got to imagine it's there. Black people must not suffer this humiliation any longer. We need you to speak up!"
He said that the "most effective Republican messaging to win over Black people" is supposedly "gay suspicion… like, gay anxiety." He repeatedly uses the n-word to explain how the party's "messaging" should sound.
"'You're voting for Joe Biden, what are you gay? What are you some kinda gay n—a? What are you a gay n—a? Nah, man. Nah, man. I'm not a — look man, I'm white. I'm not about that! Joe Biden's gay, dude! Democrats are gay,'" Fuentes said.
He also brought out non-binary British singer Sam Smith as another example of an LGBTQ person to use for the 'messaging.'
"'What are you, with Sam Smith and Lil Nas X? Yeah, miss me with that gay shit.' I think that's got to be the approach, " Fuentes stated. "Look, this is free advice. GOP, you're welcome to take this. Run an ad in the ghetto, run an ad in Chicago, run an ad in Detroit, run an ad in these Black cities. That's got to be an ad."
"Maybe they show the health secretary and Lil Nas X and the drag queens and everything," Fuentes continued, referring to Assistant Secretary of Health Dr. Rachel Levine, the first openly transgender official confirmed by the U.S. Senate. He swears that this "would be a killer" because it would be a "real conversation that would happen."
Fuentes and many of his "Groypers" and "America First" followers have been removed from prominent online platforms, and this week, the official "America First" accounts for Fuentes and many of his prominent supporters were suspended from Twitter.
This comes after the FBI referred to Fuentes as a white supremacist, and a concerted effort to get Fuentes deplatformed from social media and online services was undertaken. The Anti-Defamation League (ADL) and the Southern Poverty Law Center (SPLC) have profiled him, with the SPLC reporting he "has long earned his income from monetizing livestreams on YouTube and, later, DLive."
"I'm 22. I'm a Zoomer. I know about how the internet works," Fuentes told the Chicago Tribune. "It's not doing as much damage as they think."
Warning: the following videos feature explicit language.
Actual Story on LGBTQ Nation
Author: Juwan J. Holmes