Activists & civilians mourn after trans soldier banned from military is discovered dead
Author: Juwan J. Holmes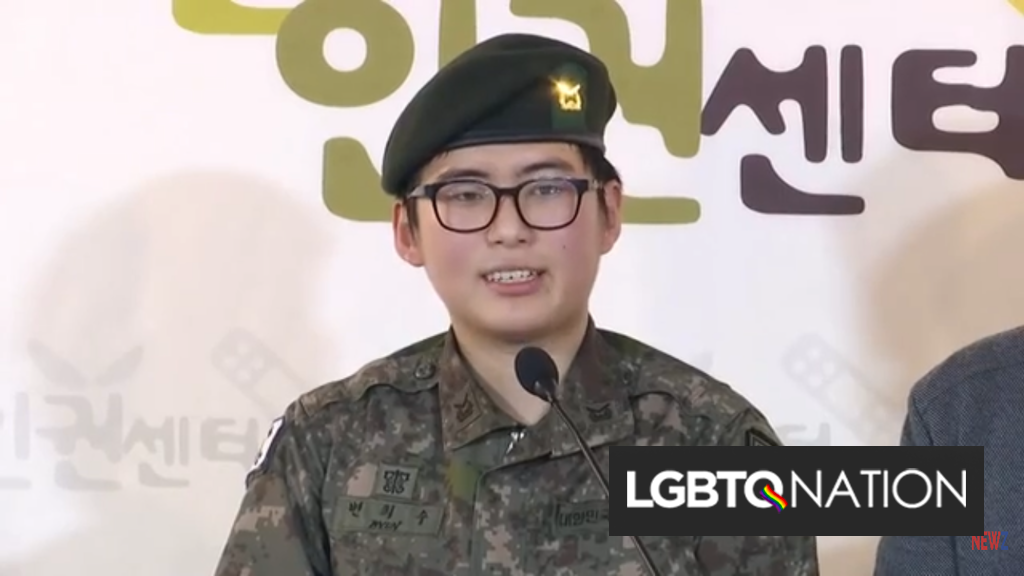 The first out transgender person to serve in the South Korean Armed Forces, prior to her 'compulsorily' discharge, was found dead earlier this month in her Cheongju apartment.
Byun Hee-soo, also identified as Byun Hui-su, was reportedly only 22 or 23. She was a staff sergeant and tank driver prior to her removal from active duty, and she was planning to challenge her January 2020 discharge because "regardless of my sexual identity, I'd like to show everyone that I can become one of the great soldiers who protect this country," she told reporters last year.
Related: Korean lesbian sues internet trolls who made vicious comments about her wedding

South Korea's Armed Forces consist of a conscript army, meaning all 'able-bodied males' are required to serve for a minimum of two years. Byun had first joined the army in 2017, fulfilling what she called her lifelong dream. As a staff sergeant, she reportedly received perfect marks prior to her departure.
She didn't plan to have gender-affirming surgery while on active duty, but her dysphoria began affecting her to the point that she was counselled to seek care immediately. That led her to travel in secret to Thailand and undergo the procedure.
"It was an extremely difficult decision to let my base know of my identity, but once I did, I felt much better… I thought I would finish serving in the army and then go through the transition surgery and then re-enter the army as a female soldier. But my depression got too severe," she said.
Once her commanders found out, they confined her to a military hospital, where she underwent medical "tests" to confirm her dysphoria and gender-affirming surgery. She remained there in the final months of her military service, while a panel sorted out if her surgery caused "a mental or physical handicap" to Byun.
After a tribunal, she received a 'compulsorily' discharge, which insinuated it was required under South Korea military rules. They determined she was "unable to continue service" on January 22, 2020 along the lines of a disability discharge. The military demanded she leave the hospital by the following week, ending her life-long dream abruptly with little to no support.
In a press conference following the military's announcement, Byun told reporters, "I will continue to fight until the day I can remain to serve in the army… I'll challenge the decision until the end, to the Supreme Court." She broke down in distress while recounting the months of depression and dysphoria she endured before having the surgery in November 2019.
Afterwards, Byun returned to her hometown of Cheongju and received counselling from the National Mental Health Center in the nearby locale Sangdang-gu. At some point after, and at least three months prior to her death, Byun reportedly attempted suicide but recovered.
Counselors lost contact with Byun on February 26, and eventually requested emergency personnel to conduct a wellness check on her home. First responders found Byun unresponsive in her home on March 3, and declared her dead.
The announcement of her death comes after the suicide of another South Korean trans activist, Kim Ki-hong, in February.
The United Nations recently cautioned the South Korean government, saying that forcibly discharging Byun Hee-soo from the military was essentially a violation of international law.

The government replied it was following regulations.https://t.co/SZ2rG1sH38

— Raphael Rashid (@koryodynasty) March 3, 2021
Amnesty International, Korea branch: "We remember the late Byun Hee-soo, who showed courage for a world free of discrimination and hate. Rest in peace. We are against transphobia." https://t.co/JjljZo7nbk

— Raphael Rashid (@koryodynasty) March 3, 2021
Her body was apparently in a state of decomposition already upon her discovery, a spokesperson for the local authorities stated. A cause of death wasn't determined or disclosed and no suicide note was found.
A friend later told Reuters that Byun had been unable to get a job due to the publicity around her. She had petitioned the army to re-enlist her, and they denied her application in July. She filed a lawsuit that was expected to start next month.
The United Nations High Commissioner for Human Rights had written to South Korea, condemning their decision to discharge Byun. "The dismissal of Ms. Byun would violate the right to work and the prohibition of discrimination based on gender identity under international human rights law" if solely based on her transition surgery, the commissioner's office wrote in a letter in July, asking for answers within 60 days.
South Korea's UN delegation wrote back in September, making "assurances" that the country did not violate any laws.
In response to her death, the Center for Military Human Rights for Korea and other activists held a commemorative event for Byun in front of the country's Ministry of Defense on March 12. Seoul-based journalist Raphael Rashid documented how South Koreans around the nation's capital commemorated the late soldier.
The activists hope to gain "the posthumous reinstatement and recovery of honour" for Byun.
Rashid also shared other recent commemorations to LGBTQ people and trans people in light of Byun's death. Social network Dotface hosted an online solidarity march and gathered messages from users in reaction to the news. Protests in the form of open LGBTQ representation, considered rare outside of Pride celebrations, have also started.
Rashid noted that Byun's death comes while candidates for mayor of Seoul "are debating about hiding Seoul Pride away from city centre."
In the past few days, there have been 3 known deaths in the S. Korean LGBTQ community.

In at least 1 case, the result of discrimination, hate, mockery and the associated suffering.

Meanwhile, Seoul mayor candidates are debating about hiding Seoul Pride away from city centre.

— Raphael Rashid (@koryodynasty) March 3, 2021
A group representing 600 Korean counsellors/psychologists has issued a statement expressing sadness & responsibility for the recent deaths of 3 transgender people due to discrimination/hate, and expressed its willingness to learn, help LGBTQ people, and demand for social change. https://t.co/HBlq2NcRP0

— Raphael Rashid (@koryodynasty) March 11, 2021
Prime Minister Chung Se-kyun offered condolences when asked during a press briefing, but did not make any statement on whether the discharge and alleged discrimination Byun faced warranted changes to the government or military's operations.
Defense Ministry spokesperson Moon Hong-sik expressed condolences "for the unfortunate death of former Sergeant Byun Hui-su" on behalf of the military, but there were no discussions about trans people serving in the Armed Forces.
Same-sex relations between military personnel are prohibited and punishable for two years in prison, and transgender people currently remain banned.
If you or someone you know in the United States needs help, know that you're not alone. You can call the National Suicide Prevention Lifeline at 1-800-273-8255. If you or someone you know needs someone to talk to, know that the Trevor Project is here 24/7, and can be reached by phone at 1-866-488-7386 or text and chat at www.thetrevorproject.org/get-help-now.
.@DotFace gathers recorded messages from people who talk about how they are, feel, and how spent their day after hearing of the death of the late Staff Sergeant Byun Hee-soo.https://t.co/3FR3Gs67wn

— Raphael Rashid (@koryodynasty) March 11, 2021
Live outside S. Korea's Ministry of National Defense. Citizens have come out to pay their respects to late Byun Hee-soo, a soldier who was forcibly discharged from the army after undergoing gender confirmation surgery and classified as "disabled". pic.twitter.com/m57hOCt7mJ

— Raphael Rashid (@koryodynasty) March 12, 2021
A board with the silhouette of Byun Hee-soo in front of the main gates of S. Korea's Ministry of National Defense with condolence messages.

South Korea's LGBTQ community is still in shock and mourning her death. pic.twitter.com/NQSGalz051

— Raphael Rashid (@koryodynasty) March 12, 2021
In Korea discrimination and hate speech are rampant.

Yet there is currently no law banning such behaviour.

An activist told me that hate and discrimination were the cause of at least one of the recent deaths, highlighting the need for protection and an anti-discrimination law. pic.twitter.com/iR9szsFGqi

— Raphael Rashid (@koryodynasty) March 12, 2021
Actual Story on LGBTQ Nation
Author: Juwan J. Holmes