A Trump-loving vandal did over $16,000 in damage to a city's new rainbow crosswalk
Author: LGBTQ Nation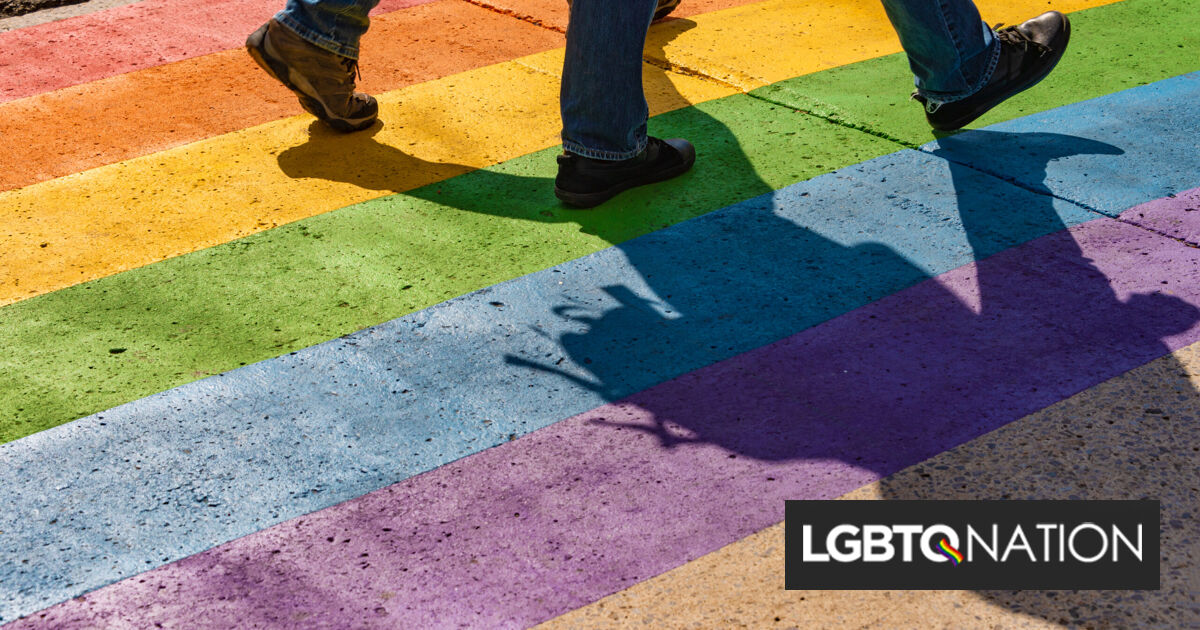 Alexander Michael Jerich, a Trump-loving 19-year-old, has been arrested after he was captured on cell phone video intentionally leaving wheel marks on a South Florida rainbow crosswalk that had been newly unveiled just five days before.
The vandalism occurred in Delray Beach, Florida, an area between West Palm Beach and Fort Lauderdale. In the video, a white Chevy truck with a blue Trump flag flying off of it stops at the intersection with its back wheels over the crosswalk.
Related: The Trump administration told a town to remove its rainbow crosswalks. The town said no.
The truck then does a "burnout", spinning its wheels to deliberately leave skid marks. As the truck leaves 15 feet worth of dark black skid marks, it begins veering into the opposite lane and towards a Hyatt hotel lobby as another car approaches head-on. The truck then turns and drives away.
"It should be noted that this intersection is very pedestrian-friendly, and the Hyatt hotel has an open lounge sitting area on that sidewalk corner, which the truck would have collided into if it would have hit the curb," police documents said.
The truck was driving as part of a convoy celebrating the birthday of Republican former President Donald Trump, one of the most anti-LGBTQ presidents of all time. Police identified its owner as Jerich's 30-year-old relative and located Jerich later.
Jerich now faces charges of criminal mischief, reckless driving with property damage, and evidence of prejudice. The prejudice charge is essentially a hate crime charge that elevates the crime to a felony, WTVT reported. He was held in Palm Beach County jail.
The crosswalk had been unveiled the Saturday before the vandalism occurred. It cost just over $16,000 and had been paid for by the Palm Beach County Human Rights Council and the AIDS Healthcare Foundation, The Palm Beach Post reported. It had the traditional rainbow colors representing the LGBTQ community; white, pink, and blue stripes representing the transgender community; as well as black and brown stripes for queer people of color.
The artist who painted the crosswalk said they tried to clean off the skid marks but couldn't.
Rand Hoch, the president and founder of the Palm Beach County Human Rights Council, told WPTV that he is trying to have the crosswalk designated as a public monument under a newly passed law protecting such monuments from vandalism. If a judge designates it as such, the law would require Jerich, rather than taxpayers, to pay for its restoration.
Actual Story on LGBTQ Nation
Author: LGBTQ Nation