Trump blocked Dr. Fauci from going on Rachel Maddow's show "for months." Biden has already let him.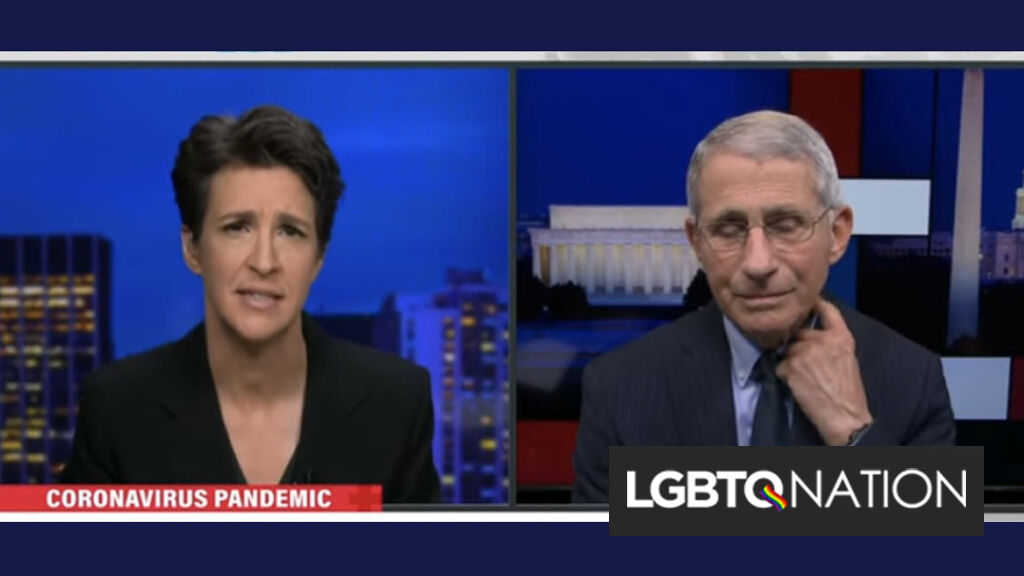 In an appearance on the Rachel Maddow Show on January 22, director of the National Institute of Allergy and Infectious Diseases (NIAID) Dr. Anthony Fauci revealed that he had wanted to appear on the MSNBC show for months, but the requests were "just blocked" by the Trump administration.
"I've been wanting to come on your show for months and months," he told Rachel Maddow, the show's out host. "You've been asking me to come on your show for months and months, and it's just gotten blocked."
Related: Rachel Maddow returns to air & reveals her partner was deathly sick with COVID
In one of his most revealing interviews yet, Dr. Fauci exposes what it was like working under the Trump administration, which ended just four days ago. Part of that was his limited participation in publicly addressing the coronavirus pandemic.
While 400,000 American lives were lost in the last year, it seems that President Donald Trump (R) and Alex Azar, then-secretary of the Department of Human & Health Services (HHS) — which oversees NIAID — were focused on preventing Dr. Fauci from going on-air with one of the president's biggest critics.
"Let's call it what it is: It just got blocked because they didn't like the way you handle things, and they didn't want me on. It was so clear," he told Maddow.
Dr. Fauci, who is now the Chief Medical Advisor to the President, explained that officials in the previous administration asked why he wanted to appear on her show, and the 80 year-old said that he "just likes the way [she] handles things," and he told them that "I like her, she's really good."
"It doesn't make any difference. Don't do it," was the purported response Dr. Fauci received.
Under the new Biden administration, "I don't think you're going to see that now," Dr. Fauci opined. "I think you're going to see a lot of transparency…. you're not going to see deliberate holding back of good people when the press asks for them."
"The idea that you can get up here and talk about what you know, what the evidence and science is, and know that's it — let the science speak — it is somewhat of a liberating feeling," he said.
Dr. Fauci also made his most open rebuke of the Trump administration to date during the appearance, although he didn't disparage any specific individuals and tried to show respect for his former boss due to his "respect for the office."
"I don't take any pleasure in criticizing Presidential leadership, or the people around the President, but we had a situation where science was distorted and/or rejected, and a lot of pressure was put on individuals and organizations that were not directly related to what their best opinion would be, vis-à-vis the science.
"I had pressure put on me, but I resisted it, and I had to do something that was not comfortable, but I did it. I had to be directly contradicted not only the president, but some of the people around the president who were saying things that were not consistent with the science," Dr. Fauci recalled.
He also went on to address the open secret that the administration had considered firing him.
"I am not a political appointee, so you know, this whole idea of "we're gonna fire him" and that kind of stuff – I mean, I didn't want to be at odds with the president, because I have a lot of respect for the office of the presidency, but there was conflict at different levels with different people at different organizations, and a lot of pressure being put on [me] to do things that are just not compatible with the science.
"I think the only way that happens is when you have leadership from the very top, and people surrounding the leadership, that essentially let that happened."
Fauci also suggested he wasn't the only medical official that had to resist the political "influence" asserted over the coronavirus pandemic response, namely including those in the Centers for Disease Control and Prevention (CDC) and the Food and Drug Administration (FDA).
"People were influenced, unfortunately. But I've got to tell you, at the same time that some might have been, a lot of people weren't," he said. "There were a lot of people in the CDC and the FDA who were really suffering under that."
"I've served, now, this is my seventh administration, Rachel – and I've been advising administrations and presidents on both sides of the aisle, Republicans and Democrats, people with different ideologies – and even with differences in ideology, there never was this real affront on science.
"So it was a real [embarrassment] that I haven't seen in the 40 years that I've been doing this. So it's one of those things that are chilling when you see it happen."
"It was a tough situation, it really was," Dr. Fauci concluded.
I saw Fauci on @maddow tonight and I think that might have been the most relaxing interview I've ever seen.

Fauci looks so relieved and it makes me so happy.

I'm ready to go to bed with zero anxiety- What a thought. Thank you to the public servants and scientists at NIH & CDC

— David Hogg (He / Him) (@davidhogg111) January 23, 2021
Maddow: "I hope that his transparency extends to letting the nation's scientists go make their case particularly to people who've been misinforming and telling the people of this country misinformation or politically motivated misinformation … The scientists have to lead." pic.twitter.com/QPqK6OSoyJ

— Maddow Blog (@MaddowBlog) January 23, 2021
Actual Story on LGBTQ Nation
Author: Juwan J. Holmes