Trans Miss Universe owner hurls truth bombs during pageant speech. She's turning "pain into power"
Author: Molly Sprayregen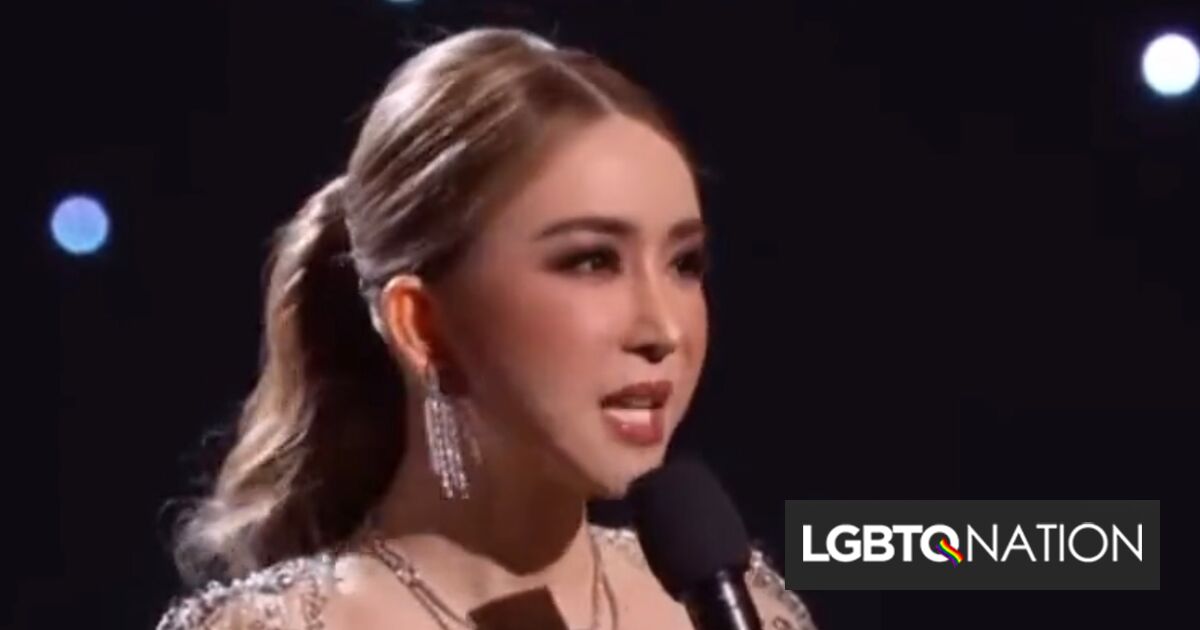 In late 2022, The Miss Universe pageant, formerly owned by Donald Trump, was bought by Thai trans celebrity and businesswoman Jakapong Jakrajutatip. At the culmination of the most recent pageant – which ended with a Miss USA victory – Jakrajutatip made an inspiring speech about turning the "pain" of her childhood into "power" for herself and all women.
"It has been 70 years [that the] Miss Universe Organization [has been] run by men. But now, time is up," she said to thunderous applause.
"Welcome to the new era of the global women's empowerment platform. Welcome to the Miss Universe organization. From now on, it's gonna be run by women, owned by a trans woman, for all women, for all women really around the world to celebrate the power of feminism."
"Diverse cultures, social inclusion, gender equality, creativity, a force for good, and of course, the beauty of humanity."
"When I was born as a trans woman who got bullied and sexually harassed by my own teacher when I was young, plus I was not accepted by society because they did not want to embrace my differences. But guess what?… I chose not to surrender. I turned pain into power and I turned life lessons into wisdom."
She said she wanted Miss Universe to "elevate all women to feel strong enough, good enough, qualified enough."
Anne Jakrajutatip, the new owner of Miss Universe, delivered an empowering speech yesterday: "Welcome to the new era. From now on it's gonna be run by women, owned by a trans woman, for all women around the world." pic.twitter.com/TJXV8EPkAv

— Dan Hastings-நாராயணன் (@notdanhastings) January 15, 2023
Jakrajutatip, popularly known as Anne JKN, is CEO and the largest shareholder in JKN Global Group, and a major celebrity in Thailand, where she stars in local versions of reality hits Project Runway and Shark Tank.
The media tycoon's purchase of Miss Universe marks the first time a woman has owned the franchise. Jakrajutatip is the third richest transgender woman in the world.
Donald Trump owned the Miss Universe Organization from 1996 to 2016. The pageant became a source of embarrassment for him in 2016 when Alicia Machado, a Venezuelan who won the Miss Universe contest in 1996, accused Trump of sexual harassment. In a news conference, Machado claimed Trump had called her Miss Piggy and Miss Housekeeping, a reference to her race.
After Jakrajutatip took over, conservative pundits called for contestants to boycott the pageant.
Alison Steinberg of the OAN show Alison at Large said Miss Universe contestants should be afraid of participating now that a transgender businesswoman owns it, imagining that there will be "pedophile activity" at the pageant. Her interlocutor, Real America host Dan Ball, called for contestants of the pageant to boycott it.
While Steinberg is suddenly concerned about the safety of contestants now that a transgender woman owns the pageant, Trump was accused by four women of walking into the dressing room while contestants were changing at the 1997 Miss Teen USA pageant. Some of the contestants were as young as 15 years old.
Actual Story on LGBTQ Nation
Author: Molly Sprayregen