The world congratulates Chasten & Pete on becoming parents
Author: Juwan J. Holmes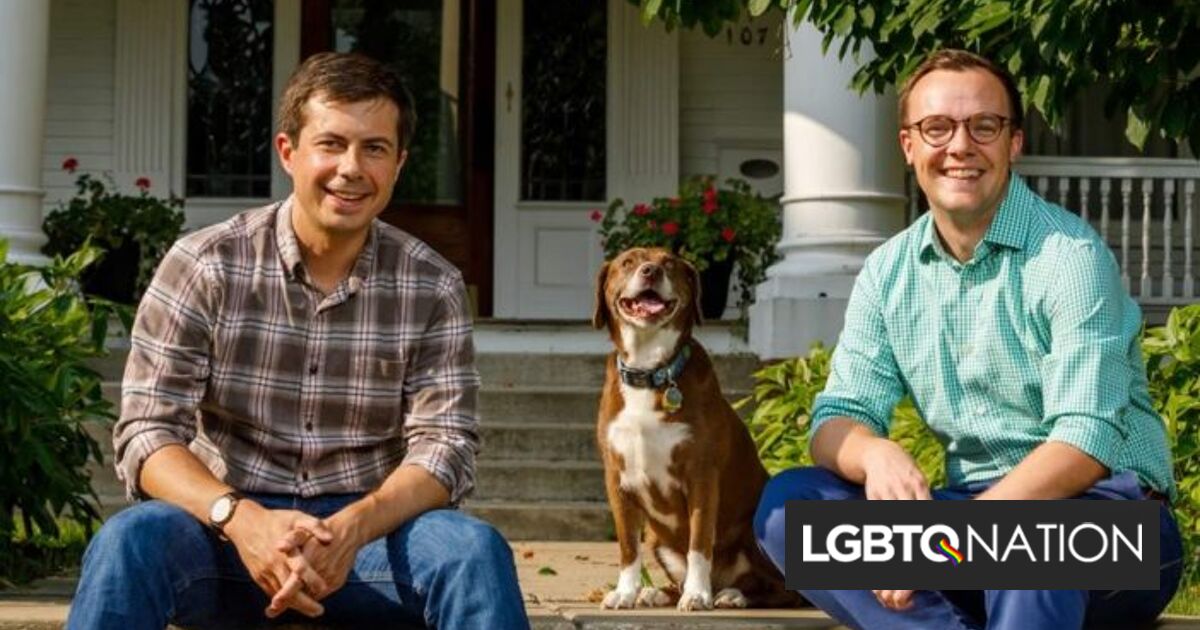 The world has spent today reacting to the news that Secretary of Transportation Pete Buttigieg and his husband, Chasten, have welcomed two children into their family.
As usual, White House Press Secretary Jen Psaki has summed up the news with the best response. "Happy news we can all use," she tweeted.
Related:
When Chasten and Pete first revealed that they were becoming parents last month, many people also celebrated the news.
"Congratulations to you and Chasten," Q.Digital CEO Scott Gatz said at the time. "Fatherhood is the best thing my husband and I have experienced. I wish you all the joy that comes with it."
Now, once again, congratulations poured in from all over the world for the growing family.
The children, Penelope Rose and Joseph August, join the Buttigieg family in addition to their two dogs, Buddy and Truman.
Psaki wasn't the only White House official or fellow member of Biden administration to congratulate the Buttigiegs.
Senior Advisor on LGBTQ+ Rights Reggie Greer, Domestic Policy Advisor Susan Rice, and even those at Buttigieg's workplace, the Department of Transportation, sent messages of well wishes.
After serving as Mayor of South Bend, Indiana, Pete rose to national recognition as a Presidential candidate. In early 2020, he became the first out Presidential candidate to win a primary contest in American history.
Many other out politicians congratulated him on his latest victory, including out members of Congress such as Reps. David Cicilline (D-RI), Mark Pocan (D-WI), and Sharice Davids (D-KS).
Sens. Tammy Duckworth (D-IL), Mark Kelly (D-AZ) and Amy Klobuchar (D-MN) also issued congratulations on social media.
.@PeteButtigieg @Chasten, Mazel tov to you both! As parents of B/G twins (and a younger singleton) our family wishes you both the life of joy, happiness (and a bit of chaos!) that we have had for 22 years!! 👨‍👨‍👧‍👦

— Debbie Wasserman Schultz (@DWStweets) September 4, 2021
Congratulations Pete and Chasten! Cheryl and I are so excited for you! We just sent our youngest to college. Enjoy every second. They grow up too fast! https://t.co/pP9MOBcJGL

— Angie Craig (@AngieCraigMN) September 4, 2021
Several LGBTQ advocacy organizations and leaders were also proud to see the occasion.
"Penelope and Joseph are perfect," tweeted PFLAG, the national organization for parents, families, and allies of LGBTQ people.
Annise Parker, the President of the LGBTQ Victory Institute, previously pointed out what becoming parents could mean for the couple — and countless others.
"As parents, they will now shine a national spotlight on LGBTQ families, who often face daunting challenges because of outdated policies that narrowly define what families are," Parker previously stated.
BEAUTIFUL.

Congratulations to @Chasten & @PeteButtigieg on growing their loving family with the addition of Penelope Rose and Joseph August Buttigieg! You two will make incredible and loving fathers to these two. 💞 https://t.co/w4LNbI4YPE

— NCLR – National Center for Lesbian Rights (@NCLRights) September 4, 2021
Of course, millions of Americans in all sectors of life — to out MSNBC journalist Jonathan Capehart to out entertainer and Glee actress Jane Lynch — also joined in on recognizing the momentous occasion.
"Oh my heart," exclaimed out actor and community advocate George Takei.
From one gay dad of twins to two new ones, I send all my love. The offer of free pediatric advice still stands.

— Daniel Summers, MD (@WFKARS) September 4, 2021
Those are beautiful names! Congrats, you two! ❤️

— Charlotte Clymer 🏳️‍🌈 (@cmclymer) September 4, 2021
I'm just old enough to be slightly amazed by this, from a Cabinet secretary. It's a reminder of how much more has to be accomplished for so many people. But also…👍 https://t.co/AnZsW98HWf

— Mark Harris (@MarkHarrisNYC) September 4, 2021
I volunteer to babysit. I'm very good with tiny babies 😎 Wishing you every happiness with your beautiful family.

— Joyce Alene (@JoyceWhiteVance) September 4, 2021
While many have reason to be happy for Chasten and Pete, some of the best reactions to the news are coming from other LGBTQ parents and family members, too
Several shared pictures of their kids or stories about their lack of sleep.
Will Pollock, journalist and blogger behind Cranky Yank, wrote simply, "single gay dad here wishing you guys all [the] happiness in the world.
"Days are long but the years are short."
single-gay dad here wishing you guys all happiness in the world

days are long but the years are short. pic.twitter.com/yYroBhQKt2

— Will Is Hiding Out Under John Bolton's Mustache (@bywillpollock) September 4, 2021
Congrats to Chasten and Pete from all the twin-dads of the world! Here's a pic from 13 yrs ago. Would do a then and now, but I'm enough trouble with my kids already. pic.twitter.com/rMezvEVuYw

— Pseudonymous Bosch (@isthisPBosch) September 4, 2021
Actual Story on LGBTQ Nation
Author: Juwan J. Holmes