The Pentagon surprisingly decides to continue Trump's ban on Pride flags in military
Author: Juwan J. Holmes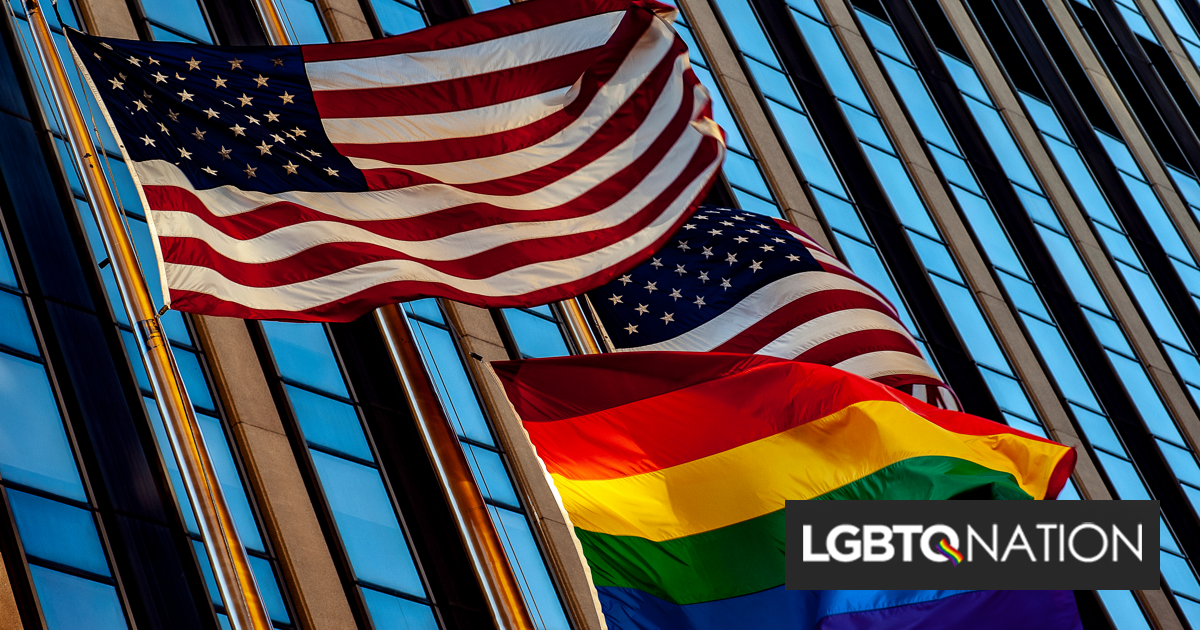 The Department of Defense says it has decided to maintain a ban on Pride flags as enacted by the Trump administration last year.
The decision, which was announced just days after the Pentagon decided to review the policies as enacted by the administration, is a surprise considering that President Joe Biden (D) pledged last year to undo the policy if he was elected.
Related: Republicans join Marjorie Taylor Greene in backing bill that would ban rainbow flags

The Biden administration and Secretary of Defense Lloyd J. Austin have put several LGBTQ-affirming policies in place and reversed many of the other anti-LGBTQ policies in place from previous administrations.
The ban on transgender people serving in the military was reversed on Secretary Austin's first full day in office and in Biden's first week. The Pentagon said trans people could enlist immediately starting in February. In March, it was reported that the Pentagon would issue new rules to expand benefits and protections for trans service members.
In addition, the nominations of two LGBTQ community members to fill key positions in the Defense Department was announced just weeks ago.
So the announcement that the Defense Department won't join other branches of the federal government, such as the State Department, in embracing Pride and allowing Pride flags, came as a surprise.
John F. Kirby, Assistant Secretary of Defense for Public Affairs and a retired Navy Rear Admiral, stated that "After some careful consideration," the Pentagon "will maintain existing policy for… the display or depiction of unofficial flags" as to not create "other challenges," and "there won't be an exception made this month for the Pride flag."
He added that this was Secretary Austin's decision made specifically in light of Pride Month, but was not an "official" policy review.
"Knowing that the month of June was approaching, we wanted to do due diligence and take a look at the old policy and see if we felt it was still applicable," Kirby said. Apparently, Defense officials did find that it was still best.
That decision "[does not] in any way reflect on the respect and admiration we feel for all our LGBTQ+ personnel in and out of uniform," he claimed.
In July 2020, Trump-appointed Secretary of Defense Mark Esper issued a new guidance for flags in response to renewed calls to ban the Confederate flag from flying on military property. Trump supported the use of Confederate symbols.
Instead of going against his boss, Esper's guidance banned all flags other than the U.S. flag, state flags, and military-related flags from use by the military. That included the Pride flag.
"We were shocked to learn DOD's (Department of Defense) new policy on the public display of flags bans the Rainbow Pride Flag from DOD workplaces," Rudy Coots, president of affinity group DOD Pride, told the Washington Blade at the time.
In response to the revelation, then presidential candidate Biden said in a tweet, "Banning the LGBTQ Pride flag — the very symbol of diversity and inclusion — is undeniably wrong. The Pentagon should ensure it is authorized, or as President, I will."
The White House has not responded to the Pentagon's decision or said whether Biden will follow through on that pledge.
Banning the Confederate flag from military installations was long overdue.

Banning the LGBTQ Pride flag — the very symbol of diversity and inclusion — is undeniably wrong. The Pentagon should ensure it is authorized, or as President, I will.
https://t.co/rvA4F2YcPS

— Joe Biden (@JoeBiden) July 19, 2020
"It's another statement that our service isn't as important as everyone else's… it's a small thing that matters especially during Pride month," Jennifer Dane, the CEO of the Modern Military Association of America, said in a statement to CNN.
Dane added the Pride flag is a symbol of "diversity and inclusion — exactly what the Department of Defense should be striving for."
Despite the decision, Kirby said that Secretary Austin will participate in Defense Department Pride events and "encourages all commands to likewise find ways to recognize the service and contributions of the LGBTQ+ community in defense of this nation."
Actual Story on LGBTQ Nation
Author: Juwan J. Holmes