Televangelists want to create a safe space for young Christian men to congregate online
Author: Juwan J. Holmes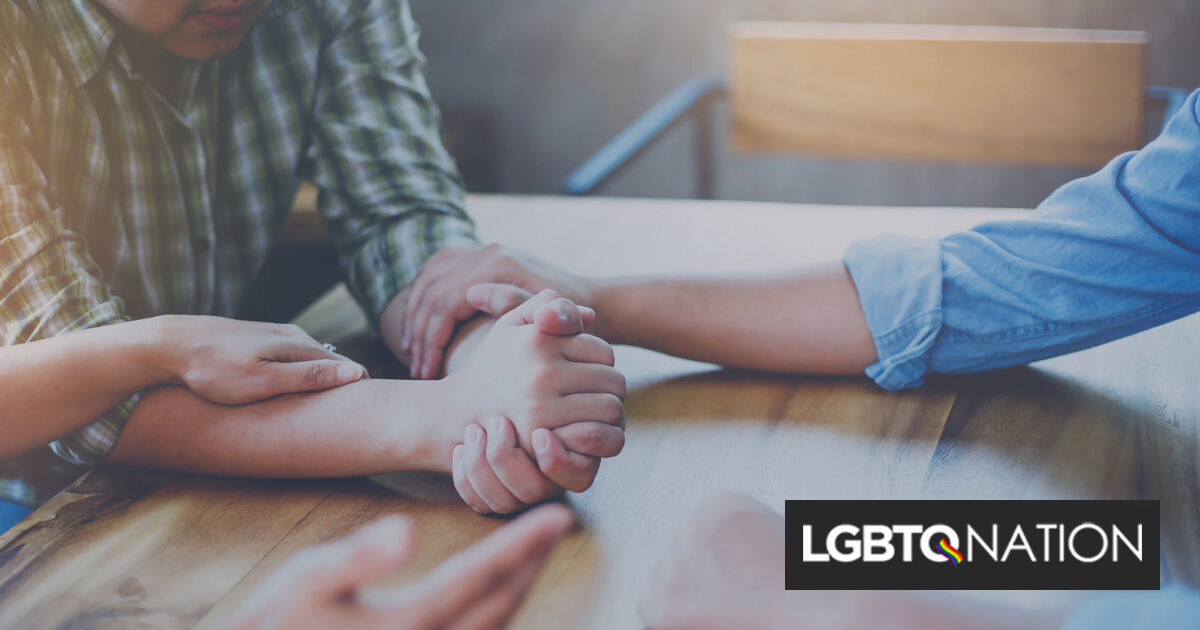 Far-right Christian evangelists are now planning to create a social media platform that will serve as a safe-space for young, Christian men.
The idea is the brainchild of Rick Wiles, the anti-LGBTQ pundit and co-host of TruNews. This comes less than two months after he was hospitalized following a bout with COVID-19, which he previously proclaimed was "God's judgment" against people he doesn't like.
Related: Anti-LGBTQ evangelical group's leader is planning to rally thousands of men at a NFL stadium
Wiles' TruNews site has served as the top evangelical news sources for hate-based conspiracy theories about the virus. Several pundits, including "ex-gay" provocateur Milo Yiannopoulos, regularly appear on the site's namesake program.
Now, Wiles believes it is up to him to create a space that is safe for men to not be "feminized, criticized, or called racist," a clip shared by Right Wing Watch shows.
Wiles wants to use the platform to "minister to young men, to disciple them, and to give young men a place to congregate where they feel safe."
Wiles claims, "Especially here in America," that "a lot of young men feel like they're under attack, and they are under attack."
A new social media platform is needed because "The culture warriors in this country are breaking down traditions, morals, family structure. They've been doing this for decades and they are aiming their guns at young men.
Culture warriors apparently "want to feminize them. They want to demonize them. They want to criminalize them. They want to, you know, depress them, so that they will not act like the men that God created them to be," Wiles said.
Radical right-wing conspiracy theorist and virulent antisemite Rick Wiles is building a social media platform that will be a safe space for young straight Christian men where they won't be feminized, criticized, or called racist. pic.twitter.com/5dLPPJor0h

— Right Wing Watch (@RightWingWatch) July 23, 2021
Wiles, 67 already has experience "helping" young Christian men like Yiannopoulos become their best, certainly straight selves on shows that are banned by major social media platforms such as YouTube. Now he hopes to provide that for others.
Prior to his hospitalization, Wiles blamed the pandemic on gay men, transgender children, Jewish people, and Chinese people, usually saying that the virus is a punishment from God.
In May, he pledged not to get vaccinated. "If the vaccine wipes out a lot of stupid people, well, we'll have a better world," Wiles said at the time. "I'm gonna survive. I'm gonna survive. By God's grace, by his will, I'm gonna survive the genocide."
Within a few weeks, he was fighting for his life from what he calls the "CCP [Chinese Communist Party] Covid Genocide."
In his absence, Wiles' seat was filled by Lauren Witzke and Yiannopoulos.
In June, Witzke blamed the studio's outbreak of coronavirus on Satan, who was retaliating against them for promoting Yiannopoulos because Milo once "belonged to the darkness" but has now left it by becoming "ex-gay."
TruNews, founded by Wiles, received press credentials from the White House press office under former President Donald Trump in early 2020. Wiles is also the senior pastor at Flowing Streams Church in Vero Beach, Florida.
Many online chimed in with ideas for what to call the new platform, what logo to use, and more.
Some were keen on Wiles' idea. Many others were not, or at least not for the reasons he named.
As a former young white guy let me say young white guys have plenty of places to hang out. Unless they live in their parents' basement. No one wants to go down there. https://t.co/bQne96Vc5O

— Reed Galen (@reedgalen) July 23, 2021
A "safe space" to be a racist, anti-Semitic, homophobic, misogynist incel?
Is Rick Wiles calling his platform "My Parents' Basement"? https://t.co/yfRZTEY8oY

— Victoria Brownworth #GetVaccinatedNOW (@VABVOX) July 23, 2021
People theorized how the new platform will be used.
This site is going to have more gay hookups than Grindr.

— Devin Nunes' Alt-Mom (@NunesAlt) July 23, 2021
The over/under betting line on how long it takes for the platform to be hacked will open at 4 hours. I'll probably take the under

— MikeGivesUp (@GivesMike) July 23, 2021
15 minutes after it launches it will be shut down by hackers, everyone's data will be stolen, & it will be so poisonous only the very dregs of the dregs of society will still hang around there.
IOW, a reichwing social-media site success like all the others.
Maybe call it Toilet

— Good_Gawd_Yall (@Good_Gawd_Yall) July 23, 2021
But as it turns out, the safe space already has a name.
TruNews is planning to call it "GODtribe."
May GODtribe experience a similar journey to that of other post-Trump social media ventures including Parler, GETTR, and Gab.
Actual Story on LGBTQ Nation
Author: Juwan J. Holmes