Russia arrests TikTok couple for violating "gay propaganda law"
Author: Daniel Villarreal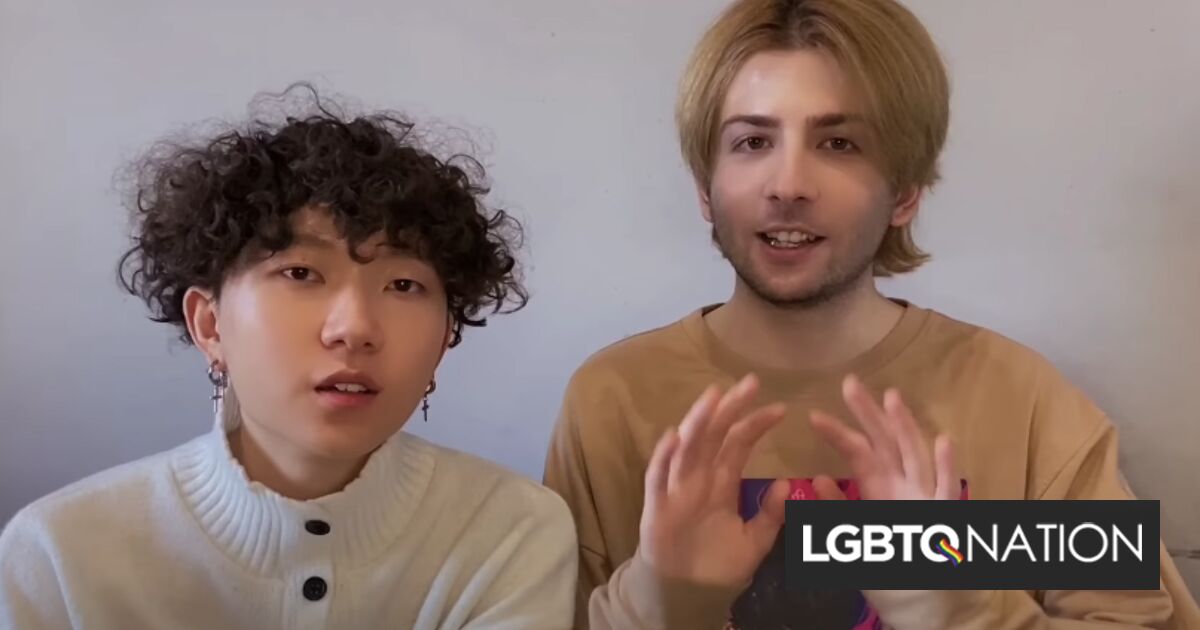 Russian authorities arrested a same-sex couple that is popular on video-sharing social media platforms and charged them with allegedly violating the country's "gay propaganda law."
On March 5, authorities in the southwestern city of Kazan approached 21-year-old Chinese national Haoyang Xu after he and his partner, 23-year-old Russian native Gela Gogishvili, had finished visiting a museum with friends, Newsweek reported.
Authorities asked Xu for his passport and student visa. He didn't have them on him. After accompanying the couple to retrieve the documents, officers took them to the Yapeyeva police station and informed them that they had broken the propaganda law.
The officers allegedly forbade the couple from speaking to lawyers and tried to make them sign numerous documents — the couple refused. After arguing with police, the couple shared messages with their 740,000 TikTok followers and 64,900 YouTube subscribers. They eventually convinced the police to let them speak with lawyers.
Xu was placed in a detention center for migrants and was scheduled to be deported to China seven days later. Gogishvili, who pledged to challenge Xu's deportation, may face a fine of 100,000 to 200,000 rubles ($1,237 to $2,474).
"We were very scared … it became a living hell because the impossible happened," Gogishvili told the aforementioned publication. "Police were not polite to us, but there was no serious abuse and I hope it stays that way," he added, noting that police took Xu's phone, leaving Gogishvili unsure of his condition.
Police had been asking about Gogishvili's whereabouts in local pharmacies since the start of March, according to Vladimir Komov, senior partner of the Moscow-based LGBTQ+ group, DELO LGBT+. Komov said the couple was "quite popular" on social media and posted content that was "not erotic."
"How did the police informer and the Kazan police deem there was LGBT+ 'propaganda' on their social media?" Komov rhetorically asked Newsweek. These guys just posted videos in which they kiss, hug, and show their favorite sleeping poses. All this was considered an inappropriate demonstration of 'homosexual intimacy.'"
Russian President Vladimir Putin first signed a law banning so-called "gay propaganda" in Russia in June 2013. The law ostensibly sought to "protect children" from any "propaganda of nontraditional sexual relationships," as stated in the law's text. The new law extends the restrictions to not just children but Russians of all ages.
The law has mostly been used to silence LGBTQ+ activist organizations, events, websites, and media, as well as to break up families and harass teachers. It has also been roundly condemned by the United Nations Committee on the Rights of the Child, the human rights groups Amnesty International and Human Rights Watch, as well as civil rights activists around the world.
Last December, Putin signed a law expanding the country's prohibition on LGBTQ+ "propaganda."
The newly signed law effectively outlaws any public expression of LGBTQ+ life in Russia by banning "any action or the spreading of any information that is considered an attempt to promote homosexuality in public, online, or in films, books or advertising," Reuters reported.
Critics say the updated law will further endanger the lives of Russia's LGBTQ+ population, which has already suffered increased harassment, violence, and hostility in recent years.
Anti-LGBTQ+ religious leaders and right-wing political figures in the U.S. have praised Putin for his law. Indeed, Republican legislators, so-called "parents' rights groups," and right-wing pundits have increasingly moved to ban American kids from accessing any LGBTQ+ content, gender-affirming healthcare, or drag shows over untrue claims that these "sexualize" and "groom" children.
In 2013, Catholic Family and Human Rights Institute (C-FAM) President Austin Ruse said Russia's anti-LGBTQ+ laws were a "good thing" that "most of the people in the United States" would support. In 2014, anti-LGBTQ+ evangelical leader Franklin Graham also defended the law.
Actual Story on LGBTQ Nation
Author: Daniel Villarreal