Religious protesters in Maryland fight LGBTQ+ school curriculum
Author: Greg Owen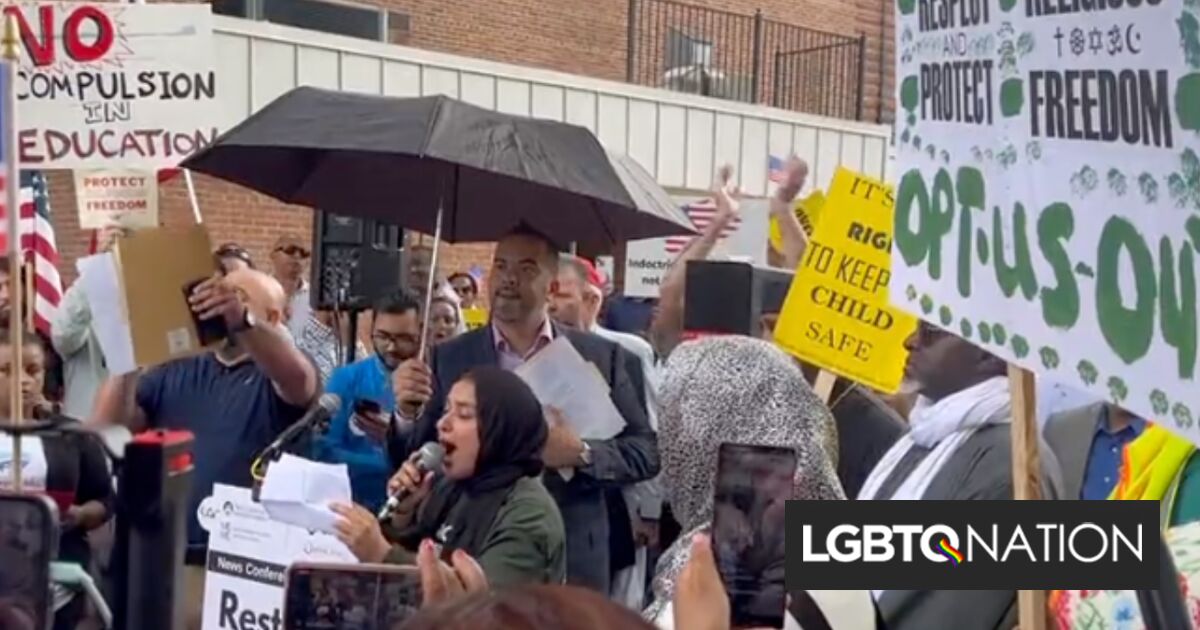 A religious group in Montgomery County, Maryland has continually protested the school district's no opt-out policy covering LGBTQ+ reading materials for middle and high school students.
A district-wide policy in the Maryland county covers books and lessons in its newly diversified English language arts curriculum. The curriculum addresses issues like race, religion, and ethnicity, and includes LGBTQ+ perspectives.
School officials implemented a temporary opt-out policy for the curriculum last October, but ended it in March.
Since then, a coalition of religious groups calling themselves Family Rights for Religious Freedom has organized a series of rallies at schools and the Montgomery County School Board's office in Rockville protesting the change and what the protesters characterize as LGBTQ+ "indoctrination."
"We have the religious right to raise our kids based on the Bible," Soloman Hailemariam, a father of four Montgomery County schools students, told far-right news site The Daily Signal at a July 20 rally.
That gathering brought out hundreds of protesters to a school board meeting at the district's offices. Signs declared, "Indoctrination by force is not American" and, "It's my right to keep my child safe."
All of the anti-LGBTQ+ rallies have been met by counter-protesters in support of the more inclusive curriculum and LGBTQ+ students in Montgomery Co. schools.
"We're here not so much to counter the protest, but to show support for the Board of Education and what they're doing, and show the queer kids that go to school here that they are supported," said John Zittrauer, a counter-protester at the July 20 rally.
While LGBTQ+-related curricula and lessons only apply to students in Montgomery County's middle and high schools, Christina Celenza, mother of another Montgomery County kindergartener, says she wants to make sure schools remain welcoming to all kinds of students and families.
"The books geared to younger kids are just showing a diverse range of families," Celenza told NBC 4 Washington. "We have a two-mom household, so my wife and I are really proud and out, and, of course, my kid in kindergarten or pre-K is going to probably talk about his family and his two moms."
Despite the ongoing protests, district officials are holding firm on their no opt-out approach.
"MCPS (Montgomery County Public Schools) expects all classrooms to be inclusive and safe spaces for students, including those who identify as LGBTQ+ or have family members in the LGBTQ+ community," a statement from the school district said. "A broad representation of personal characteristics within curricular or instructional materials promotes this desired outcome."  
"Students and families may not choose to opt out of engaging with any instructional materials," the statement continues, "other than 'Family Life and Human Sexuality Unit of Instruction' which is specifically permitted by Maryland law. As such, teachers will not send home letters to inform families when inclusive books are read in the future."
In May, a group of Montgomery County parents, supported by the Coalition of Virtue and the Religious Freedom Institute, filed a lawsuit against the school district, demanding a temporary injunction to halt the no opt-out policy on religious grounds.
Actual Story on LGBTQ Nation
Author: Greg Owen