Pansexual art teacher fired after allowing students to draw Pride flags
Author: Daniel Villarreal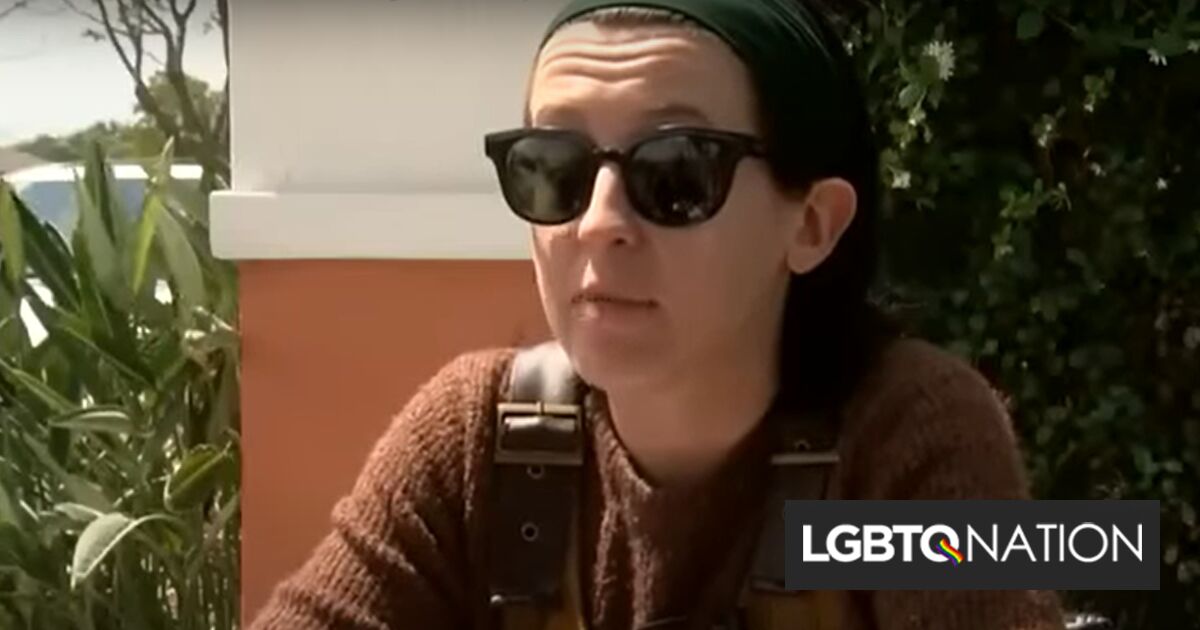 Casey Scott — a first-year art teacher at Trafalgar Middle School in Cape Coral, Florida — says school officials fired her for discussing LGBTQ issues and her pansexual identity with students.
The firing occurred on April 18, just before the state's Don't Say Gay law goes into effect. Observers say her termination is a warning for other teachers not to discuss LGBTQ issues in the classroom.
Related: Florida teacher forced to take down rainbow "COEXIST" flag just as Don't Say Gay law passes
Scott had the students in her class draw flags the day after she came out to her own family, she told the News-Press. Some of her students who identify as non-binary, bisexual, and gay drew various queer Pride flags representing their identities. She hung these flags on her classroom door.
"I wanted to show these kids that it's better to be open about ourselves than to hide it away," she said.
When students asked about her own sexual identity, she told them that she identifies as pansexual.
"I like anyone despite male, female, non-binary, transgender," Scott said, according to WBBH. WBBH noted that she is married to a man, though she told student that she has both a husband and a girlfriend.
She also told students that they could talk to her if they ever wanted to discuss their own identities.
Soon after, school administrators told her to remove the students' flags from her door. To comply with their demands, she destroyed the students' flags in front of their very eyes.
"I went over to the recycling bin. I grabbed all their flags and all the kids were staring at me. And I crumbled their flags in front of them," she explained.
Officials told Scott to go home for the day. Later on, officials with the Lee School District fired her for not following the state-mandated curriculum.
Scott said that her teacher training didn't cover what she was or wasn't allowed to tell students about issues of gender or sexuality.
"Not once did anyone from my administration ever explain to me any topic that I was not to allow or discuss… as a first-year art teacher in a reinstated class with zero art teaching experience it is reasonable to expect… a mentor to help oversee and give me guidance but, none was offered?" Scott wrote the Florida Department of Education.
She also told the school district that she would never discuss her personal life and avoid similar art projects if she was reinstated as a teacher. She wasn't reinstated.
While some students protested her firing on social media, other students and parents complained to the district, stating that they felt uncomfortable or considered it "weird" that she was discussing her sexuality.
Scott wasn't a member of the regional teacher's union, and she was also under a probationary period for new hires, during which time teachers can be let go without cause, according to Kevin Daly, president of the Teachers Union of Lee County.
Daly said that Scott's firing demonstrates the danger teachers face when discussing LGBTQ issues.
"There is kind of a heightened state of where is the boundary? And what are employees supposed to do? Or allowed to do, when a topic comes up in discussion," Daly said.
Scott said that she feels ashamed and disappointed about her firing because she was just trying to be authentic with her students.
The state's Don't Say Gay law, which prohibits discussion of LGBTQ issues in classrooms from kindergarten through third grade, was signed into law on March 28, but the law itself doesn't go into effect until May 1.
Unsurprisingly, Fox News commentator Pam Bondi criticized Scott, stating that Florida's law should include older students.
"They're drawing the transgender flag?" Bondi asked in a recent broadcast. "They should be drawing the U.S. flag. They should be drawing the Ukraine flag in art class when you're 11-years-old."
Bondi: Frankly, I think the law needs to be upped to older kids… They're drawing the transgender flag?! They should be drawing the US flag. They should be drawing the Ukraine flag pic.twitter.com/HeBKkLssch

— Acyn (@Acyn) May 5, 2022
Actual Story on LGBTQ Nation
Author: Daniel Villarreal