Out Trump sycophant Ric Grenell becomes executive of far-right network Newsmax
Author: Juwan J. Holmes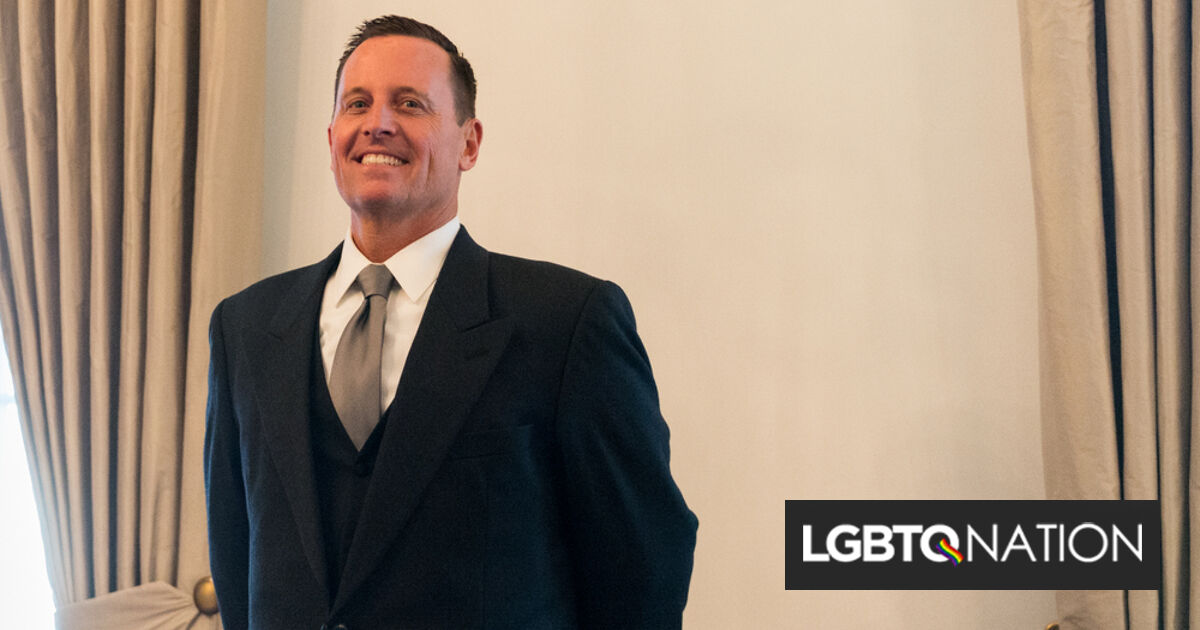 Far-right cable news network Newsmax has announced it's hiring former Ambassador Richard Grenell as "a national security contributor and executive for international partnerships," the company said in a statement this week.
Grenell, the gay man who served as former President Donald Trump's ambassador to Germany and acting Director of National Intelligence, has appeared frequently on the network after serving as a FOX News contributor for years, pushing Trump's agenda on the mainline of conservative television.
Related: Newsmax host brutally mocked for saying Pete Buttigieg's "full-time job" is being gay
Until being elevated by former President Donald Trump, Grenell was known as a Twitter troll who regularly attacked women and Democrats. When he served as acting Director of National Intelligence (DNI), a cabinet-level position, and has repeatedly tried to paint himself as the first gay Cabinet member.
When Transportation Secretary Pete Buttigieg was confirmed by the Senate and made history, the unpopular ambassador made passive-aggressive remarks online insinuating he came first.
Grenell only held the seat until the actual DNI was confirmed and even continued to serve as ambassador at the same time. Afterward, he shepherded the public relations work for Trump's campaign and much of his subsequent claims that the 2020 election was being stolen. Outside of that, Grenell largely returned to trying to make fun of people on Twitter, when he wasn't being made fun of himself.
He also frequently claims to represent Trump at events around the world, such as his trip to Kosovo last month supposedly as Trump's "envoy ambassador," despite the fact that he no longer has the authority to appoint ambassadors or send them on behalf of the United States.
Newsmax expressed enthusiasm to serve as Grenell's pedestal to reach new viewers with Trump's agenda. In fact, Grenell confirmed as much in his statement with the company: "I see clearly the urgency to reach people through new OTT platforms and Newsmax is a leader in direct streaming capability," he said.
Newsmax CEO Christopher Ruddy claimed, "Ric Grenell is a master of politics, media, and government, and we believe our viewers will gain great insight from his broad experience and public service."
Grenell's move is the latest in the ongoing battle between FOX News and other, newer conservative networks to swoon Trumpist audiences that largely felt rejected by FOX News, especially after they stopped pushing the conspiracy theory that the 2020 election was stolen. Grenell's hire and Trump's interview with former Arkansas Gov. Mike Huckabee (R), which aired on Newsmax, could signal a shift in favor of the newer network for conservative.
But within the last two months, Newsmax had angered their own talent, and in turn some of their base, by instituting a vaccine mandate within the company. At least one host, ex-Trump aide Steve Cortes, lost his spot on air as a result.
Newsmax also suspended, and ultimately fired, White House Correspondent Emerald Robinson after she began pushing conspiracy theories about the vaccines, despite the company's insistence that she focus on tracking the Biden administration. The network hired James Rosen, the former Washington Correspondent for FOX News, as her replacement.
Rosen is a much more seasoned journalist in comparison to Robinson, who once hosted a science show online prior to working in conservative news. Rosen spent 20 years at FOX before he departed at the end of 2017, then joined local news conglomerate Sinclair Broadcasting Corp. He was also accused of sexual misconduct, when former co-workers revealed in 2018 that he had "an established pattern of flirting aggressively with many peers" and committed "overt physical and sexual overtures" to co-workers, including allegedly grabbing one co-worker's breast.
While Rosen's hiring may have earned Newsmax further legitimacy in comparison to FOX and One America News (OAN) Network, Grenell's is likely to have an opposite effect. Anti-LGBTQ viewers — used to the network's usual attacks on LGBTQ people, anti-LGBTQ contributors such as Dave Rubin and Dennis Prager, and denouncement of out officials such as Pete Buttigieg — are already attacking the network for hiring an out man.
Newsmax already struggles to compete with FOX's widespread availability on television, as Newsmax still has limited availability among TV providers, and many viewers have to access the network through the internet.
Grenell harped on this fact in the company's statement. "In fact, many in my own family are exclusive streamers. They watch networks like Newsmax by simply accessing the internet," he made a point to say.
According to Mediaite, Fox News' prime time audience was close to 2.5 million total viewers, while Newsmax was no more than 120,000 total average viewers, in November 2021.
Actual Story on LGBTQ Nation
Author: Juwan J. Holmes