Out Paralympians accuse coach of bullying & say authorities disregard their concerns
Author: Juwan J. Holmes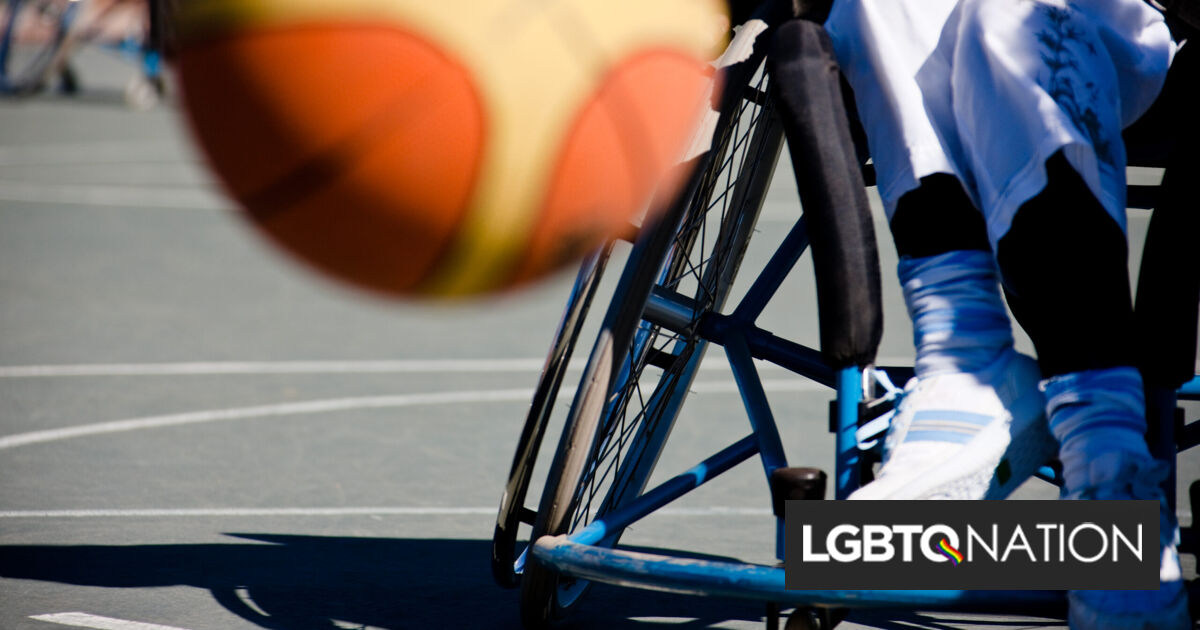 Four members of the United States Women's Wheelchair Basketball Paralympic Team, two of whom are out, have publicly accused their head coach of emotional and verbal abuse. They previously disclosed their allegations to the National Wheelchair Basketball Association (NWBA), which announced this week their decision to retain the coach anyway.
Kaitlyn Eaton, Ali Ibáñez, Josie Aslakson, and Courtney Ryan then each made statements detailing their treatment from Lawrence "Trooper" Johnson when the NWBA initially decided to retain him as head coach for the 2022 Paralympics. More voices soon joined them. After the athletes decided to speak out via Instagram, Johnson issued his resignation as head coach last night.
Related: The United States should consider boycotting the 2022 Olympics in Beijing

Eaton, who is an out lesbian, made an eye-opening post on December 8.
"Over the past 5 years, I have been emotionally and verbally abused by our head coach," Eaton wrote alongside a promotional picture taken from the NWBA celebrating Johnson's return as coach.
In addition to requiring a "weight loss competition" so his athletes would treat their bodies like "race cars," Eaton said, "I have sat in video sessions with him where he showed our missed shots on repeat and then proceeded to call me uncoachable because I didn't agree with that method of teaching. I have been called slow, out of shape, and lazy 2 weeks after recovering from COVID. I have been benched as a starter for speaking up for my team with the way we were treated. And, I didn't play hardly at all in Tokyo because he just didn't like me (was told that multiple times by multiple people on our staff)."
Further, Eaton revealed that the NWBA tried to cover up her allegations. "I have made multiple complaints to the @nwba and not a single one has been taken seriously," she said. "In fact, I was even once told to 'stop perpetuating a story that just isn't true.' The fact of the matter is, this organization is choosing to ignore their athletes and to turn a blind eye to any of the abuse that has occurred."
Following Eaton's post, several other players and former players made statement, starting with Aslakson, who said that "Today is truly a sad day for women in sports."
"Have we not learned from previous mistakes– previous abuse reports left unanswered for too long? NWBA, I come to you as a proud Paralympian, longtime lover of the game, honest human being, and protector of women to come: please #BelieveWomen," wrote Aslakson on Instagram.
Ryan, who is also an out lesbian, also shared the truth about her first time as a member of the U.S. Paralympic Wheelchair Basketball team.
"An athlete's first Paralympic experience should be a time of excitement, awe and, at times nerves," she said. "Representing your country on the international stage is the highest honor an athlete can have. Unfortunately this was not the case for me as a first time Paralympian in Tokyo."
She made clear, "I am used to receiving constructive criticism from coaches," but "the negativity and personal attacks directed towards me from the head coach affected my confidence and my game at a time that I needed to be at my best. The NWBA's lack of acknowledgement of the complaints expressed by its most elite athletes has compounded our fear and frustration, culminating in the unimaginable re-selection of the same head coach."
Ryan goes on to say that "I am asking for a response from the NWBA to address all of the dissatisfaction that has been expressed."
Her post included a graphic that read, "NWBA, WE NEED ANSWERS! #BelieveWomen #WeCoachToo."
Former Paralympian Desi Miller also made a post on Instagram, featuring a four-minute video detailing her experience with Johnson and his "toxic environment."
"Disabled women are one of the most unheard populations out there and enough is enough," she said.
Ibáñez, who also made their Paralympic debut last year, also spoke out.
"It's about damn time I say something," she said in a post that was "terrifying to write" for her.
"For someone who is rather vocally reserved, know that what I'm about to say speaks volumes."
Stephanie Wheeler, a board member since 2019 and two time Paralympic gold medallist, also issued a formal statement shared on Instagram, that said succinctly, "This week, the National Wheelchair Basketball Association (NWBA) chose to rehire Trooper Johnson as the head coach for our women's national team, ignoring allegations of abuse from current and former players.
"This decision shows the safety of our athletes is not our top priority," Wheeler said. "Effective yesterday, I have tendered my resignation to the National Wheelchair Basketball Association Board of Directors."
In her resignation, Wheeler describes the gender inequality at the NWBA, even when it comes to their women's teams.
"The NWBA has a long history of gender discrimination in its coaching ranks, most evidently at the national team level. Since the inception of the women's wheelchair basketball competition at the 1968 Tel Aviv Paralympic Games, there have only been two women to be named the head coach of our national team."
Wheeler said that "Women, particularly disabled women, in our organization have been systemically pushed out of coaching at the highest level of our sport. With my resignation from the Board of Directors, I am giving my full support to our athletes. They deserve to be listened to, and their concerns deserve to be directly addressed by the NWBA."
Following the outpouring of statements, NWBA CEO Will Waller admitted to NBC Sports that they knew Johnson was under investigation from the U.S. Center for SafeSport when they decided to retain him, although it was "limited knowledge."
"We are unable to limit someone's participation in sport when they are the subject of an investigation that is under the jurisdiction of the Center," he claimed.
In a previous statement, the NWBA initially stood by their decision to retain Johnson.
"NWBA reaffirms its commitment to processes that ensure both the SafeSport Code is upheld and an environment / culture exists that is safe, healthy, and competitive for all members of High Performance, including athletes, coaches, and staff," they said on December 9.
Eaton had pledged that she would not play as long as Johnson remained coach of the team.
"They could have chosen essentially anyone else and I would have played," Eaton told OutSports.
Johnson issued his resignation last night while maintaining his innocence from the allegations.
"For the benefit of myself and my family, which has been under a vicious character attack while an investigation had yet to start, I am stepping away from the U.S. National Team after 31 years of dedication," he stated according to the NWBA. "I will cooperate with the U.S. Center for SafeSport investigation and believe there will be no findings; however, at this time I don't want this situation to get in the way of the progress we have made within the women's program or the NWBA."
The NWBA claimed they will "continue to fully support" the investigations into Johnson as they continue.
Johnson is "the iconic symbol in the NWBA logo," as the league boasted in a statement initially announcing his retainment on December 7.
Johnson was head coach since 2017, after being an assistant coach since 2013. He led the Paralympic Team to Bronze last year at the Tokyo Paralympics, and he previously won two bronze medals of his own as a Paralympic Basketball player in 1996 and 2000.
Eaton and Ryan were two of the several "Team LGBTQ" out athletes to bring home medals from Tokyo following the Olympics and Paralympics last month, including 25 Paralympians.
The NWBA is far from the first American sporting organization to have an allegedly lackluster response to accusations of abuse within their organization. For years, Olympic gymnasts were abused at the "care" of Larry Nassar, a doctor empoloyed by USA Gymnastics — which is subsequently facing decertification as a national governing body by the United States Olympic Committee. The organization has also filed for bankruptcy following lawsuits over their failure to stop Nassar.
The National Women's Soccer League (NWSL), which includes several U.S. Olympic soccer players, has also dealt with allegations that it has failed to adequately deal with abuse allegations. Other Olympics sports or athletes representing America in those sports — including taekwondo, fencing, swimming and diving — currently have abuse accusations, investigations, and/or resignations of officials coming to light in recent weeks.
Jordan Windle, who is the adopted son of a gay man, who raised him while being single, was suspended this week by SafeSport for allegedly exchanging sexual messages with minors, according to SwimSwam.
The next wheelchair basketball games at the Paralympics are not scheduled until 2024, but the International Wheelchair Basketball Federation (IWBF)'s championships are being held next summer in Dubai.
Actual Story on LGBTQ Nation
Author: Juwan J. Holmes