NYC mayor signs "sanctuary" order protecting gender-affirming care seekers
Author: Daniel Villarreal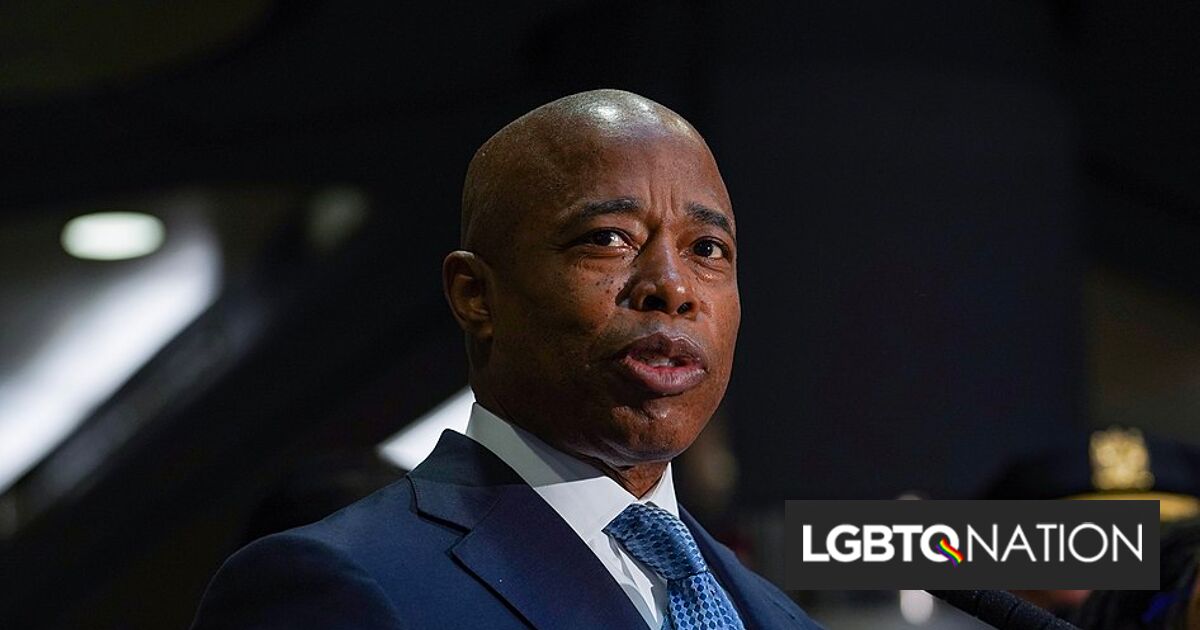 New York Mayor Eric Adams has signed an order protecting people who come to the city for gender-affirming care. The order prohibits any city resources or officials from detaining individuals or assisting out-of-state investigations into anyone who seeks or provides gender-affirming care for transgender youth.
The order, which Adams signed on Monday, noted that gender-affirming treatments are legal in New York State. It also noted that 20 states have enacted legislation to restrict such care for minors. Some of this legislation allows state officials to punish any adults who help minors obtain gender-affirming care.
As such, if any out-of-state individual violates their state's laws restricting gender-affirming care and then flees to New York City, Adams' order ensures that the city and its representatives won't help another state investigate or prosecute the individual.
"This executive order reaffirms the fact that hate has no place in our city and that all people deserve the right to gender-affirming care and protection against prosecution for being who they are," Adams said in a statement. "To LGBTQ+ people across the nation feeling hurt, isolated, or threatened, we have a clear message for you: New York City has and will always be a welcoming home for you."
As of June 14, 20 states have banned gender-affirming care for trans youth, according to the Movement Advancement Project. Some of the states require trans youth who are currently receiving such care to de-transition.
Five of these states — Alabama, Florida, Idaho, North Dakota, and Oklahoma — have passed legislation making the provision of such care a felony. Some states label gender-affirming care a form of "child abuse" and allow children to be forcibly removed from their parents and placed into state care if parents seek medical care for their trans kids.
At least four other states — Minnesota, California, New Jersey, New Mexico, and Washington — have all taken steps to become "sanctuary" states for people seeking gender-affirming care. New York City now joins the other cities and counties that have taken steps to protect access to such care.
Every major medical association in the U.S. says that gender-affirming care is safe and essential to the well-being of trans youth and adults. Denying such care increases a trans person's likelihood of emotional distress and mental illness, numerous studies show.
Numerous politicians and LGBTQ+ advocates praised Mayor Adams for his executive order.
"Across the country, oppressive right-wing state legislatures are actively undermining and threatening the rights and livelihoods of transgender, gender nonconforming, non-binary, and intersex (TGNCNBI) and LGBTQIA+ people," said New York City Councilmember Crystal Hudson, co-chair of the Council's LGBTQIA+ Caucus.
"These legislative efforts to further marginalize our transgender neighbors in particular have resulted in increased instances of physical violence against the LGBTQIA+ community broadly and seriously imperiled the constitutional rights of all Americans. With this executive order, Mayor Adams has strengthened our city, refusing to allow homophobic and transphobic bigotry to creep into our communities and standing New Yorkers firmly against hate."
Actual Story on LGBTQ Nation
Author: Daniel Villarreal