Liberty University professor charged for alleged abduction & sexual assault of student
Author: Juwan J. Holmes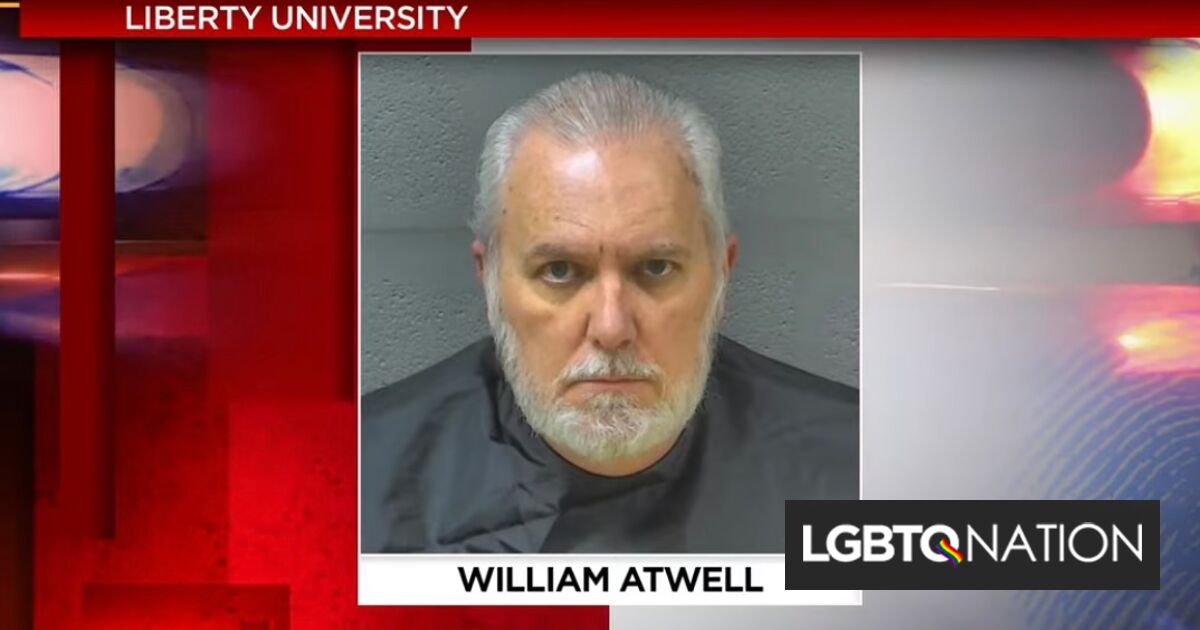 A professor at Liberty University has been arrested and charged with felony abduction by force or intimidation and misdemeanor sexual battery, acts he allegedly committed against a student at the evangelical college.
Associate Professor William Atwell was arrested on November 20, one day after he allegedly committed the act of abduction or intimidation. The alleged sexual battery occurred on September 15, but most details about the alleged acts have not been publicly disclosed or confirmed.
Related: The right begins to turn on Glenn Youngkin after discovering he has an out staffer
The school's own on-campus police force arrested the professor and, "with the student's consent," referred the matter to the Lynchburg County attorney's office.
Atwell was arraigned and posted bond, leading to his release on November 29.
It's not clear how long school officials knew about the matters, but Atwell's students were in the dark until news of Atwell's charges broke, and a student came across his mugshot. Prior to that, he had been out of work since November 4. He repeatedly told students he was sick, according to emails obtained by Liberty Champion News student reporter Robert Locklear. One of the days he called out "sick" was November 19, when he allegedly committed one of the criminal acts. The school then told students he was still sick after the Thanksgiving break.
"When asked on Tuesday if he was okay, because we knew he'd been sick, they simply just told us he was fine. We didn't know at the time what 'fine' meant," Liberty University senior Hailey Wilkinson said to NBC affiliate WSLS.
"[Then] I saw his mug shot. I was very disturbed by it and grieved because it was a man I felt I trusted," she added. "I'm very angry right now. I urge the university to speak to their students."
A former Liberty student, who also took classes with Atwell before leaving the school altogether, suggests that other faculty at the school have acted similarly.
"I took one fall semester and I just saw a lot of things I wasn't a fan of. I've had personal experiences like the one stated and it's scary," Hannah Couch said.
William Atwell has been charged with sexual battery and abduction by force or intimidation. A #LibertyUniversity spokesperson said, "Liberty University takes nothing more seriously than claims that a faculty member has had inappropriate sexual contact with one of our students…" pic.twitter.com/0ahkArlxnA

— Cynthia Beasley (@CynthiaABC13) December 1, 2021
Online court records show Liberty University Police arrested Atwell Nov. 20, 2021, but the charges are related to an incident that happened Sept. 15, 2021.

— Cynthia Beasley (@CynthiaABC13) December 1, 2021
Atwell, who is deaf, taught American Sign Language courses at the school, and has worked there since 2013. His information has subsequently been removed from Liberty University's website.
"Liberty University takes nothing more seriously than claims that a faculty member has had inappropriate sexual contact with one of our students, something for which there is zero tolerance," the school claimed in a statement about Atwell's alleged acts.
"We are treating this matter with the utmost seriousness, care, and concern," they said. "The faculty member has also been suspended by the university pending the outcome of this matter."
The next hearing in Atwell's prosecution is scheduled to take place on January 25, 2022.
His arrest follows several complaints about the prevalence of sexual misconduct or sexual assault at the school based in Lynchburg, Virginia. To date, more than 22 women have alleged that they have been victims of such acts, and the school is liable or refused to take action to prevent such acts, in a lawsuit initiated in July. More lawsuits were filed last month as well, according to ABC affiliate WSET.
In November, another student bought a separate lawsuit alleging that when she reported being drugged and raped at the school, officials did not take her accusation seriously and tried to cover it up. She ended up being pregnant as a result.
Additionally, Valerie Dufort, a former employee tasked with investigating allegations of sexual misconduct or harassment is also suing the college for discrimination against her and a bisexual student.
The school's former president, Jerry Falwell — who himself resigned while being mired in allegations that he and his wife targeted young men and even a former student with sexual harassment and misconduct — is also suing.
In October, a report found that the school consistently discouraged rape victims from filing reports and blamed them for being attacked. Some rape victims said that they themselves were even fined after reporting their attacks, because they had to admit to drinking and spending time with the opposite sex — both of which are prohibited by the school's code of conduct, "The Liberty Way."
Within the same week, current Liberty University president Jerry Prevo was busted in a leaked tape saying that he wants the college to work to get politicians elected, citing how he evaded "the homosexual community" for decades. This could put Liberty's tax-exempt status at risk; it's a 501(c)(3) organization that's not supposed to be involved in elections.
Senior Vice President for Communications and Public Engagement Scott Lamb, who was also on that call, was fired. Now he has subsequently begun suing the school allegedly for retaliation because he was raising concerns about Liberty's alleged systematic attempts to silence rape victims on campus. Lamb is being countersued by Liberty.
In July, LeeQuan McLaurin, a former staffer at Liberty University's Office of Equity and Inclusion, also began suing the college for race discrimination, sex discrimination, and retaliation following complaints to human resources. McLaurin alleged that his supervisors consistently punished him for not holding traditional evangelical beliefs, and he was not allowed to do certain things because he is a Black, gay man.
Actual Story on LGBTQ Nation
Author: Juwan J. Holmes