Jerry Falwell reignites feud with Liberty University by once again suing them
Author: Juwan J. Holmes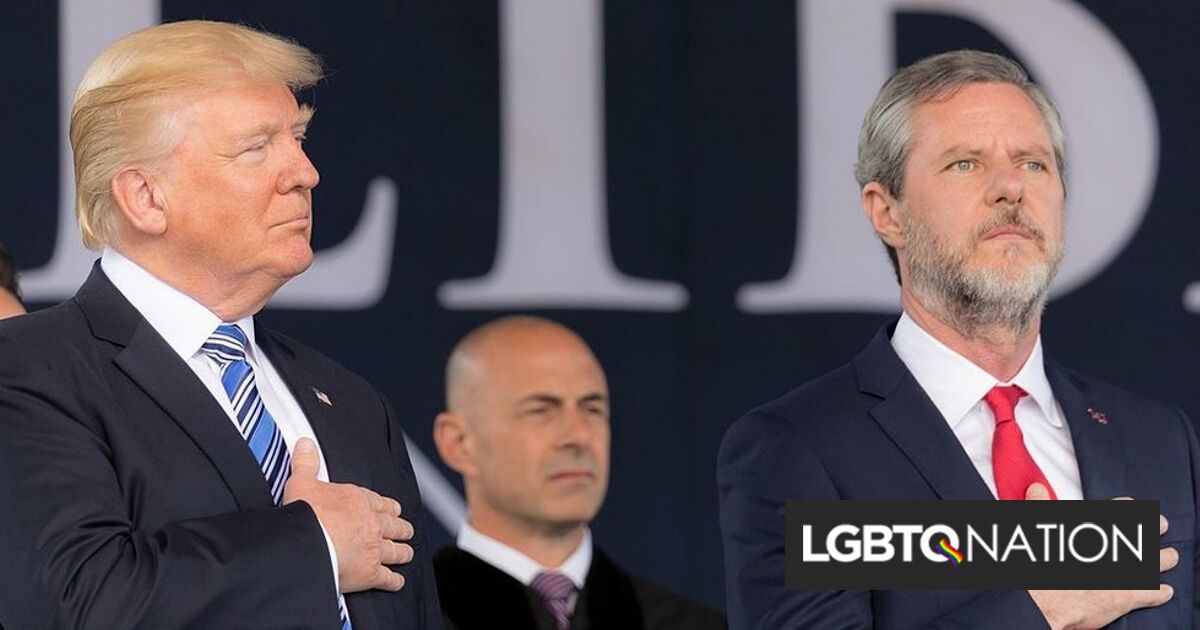 Evangelical leader Jerry Falwell, Jr., has decided to reinitiate his lawsuit against his former employers at Liberty University, just over a year after he first filed a lawsuit against them for allegedly defaming him. In addition, Falwell is claiming that the school has retained properties that belong to him that they should return, including horses, a revolver firearm, and the rights to a URL domain.
Falwell's lawsuit comes as the college he was formerly president of faces several other legal battles, including a $10 million lawsuit Liberty filed against Falwell earlier this year, after Falwell's claim was rescinded.
Related: Anita Bryant's granddaughter is marrying a woman. Grandma isn't happy for the bride-to-be.

The latest edition of the lawsuit was filed in late October with the Lynchburg Circuit Court in Virginia. In addition to seeking $10 million in damages (again), Virginia Business reports that Falwell requests that the court order the return of items that Falwell claims he owns or received as personal gifts while serving as president of Liberty University: "a .38 revolver, the JerryFalwell.com URL, legal files and three horses loaned to the university's equestrian center."
The issues between the two sides derive from the circumstances of Falwell's departure last year after several alcohol and sex-related controversies ensued — most notably several allegations that he and his wife, Becki, were sexually involved with young men, some that even attended Liberty University, all of which would've violated the school's conduct rules.
During his tenure, he was also caught partying in Miami, engaging in bad business deals with young, muscular men, making sexually charged comments to school staff and posting a picture of himself to social media with a woman who was not his wife – and both their pants were open.
Falwell resigned, then un-resigned, then ceremoniously resigned again in August 2020 amidst the scandals, and Falwell began to sue them just weeks later. The son of the late Rev. Jerry Falwell, who founded Liberty and ran it before his death, Falwell Jr. claimed that the school was out to "damage his reputation." By December 2020, however, Falwell had said he would no longer pursue his countersuit as he took a "time-out" over the issue, and he later claimed that he and Liberty had resolved the matter out of court.
Still, even as Liberty's lawsuit has remained active against Falwell, he has continued to return to the school's campus numerous times and remained involved in the community, such as when the 59-year-old invited the students to his home "to have the real Liberty graduation," he claimed at the time.
He later rescinded the invitation, but under the guise that he only chose to do so because he returned to the hospital with blood clots in his lungs, an issue that's affected him multiple times over the last two years.
Meanwhile, Liberty University has been embroiled in further troubles even after Falwell's departure. Jerry Prevo, the president that succeeded Falwell in the role, has recently put the college's 501(c)3 status in jeopardy by declaring his intention to get further involved in politics.
Prevo, a longtime anti-LGBTQ activist on his own, reportedly touted his past lobbying against LGBTQ rights in a phone call with Liberty University Senior Vice President for Communications and Public Engagement Scott Lamb about the "Standing for Freedom Center," Liberty's think tank. A recording was obtained by Politico.
"Are they getting people elected? Which is one of our main goals," Prevo said about the think tank on the call. "Are they really motivating our conservative people to really get out to vote? If they are, we ought to be seeing some changes in elected officials — and we are to some extent. All I want to do is to make us more effective."
Lamb expressed concern that the university shouldn't be seen as pushing for particular candidates since the school's non-profit status could be put at risk.
"I have a 501(c)(3) church," Prevo responded. "For 30 years, I've known how to handle that and not get into trouble. The homosexual community has tried to take me down for at least 30 years, and they have not been successful because I know how to work the 501(c)(3)."
Falwell Jr. was also involved in politics. He was one of the first major evangelical leaders to endorse Donald Trump in the 2016 Republican presidential primary. Trump's former lawyer Michael Cohen said last year that Falwell Jr. endorsed Trump after being blackmailed with "racy" pictures.
Lamb was fired by Liberty earlier this month, and he's now suing the school, saying that it was retaliating against him for raising concerns about Liberty's alleged systematic attempts to silence rape victims on campus. Those attempts often included punishing the victims – or threatening to – with fines and accusations that they were to blame for the actions of a rapist.
Dozens of former students have come forward, saying that Liberty University would use rape survivors' stories against them, telling them that they could be punished for violating the school's bans on drinking, mixed-gender parties, and other rules if they filed complaints against their alleged rapists.
Liberty University denies any wrongdoing regarding their tax status. Neither side commented on the lawsuit this week.
Actual Story on LGBTQ Nation
Author: Juwan J. Holmes