Homophobic vandals ruin elderly Christian couple's work painting rainbow in front of church
Author: Daniel Villarreal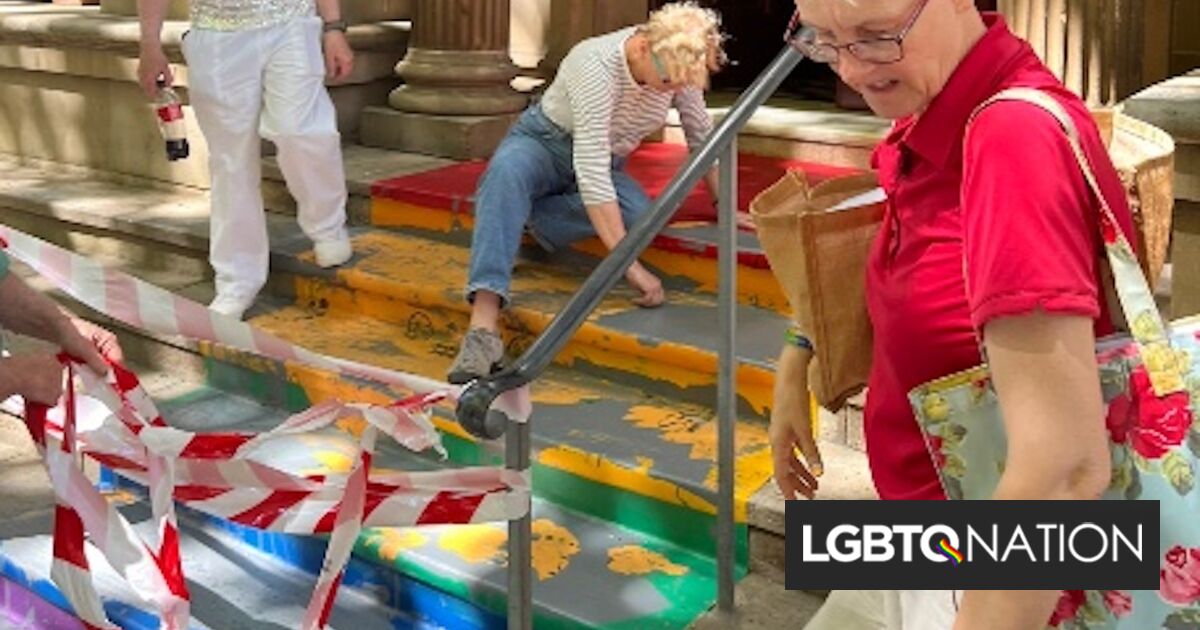 Vandals defaced the rainbow steps in front of the Pitt Street Uniting Church in Sydney, Australia during the city's World Pride celebration. But the church's community repainted the steps less than half a day later, refusing to let the hateful act deter them from their welcoming message.
On February 24, someone recorded and posted a video to social media of a man walking up to church volunteers who were painting the steps. He asked them, "Is this Christian? What are y'all doing here… Is God for this?"
The woman in the video smiled and calmly answered, "Absolutely. God is for love, for welcome, for hospitality. God is very hospitable towards this."
The man then asked where in the Bible God expresses support for same-sex marriage, adding, "God is love? Of course he is, but he's holy too."
The man continued, "You believe God is holy, you believe he's got commandments, and do you believe we should obey them? Because God says, if you love me, keep my commandments. But love is not at the expense of truth, is it? This is an abomination to God. Do you read the Bible? Do you read your Bible?"
The woman repeated that God supports love and then said, "I don't think these are Christian questions that you're asking," before saying that she needed to continue painting the steps.
The man literally growled and told viewers, loud enough for the woman to hear, "She's disgusting." He then told her, "You need to repent."
The man continued, "A Christian is a Christ-follower. You're not really following Christ. Without Christ, you're going to a devil's Hell. Did you know that? You're being deceived, man, and I don't want to be deceived. I'm worried for your soul." He asked her repeatedly, "Do you know what happened to Sodom and Gomorrah?"
As he left, his camera scanned the stairs as he said, "This is not Christian. This is an abomination, and God is going to judge those people. It's wrong. It's wrong."
Later that night, two unknown vandals recorded their visit to the church. One poured grey paint onto the steps and spread it with a paint roller. One vandal said, "F**k the LGBT."
Soon after, Charlie Bakhos, a man who runs the Facebook page Christian Lives Matter, reposted the video. His post said the vandals were "superheroes" who were "adding their artistic touches to the church steps."
Though the Sydney City Police Area Command is investigating the people behind the two videos, Facebook has previously removed content from the Christian Lives Matter Facebook group for violating the social network's hate speech policies, The Guardian reported. The group also promoted an anti-LGBTQ+ speech late last month where a large mob physically assaulted a small group of pro-LGBTQ+ protestors. The mob shouted "Leave our kids alone!" and accused police of "protecting the pedophiles," as the protestors fled by taxi.
The morning after the vandalism, February 25, the church quickly repainted the steps and then posted photos of them on Twitter. Church members then marched in the World Pride parade later that day, under a banner that said, "Rainbow Christians Together."
'Hate is never acceptable," Uniting Church President Rev. Sharon Hollis said in a Facebook statement.
"A place of worship is a sacred space where all people should feel welcome and safe. I stand against these acts of vandalism and verbal attacks on Church members. We send our prayers and solidarity to Pitt Street Uniting Church in Sydney and to all LGBTIQA+ people of faith and their allies."
Pitt Street Uniting Church's Rev. Dr. Josephine Inkpin told Insights, "Such an attack is sad but not surprising and part of a range of harassments Pitt Street Uniting Church and fellow affirming Christians are enduring."
"Pitt Street Uniting Church has met such opposition for years on our stand for various aspects of justice and the quick renewal of the rainbow is part of our strength and determination," she continued. "We pray however that others may now see the need for more active affirmation in both church and world."
An estimated 500,000 people participated in the World Pride events, and nearly 300 Pride attendees attended the church's February 21 pancake breakfast event. The church also regularly holds interfaith events and intercultural events for trans people and people of color.
Actual Story on LGBTQ Nation
Author: Daniel Villarreal