Gay couple's Black Lives Matter rainbow flag ripped apart by hateful vandal
Author: Juwan J. Holmes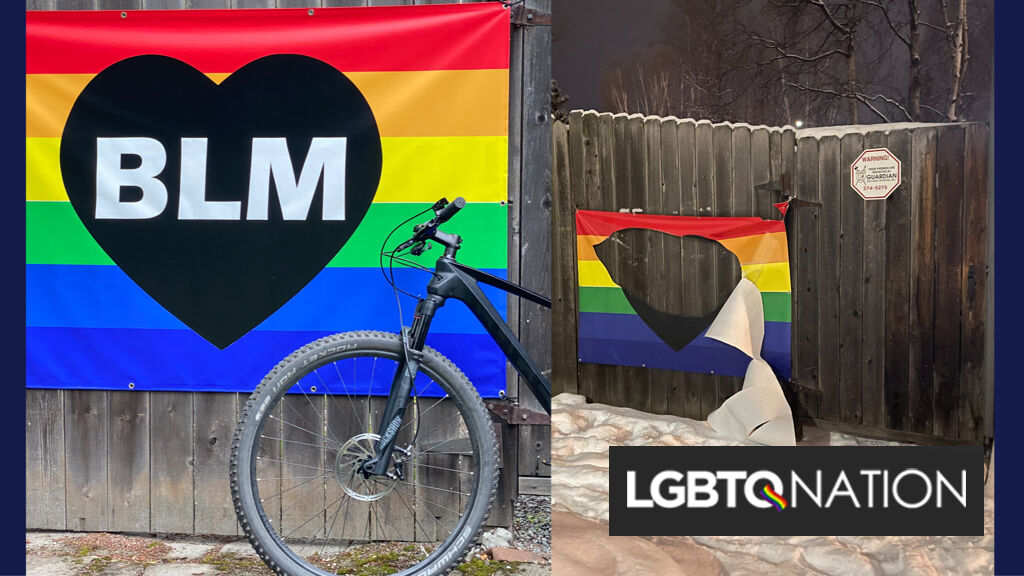 James Eric Welch was sitting in his living room, watching television in his Anchorage, Alaska home before he stepped outside to walk his dog.
That's when he saw: a vandal had slash and desecrated a Pride flag he had hung up on the outside of his house. "My friend did the design and I had it made," Welch told LGBTQ Nation via text this week. "I'll have another one made."
Related: Child kidnapper Lisa Miller is behind bars after escaping the law for a decade
Welch and his husband, Ralph Pasana, had the flag — custom-made with a black heart in the center with the abbreviation "BLM" for Black Lives Matter — placed out since George Floyd's murder in late May 2020. He said that there was no indication prior to this that the flag bothered anyone in his area or passing by.
"All we've ever heard are compliments," Welch said, "and gratitude."
Welch told LGBTQ Nation how "people have stopped several times to offer thanks and support" prior.
"Now, people are stopping to say how sorry they are and how awful it is."
The vandalism took place on the evening of February 5. Welch believes it happened between 6:30 p.m., by which time he waved his husband off as he went out for the night, and 8:00 p.m., when he took the dog out. That's when he saw that someone cut the heart out of the rainbow flag.
"I don't have any clue how to find out who did it. There is no camera footage or anything to review."
Welch said that he is considering reporting it to the Anchorage Police Department but isn't sure it would be a fruitful endeavor.
"I'm not sure it's all that unique," he told LGBTQ Nation.
Still, Welch is not discouraged from waving the flag. He is committed to showing support to both the Black Lives Matter movement and LGBTQ community in the largest city in America's most northern state.
When asked what he would say to the person responsible for the vandalism if he could find them, Welch said, "I hope the person resolves whatever internal conflict causes them so much pain that they're compelled to damage another person's property. To destroy a symbol meant to convey love and inclusivity."
Actual Story on LGBTQ Nation
Author: Juwan J. Holmes