Gay couple abandoned in wildfires because someone thought they're not a "real family"
Author: Daniel Villarreal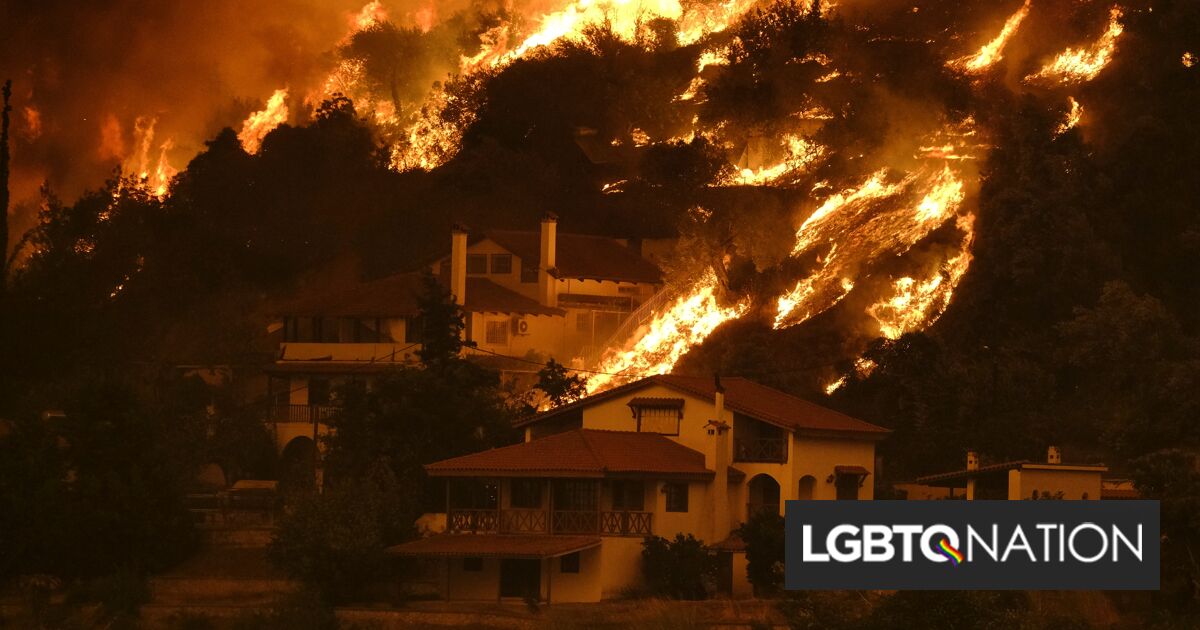 A British male same-sex couple and their young son were denied shelter in a house while fleeing wildfires in Greece because the house owner disapproved of them being gay.
Sean Palmer, his husband Matt Smith, and Matt's six-year-old son began their one-week vacation on the Grecian island of Rhodes on July 18. The family stayed in a hotel on the island's eastern city of Pefkos just as wildfires broke out, shutting off water and electricity citywide, bringing the scent of smoke within the hotel, and causing the staff at nearby restaurants and bars to evacuate.
In the middle of the night on July 22, an emergency text message alerted the family of a mass evacuation. The family saw flames from their hotel balcony as "ash fell from the sky 'like it was snowing,'" EdinburghLive reported.
A total of 20,000 people were evacuated from the island, The Guardian reported. The evacuation effort involved 10 firefighting airplanes, eight firefighting helicopters, over 260 firefighters, 49 fire trucks, and hundreds of volunteers, the BBC reported.
"We just went into panic mode," Palmer told EdinburghLive. "I just felt sick and thought, 'Is this really happening? How close is the fire getting?' We went to reception and there were alarms going off everywhere. It just didn't feel real."
That night, they waited for several hours in a parking structure alongside hundreds of people carrying suitcases. A bus eventually picked them up and they slept in a nearby school, using towels on the floors as a bed. The locals kindly provided food and water during the night, but the school's toilets were "disgusting," Palmer said.
The following day, the family was offered a house to stay in while awaiting their flight back home to Newcastle, England. However, when the homeowner arrived to pick them up, he said he was expecting a "family." Palmer explained that they were a family, but the homeowner explained that he had expected "a man and woman." The homeowner then removed the family's bags from his vehicle and left the family at the school.
"I guess it's up to them who they have in the house – you can't really fault that, I suppose," Palmer said. "But if we had been a man and woman then we would have been given a house. We were just absolutely gobsmacked."
Having no other options, the family accepted a room at a nearby homeless shelter and tried to "keep cool and act normal" to not upset their child. Trying to figure out travel back home, Palmer said he stayed up for nearly 59 hours.
The travel agency that booked the family's trip, Touristik Union International (TUI), eventually offered the family a flight to Manchester, 160 miles away from their hometown, but they accepted and received a ride home from Smith's father.
TUI also offered the family £750 ($955.17), a voucher for future holiday travel, refunds for the nights they didn't stay at their hotel, as well as repayment for the costs of the taxis, flights, and gas returning home. Palmer rejected the voucher.
Palmer reported the homophobic incident to the British consulate, but he's unsure if anything will be done since he didn't know the homeowner's name or address.
Greek Prime Minister Kyriakos Mitsotakis offered all evacuated vacationers a free-week stay this coming autumn, stating that wildfires had affected 15% of the island, but were now under control. Tourism largely drives the country's economy.
Over 80 wildfires have broken out across Greece, killing five people and injuring over 20, SkyNews reported.
Since 2022, Greece has banned LGBTQ+ conversion therapy and genital surgery on non-consenting intersex babies. Mitsotakis has also promised to legalize same-sex marriage.
Actual Story on LGBTQ Nation
Author: Daniel Villarreal