Four men beat gay couple for holding hands after Pride. They got off with no jail time.
Author: Alex Bollinger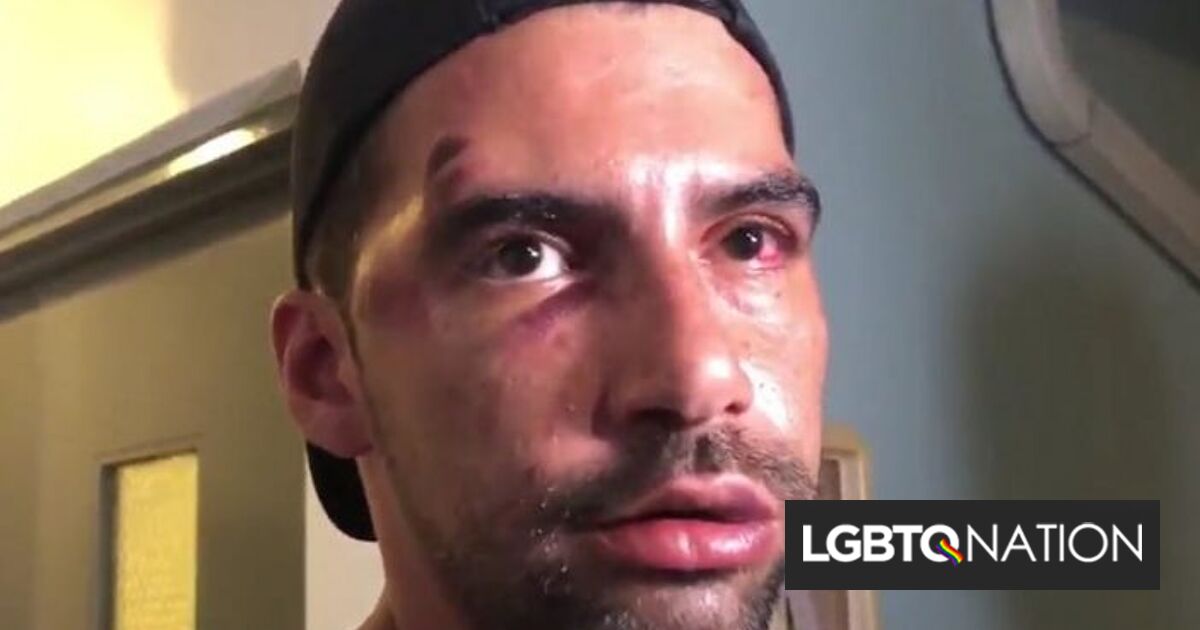 Four men in Florida were sentenced to probation and community service for the vicious 2018 beating of a gay couple at a Pride event because the couple was holding hands.
The attack on Rene Chalarca and Dimitri Logonov made national headlines at the time, taking place as the two were leaving a restroom in Lumus Park after Miami Beach's Pride parade. The brutal attack was caught on security video.
"They start to hit us, like beating us, hard," said Chalarca.
"It was, like, instant. I got hit, and they knocked me out," said Logunov, who said that the attackers called him a "fa***t" in Spanish. "We probably provoked them because we were walking together, holding hands. It was gay pride, South Beach was full of gay people."
Chalarca and Logonov were hospitalized.
Police searched for the attackers, releasing images from surrounding security cameras. Juan Carlos Lopez, Luis Alonso, Adonis Diaz, and Pablo Figueroa later surrendered to police and were charged with aggravated battery with hate crimes enhancements and could have faced up to 30 years in jail.
But under a plea deal last month, the charges were reduced to two counts of battery with prejudice. All four of the assailants got five years probation and 200 hours of community service, and they have to go to an anger management class.
"As a community, we must always come together to address issues of violence, especially when it is rooted in prejudice and hate," Miami-Dade State Attorney Katherine Fernandez Rundle said in a statement. "I am glad that today we are able to give these victims the justice they justly deserve and some measure of closure so that healing may begin."
The four defendants originally pled not guilty. Last year, the four defendants tried to argue self-defense under Florida's Stand Your Ground law, even though video footage showed them attacking Chalarca and Logunov without provocation. The judge refused their motion after a three-day hearing.
"There's nothing in that video, and I have watched it over and over again, that showed me that any one of these defendants was in fear for their safety or their lives," Judge Ariana Fajardo Orshan said.
As part of the plea deal, the four men apologized in court.
"This is not me, I wish we acted a different way and I'm sure it's not going to happen again," Alonso said in court. "I offer my sincere apologies."
"My actions that day don't define who I am or how I was raised," Romo-Figueroa said.
"I'm thankful for the opportunity to learn from my mistakes," said Diaz.
Logonov said that he wanted to move on from the attack.
"Today, I'm taking a chance to rebuild my life," he said. "I believe these gentlemen should have that chance, too."
The judge accepted the plea deal.
Actual Story on LGBTQ Nation
Author: Alex Bollinger