Films got less LGBTQ+ in 2021 compared to 2020
Author: Molly Sprayregen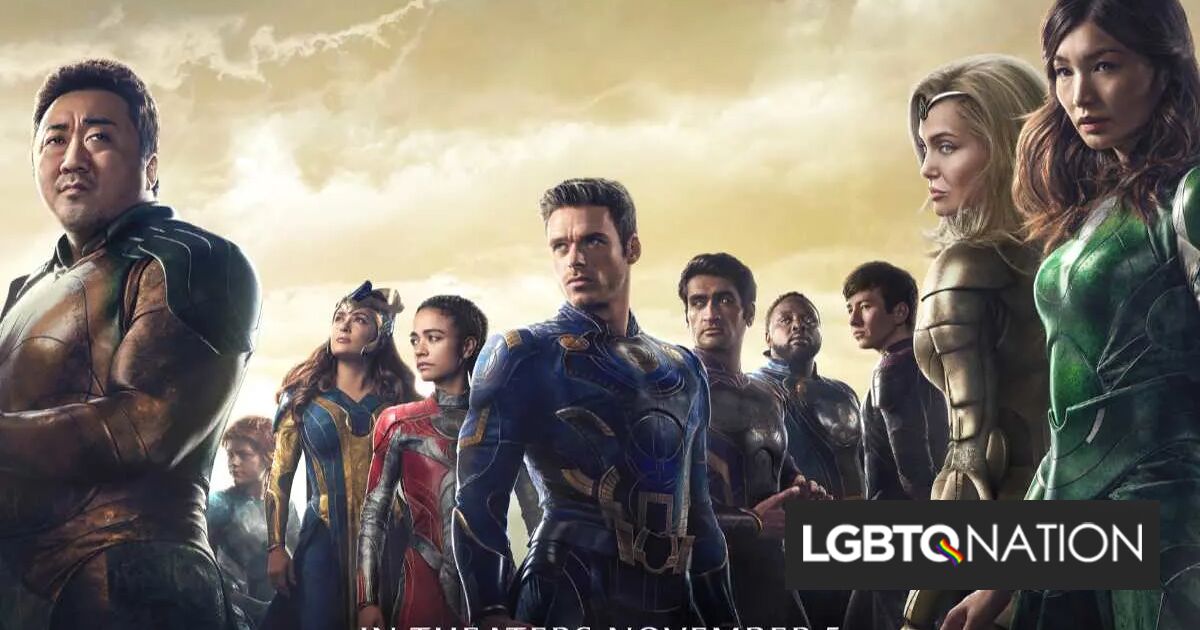 LGBTQ+ media organization GLAAD released its 10th annual Studio Responsibility Index (SRI) this week, which found that in 2021, there was a decrease in the percentage of LGBTQ+-inclusive films.
The report "maps the quantity, quality, and diversity of LGBTQ characters in films released by the seven film studio distributors that had the highest theatrical grosses from films released in the 2021 calendar year."
The studios included in the report are The Walt Disney Studios, Warner Bros., Lionsgate, Paramount Pictures, Universal Pictures, Sony Pictures, and United Artists Releasing.
GLAAD President & CEO Sarah Kate Ellis noted that despite 2021's decrease, LGBTQ+ inclusion in films has risen dramatically since the organization started this report 10 years ago.
"From GLAAD's first SRI to this year's milestone tenth edition, the percentage of LGBTQ-inclusive films has grown by 50 percent or 1.5 times as GLAAD has set industry priorities and best practices," Ellis wrote.
Last year, the number of LGBTQ+ characters in films, as well as the number of films containing LGBTQ+ characters, rose, but the percentage still decreased.
In 2021, there were 16 films containing LGBTQ+ characters out of 77 films released by the major studios. In 2020, there were 10 films containing LGBTQ+ characters in 44 films. That means 2021 saw 20.8% of films with LGBTQ+ characters, compared to 22.7% the previous year.
The report also tracked "the quantity, quality, and diversity of LGBTQ characters in the year's slate, as well as actions from the studios and parent companies that either supported or harmed the LGBTQ community."
Not one studio received GLAAD's "good" or "excellent" rating.
Lionsgate and Paramount were given "failing" grades, whereas Warner Bros. got "poor." Slightly ahead, The Walt Disney Studios, Sony Pictures, and United Artists Releasing were rated "insufficient."
"At a time when the LGBTQ community is under unprecedented attacks, it is more important than ever to hold studios and corporations accountable as businesses remain the most trusted entity in the U.S.," said Ellis in a statement.
"This new addition to our methodology tracking corporate actions makes it clear that entertainment and media companies need to expand beyond onscreen representation. LGBTQ people deserve to have positive representation reflected in cinemas around the world, and to know that the people and companies who make and market LGBTQ-inclusive films unequivocally stand up for LGBTQ folks."
The SRI also noted that a trans character – Anybodys from Walt Disney's West Side Story – was included in a major studio theatrical release for the first time in five years, but also that there was a sharp decrease in lesbian representation this year. In 2020, 50 percent of LGBTQ+-inclusive films included lesbian representation, and in 2021, only 13 percent did.
The report also said bisexual representation remains low.
It also found a dramatic decrease in the amount of screen time LGBTQ+ characters were given in 2021 and noted that none of the LGBTQ+ characters had a disability or were living with HIV.
GLAAD also analyzed the LGBTQ+ characters in films using something called the Vito Russo Test, which assesses not only the existence of LGBTQ+ characters in films, but also whether those characters are defined by more than their LGBTQ+ identities, how significant they are to the plot, and whether or not they rely on offensive tropes or stereotypes.
In 2021, 56% of the LGBTQ+-inclusive films passed the test, which is far lower than the 90% that did in 2020.
In discussing the importance of LGBTQ+ representation, Ellis pointed out a Trevor Project study that found 89% of young people feel good about being LGBTQ+ when they see LGBTQ+ characters in film and TV.
"As our report shows, there is still a huge opportunity for groundbreaking storytelling which highlights the full spectrum of our community and spotlights new voices," Ellis said. "Together with our partners in Hollywood and through new pipeline initiatives, our GLAAD List, and more, GLAAD is committed to serving as a resource to help move the needle forward for LGBTQ representation on screen."
Actual Story on LGBTQ Nation
Author: Molly Sprayregen