Evangelical says it's his religious belief to make posters of "perverts." Authorities said no.
Author: Juwan J. Holmes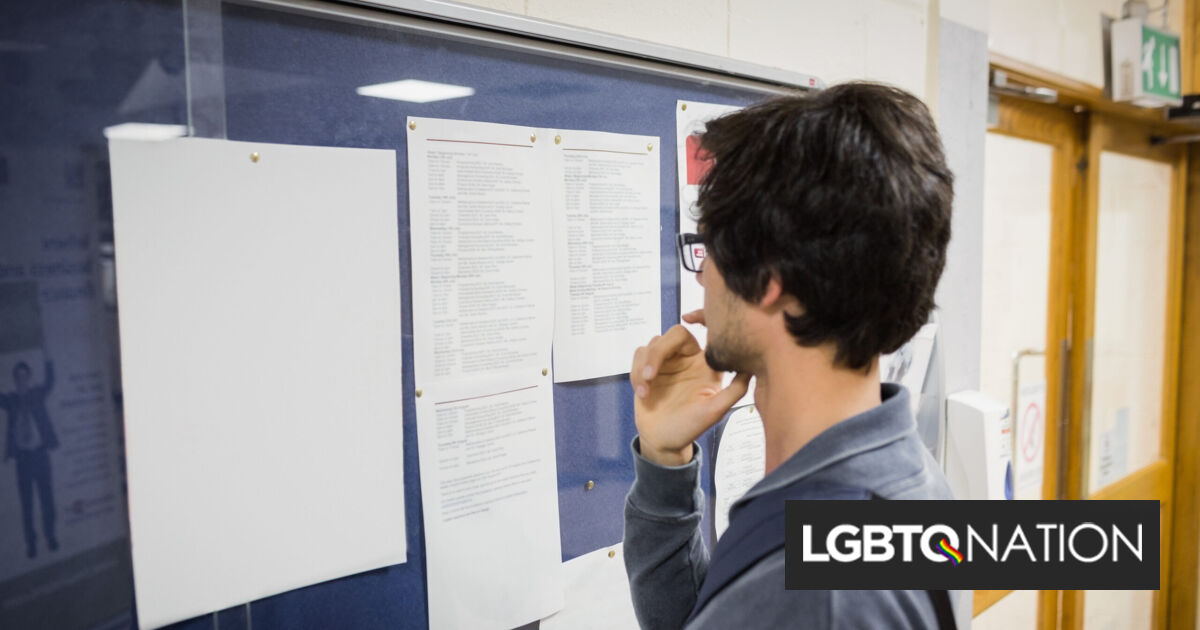 An evangelical Christian conspiracist made a claim against SuperValu, the largest grocery store chain operating in Ireland, alleging they were violating his right to exercise his religious beliefs. His claim was dismissed this week as an "entirely frivolous and vexatious complaint."
Mark J. Savage argued that the grocery store had discriminated against him by not allowing him to post anti-LGBTQ notices on a noticeboard inside the store's franchises. The notices deemed several politicians either as a pedophile or "gay pervert," and Savage eventually made signs naming SuperValu employees with similar allegations.
Related: Trolls harass drag queen & call her "pedo" for helping gay bar employees get vaccine
Savage, who has become known as the "'PERVERT' POSTER MAN," argued that he had a freedom to believe in his religion and accusing people of being pedophiles via posters was how he exercised it.
Savage had first put up a poster on a community noticeboard at his local SuperValu near Swords, Dublin, in 2019. SuperValu employees would begin taking them down. So Savage kept putting it back up.
That back-and-forth cycle continued with at least three different posters, and by February 2020, Savage claimed he was being discriminated against and victimized. On May 6, 2020, the SuperValu began requesting the police to come and arrest him in attempts to stop him from putting up the sign over and over.
SuperValu did not want signs posted on their noticeboard that, according to the Irish Times, claimed without evidence that prominent politicians were actively participating in "the sexual exploitation of innocent children by gay perverts."
Savage claimed that he was being deprived of access to a publicly available space because he wasn't being allowed to accuse elected officials of child abuse with a public poster. It got to the point where the SuperValu banned Savage from coming into the store, and he organized a protest of the business while promising to then accuse employees of abusing children.
SuperValu accused Savage of antagonizing employees by photographing them without permission, physically threaten them and yell at them if they did not allow him to put up his sign.
In August 2020, Savage began to attempt to put signs that accused employees of the SuperValu by name of being child sex offenders. SuperValu began referring his appearances to the police and arguing that he was intentionally antagonizing them.
The issue was bought in front of the Workplace Relations Commission (WRC), a non-judicial body entitled to handle common law issues regarding claims of discrimination through independent Adjudication Officers.
Savage argued, under Irish anti-discrimination law, that he had the right to use the noticeboard just as much as anyone else, and further claimed it was discriminatory against him as an evangelical to not allow him to accuse people of being child abusers via a sign on the board.
Essentially, Savage felt his allegations were protected by his religious beliefs.
Pat Brady, adjudicating the case on behalf of the WRC, ruled that Savage had committed a "premeditated act of provocation" with the poster he attempted to put up in August 2020. Brady ruled that SuperValu acted reasonably in response, but also did not violate any anti-discrimination laws or Savage's right to exercise his religion.
Brady further ruled that some of Savage's posters were not protected speech or behavior because they reverted to using a "homophobic slur" to make ultimately unproven statements.
The ruling indicates that SuperValu can continue banning him from their stores and disallowing his signs to hang on the noticeboard.
This was not Savage's first time making a complaint against a business on the claim of discrimination. In April, he lost a separate complaint before the WRC arguing that it was discriminatory for Ireland to run a "Best Young Entrepreneur Competition" that restricted the people who could participate by age. Savage had applied for the program but did not fall into the competition's age range.
Similarly, he claimed that even if he had been allowed the option to compete against 18 to 35 year-old entrepreneurs, the competition would have dismissed him based on the fact that he was evangelical, thus supposedly violating his ability to believe his religion.
In 2019, Savage alleged that the University College of Dublin had also discriminated against him based on his religious beliefs. That claim was also dismissed. Also in 2019, he accused a local politician of harassment before the WRC, but the WRC dismissed his claim on statutory grounds. Savage has also accused former Irish health minister James Reilly of discriminating against him.
In 2017, Savage claimed that the SEETEC Employment had also discriminated against him. The workforce agency of Ireland had advised him on his resume in a way he felt was against his religious beliefs.
Savage's resume listed as one of his key achievements, "Standing up for and defending my religious beliefs which include that abortion on demand is evil and homosexuality is an intrinsic disorder inclined towards evil." An employment adviser told him that may not help him get employment at many businesses.
Savage subsequently accused the agency of discriminating against him on the basis of his religious beliefs, but those were also dismissed by the WRC.
Savage has also allegedly made claims against Google, saying the search engine violated his rights by indexing a link to an article deeming Savage as "north County Dublin's homophobic candidate" for office in 2014 local elections.
So far, all of his claims before the commission have been unsuccessful.
Actual Story on LGBTQ Nation
Author: Juwan J. Holmes