Elliot Page takes aim at "cruel" anti-trans movement by state lawmakers: "protect trans kids"
Author: Juwan J. Holmes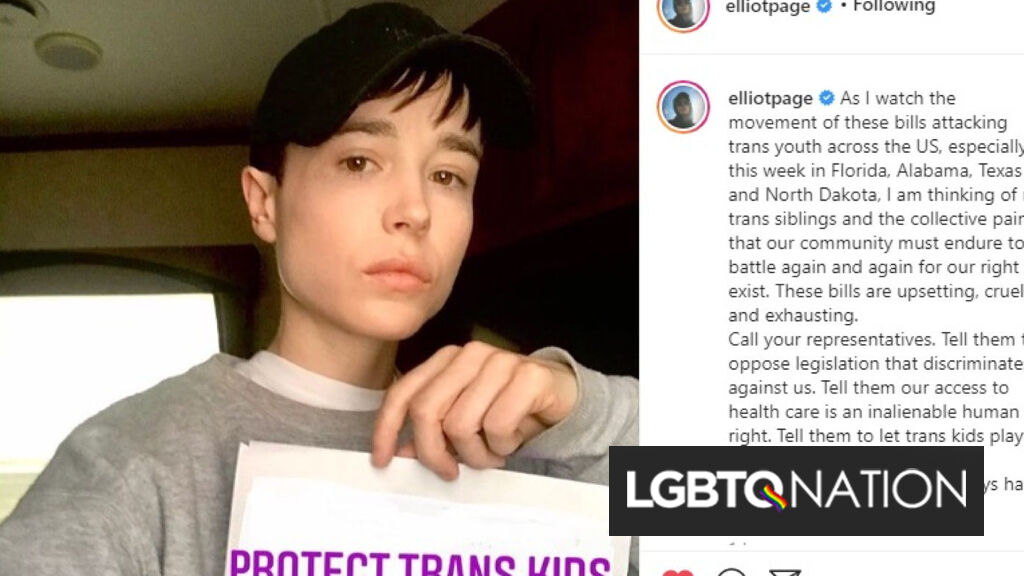 Actor Elliot Page has once again spoken up against the anti-trans bills and legislation being considered or passing in state legislatures across the country, specifically in Florida, Alabama, and North Dakota in the last week.
The Academy Award-nominated performer who currently stars in Netflix's the Umbrella Academy and known for appearing in the movie Juno, announced his transition right before the massive anti-transgender campaign began in U.S. state legislatures. And he's continuing to speak out against what he called the "horrific" wave of legislation.
Related: As Elliot Page fights for trans people, Caitlyn Jenner whines that everyone likes him better
"As I watch the movement of these bills attacking trans youth across the US, especially this week in Florida, Alabama, Texas and North Dakota, I am thinking of my trans siblings and the collective pain that our community must endure to battle again and again for our right to exist," Page wrote.
"These bills are upsetting, cruel and exhausting."
He implored his 4.9 million followers "Call your representatives. Tell them to oppose legislation that discriminates against us. Tell them our access to health care is an inalienable human right. Tell them to let trans kids play sports. Tell them that #TransPeopleBelong – we always have, and we always will."
Page also re-posted to his Instagram feed a post from All-American, Olympic athlete Chris Mosier, who is also trans, with "4 things you can do RIGHT NOW to help transgender youth."
"Commit to taking action for 5 minutes (you can do all 4 of these in 5 minutes) or if you can't do it now, send these slides to 3 people who can take action now," the caption stated. It passes along information for calling governors and state lawmakers in Alabama, Florida, North Dakota and West Virginia.
It's some of Page's first public statements and Instagram posts since he appeared on the cover of Time Magazine in March. Before that, he also spoke up against the "efforts to criminalize trans kids" that he considered "deadly."
In January, he tweeted asking the Montana legislature last week to "Please vote no on HB 112 and HB 113. These bills harm trans youth and hurt all of us."
Actual Story on LGBTQ Nation
Author: Juwan J. Holmes