Democrats walk out as California Senate GOP honors gay Trump toady Richard Grenell
Author: Daniel Villarreal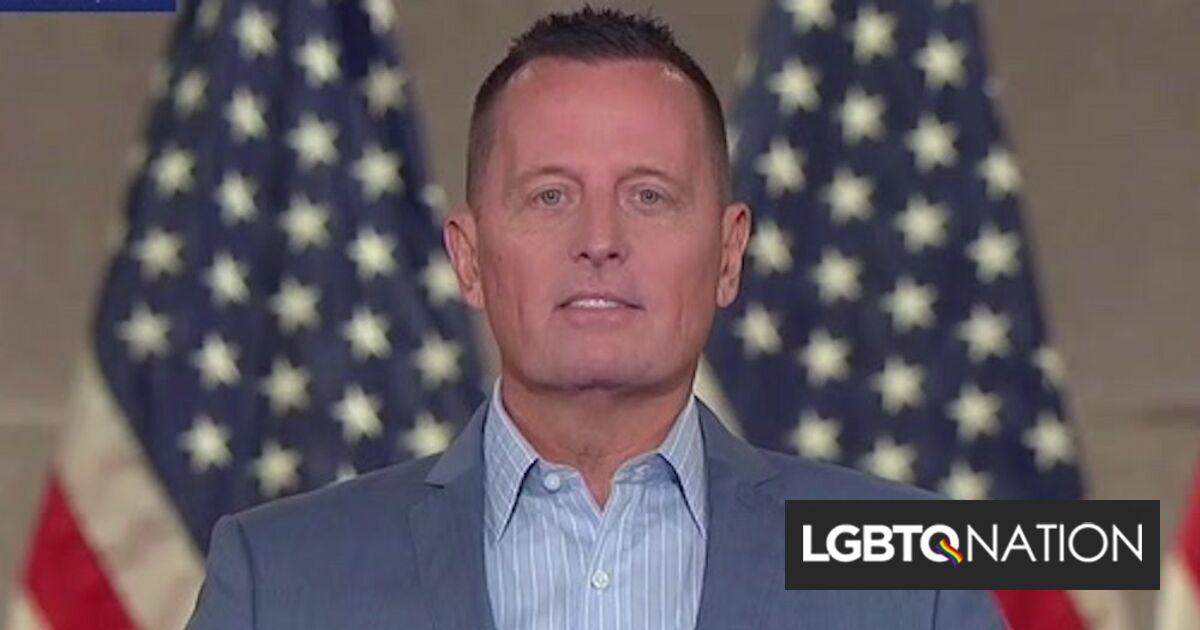 Gay California state Sen. Scott Wiener (D) and several other Democratic senators walked out of the California Senate on Monday after a Republican honored Ric Grenell, an out gay former official who worked in President Donald Trump's administration.
On Monday, Senate Minority Leader Brian Jones (R) took to the senate floor to honor Grenell. He praised Grenell's public service record and his historic appointment as the first out gay man ever to serve on a president's cabinet. Grenell served as Trump's U.S. Ambassador to Germany, Special Presidential Envoy for Serbia and Kosovo, and acting Director of National Intelligence (the last one lasted for about two months).
The senate floor "offered mute applause" during the honor, The Sacramento Bee reported. Grenell walked onto the Senate floor and then held a conference alongside Republican legislators on the Capitol steps afterward.
However, Sen. Wiener didn't applaud Grenell. In fact, he and other California Senate Democrats walked off of the floor during the honor. Wiener also published a tweet noting that when the Democrat-led state senate passed a resolution earlier this month recognizing June as Pride Month, seven of the chamber's eight Republicans refused to vote on it.
Republicans said they objected to the invitation of Sister Roma, a well-known member of the drag nun activist group the Sisters of Perpetual Indulgence, calling her presence "a slap in the face to Catholics" and a "distraction" from California's unresolved social issues.
In his tweet, Weiner wrote, "Today, GOP is honoring Richard Grenell on our Senate floor, after having protested our actual Pride celebration. Grenell is a self-hating gay man. He's a scam artist pink-washer for Trump & spreads anti-LGBTQ, anti-vax, election-denier conspiracy theories."
Indeed, Grenell repeated Trump's lie that the 2020 presidential election was "stolen" due to an unprecedented nationwide conspiracy of voter fraud that only occurred in the states that Trump lost. Grenell refused to provide proof of any such fraud when asked about it on live television. Republicans and Trump's re-election campaign lost over 60 court cases alleging such fraud — most were thrown out due to lack of evidence. The fraud claims led to numerous death threats against election officials nationwide.
On March 21, 2021, Grenell compared COVID-19 vaccine requirements to Nazism. In May 2021, the U.S. Holocaust Memorial Museum published an open letter signed by 50 Holocaust survivors urging politicians to stop making comparisons between modern social conditions and the Holocaust.
Grenell, while serving as the Republican National Committee's senior adviser for LGBTQ+ outreach, called Trump "the most pro-gay president ever." The Washington Post's fact-checkers called Grenell's statement "absurd" and awarded it "four Pinocchios" — its highest rating for lies. Grenell also opposes the Equality Act, legislation that would provide federal LGBTQ+ anti-discrimination protections, claiming it would be an attack on religion.
Grenell praised Trump's so-called effort to decriminalize homosexuality "around the globe." But the Trump administration made no actual substantial efforts to do so. In fact, Trump's State Department called foreign anti-gay laws a form of "religious freedom" that it vowed to protect.
Actual Story on LGBTQ Nation
Author: Daniel Villarreal