Community supports lesbian-owned bakery after vandals destroy their rainbow flags four times
Author: Daniel Villarreal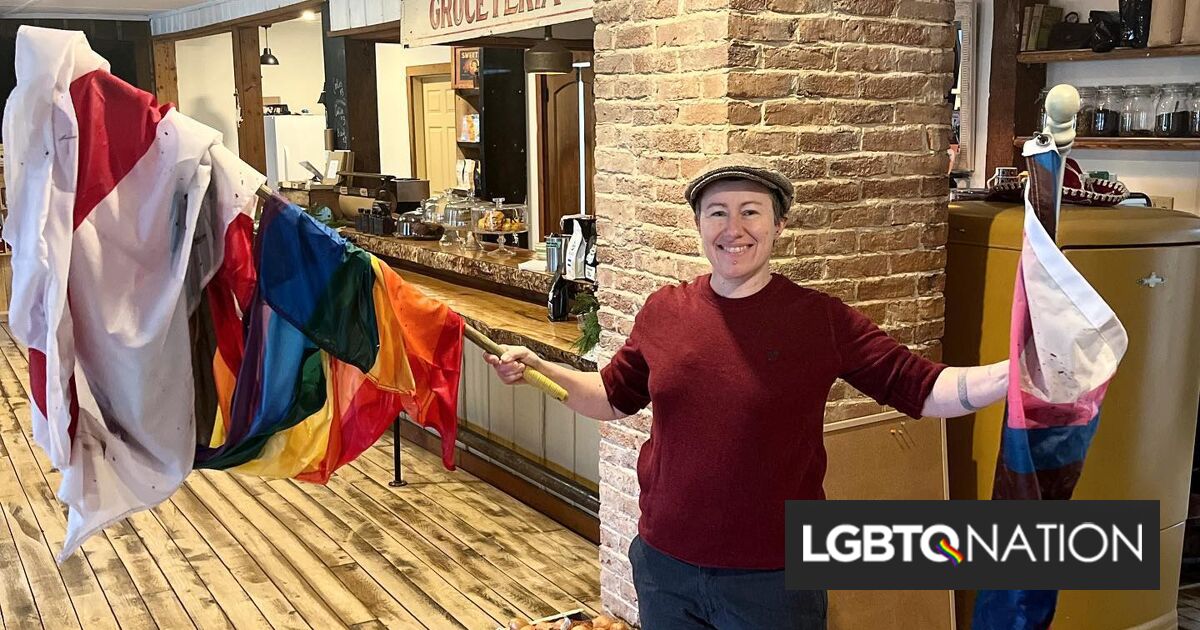 Community members have rallied around a store owned by a married same-sex couple after vandals repeatedly tore down rainbow flags displayed outside of their business.
Shortly before the December 7 opening of the Bees Knees General Store and Bakery in the Canadian province of Nova Scotia, the bakery's owners — Sue Littleton and her newlywed wife Candice Zaina — found that the rainbow flag outside of their storefront had been ripped down, the Canada Broadcasting Corporation (CBC) reported.
"We thought, 'Well, it's just kids being mischievous in the middle of the night'," Littleton told the CBC. "We didn't think too much of it."
But then, their replacement flags were vandalized three more times. The most recent time occurred on Christmas Eve. On that occasion, someone ripped down their Pride flag and their Mi'kmaq flag, a Christian flag representing regional Native Canadians who first came into contact with European settlers. Whoever ripped the flags down also placed human feces on top of them.
"There was clearly a message being sent to us," Littleton said.
The business owners installed security cameras, and the Royal Canadian Mounted Police are investigating the acts of vandalism as possible hate crimes. But Littleton and Zaina said they experienced an "incredible" outpouring of support from the local community since news of the vandalism spread.
People expressed their gratitude for the store's existence, in-person and on social media. The Gay Straight Alliance at the Middleton Regional High School sent them a card expressing appreciation for having queer adults in the community. Another customer sent the two women stickers bearing their bakery's logo.
"I've never experienced this in my life," Zaina said. "The support has come from all sorts of different demographics."
"We had a parent bring their newly out teen into the shop yesterday," the couple wrote in a public Facebook post. "They drove nearly an hour to come support us. The parent thanked us for helping them to show their kid that queer joy is possible. THAT is why we do this."
One Facebook user, Toni Whitman, announced that she too would display a rainbow flag in solidarity with the business.
"The recent disrespect and ugliness displayed recently in the community I grew up in and love toward persons who are simply being their beautiful, authentic selves does not sit well with me to put it lightly," Whitman wrote. "I will fly my little flag proudly to show that love can not be extinguished."
The business owners said that they have no intention of hiding their queerness, especially since continually displaying the flag demonstrates that love is much stronger than the intimidation they've faced.
"It's important for us to represent our community and signify that we're a safe space," Littleton said.
"Candice and I are both in our 40s and have been out for decades and have experienced all the possible backlash. We're pretty firm in our stance on being, as we call it, queer elders so kids know they're not alone," she told The Halifax Examiner.  "We're just going to be putting flags up."
"I feel badly for them," she said of the vandals. "They care more about our sexuality or gender expression than about what we're trying to do about being community, and making life fun, comfortable, and delicious."
Actual Story on LGBTQ Nation
Author: Daniel Villarreal