Black trans woman revealed as one of the victims of "Bonnie & Clyde" murder spree
Author: Juwan J. Holmes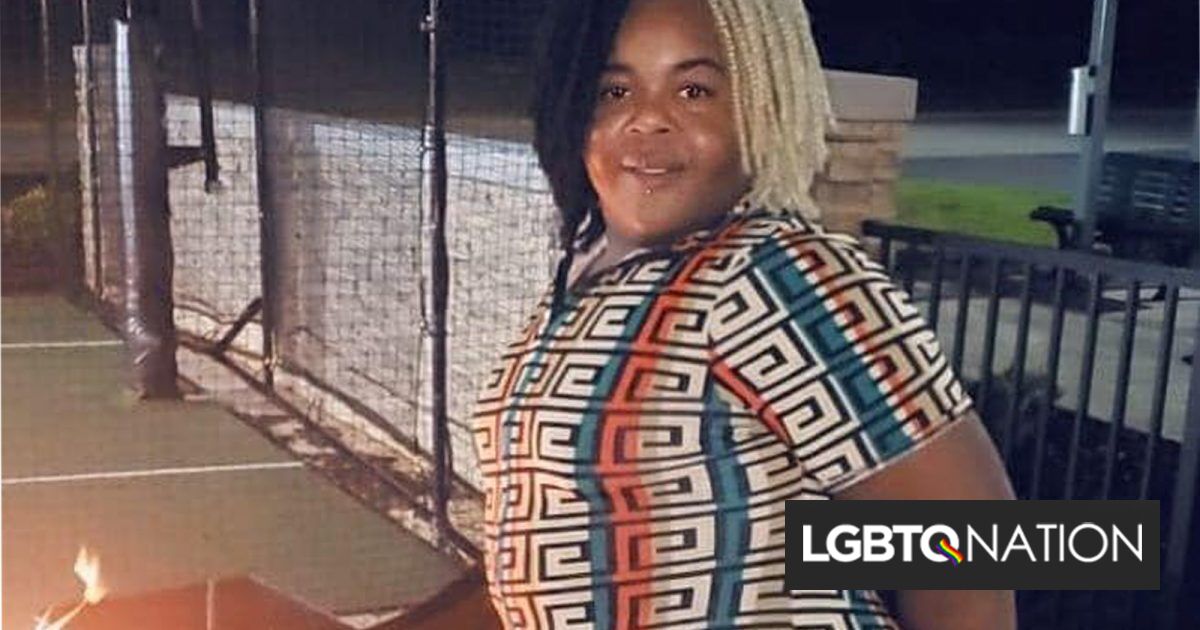 Police have learned that Thomas Hardin, a Black trans woman from South Carolina that was murdered earlier this month, was one of several victims shot by a couple on an interstate murder spree over the last three weeks. One half of the couple was formerly romantically involved with Hardin.
Tyler Terry, along with his alleged accomplice and alleged abuse victim Adrienne Simpson, is now facing four murder charges and several other attempted murder charges, among others, for shootings in May between Missouri and South Carolina.
Related: Man arrested for kidnapping & killing transgender teen after shootout with police

Hardin, 35, was trans but still went by Thomas and both he or she pronouns, according to Hardin's friend, Chamere Hicks.
Hicks called police to check in on Hardin when she did not hear from her. She was found dead in her apartment in York, South Carolina on May 2, reportedly from a gunshot wound. At that time, Terry was considered a person of interest because Hardin forced Terry to move out of her home. It was not until the others murders that an arrest warrant was issued for him.
"He was giving him a place to stay because he didn't have anywhere to live. And it just wasn't working out and so he put him out," Hicks told WBTV.
Hicks also reported that Hardin told her about arguments that she had with Adrienne Simpson in the weeks prior to her death. "Thomas had a screaming match with [Simpson]. [She] said, 'you don't come to my house.' She wasn't parked at [her] house, but she was down the road," she said.
It was long before police realized that Simpson and Terry were "a modern-day Bonnie and Clyde," as the Brentwood, Missouri police chief would later deem them.
#BREAKING Just spoke to an investigator with York PD on the murder case of Thomas Hardin. Tyler Terry is accused ofkilling Hardin on May 2nd. Hardin who identified as a woman is pictured below. I'm told Hardin & Terry were "acquaintances" & "knew each other from the past." @wcnc pic.twitter.com/KiwhKezZUq

— Billie Jean Shaw (@BillieJeanTV) May 20, 2021
This is where Thomas Hardin was found dead in York, SC on May 2nd. York Police say Tyler Terry is wanted in Hardin's killing. Chief Andy Robinson told me the two were acquaintances. A neighbor of Hardin told me Hardin and Terry were friends and that Terry stayed here briefly. pic.twitter.com/Qu6ssweboo

— Kristi O'Connor WBTV (@KristiOConnor_) May 21, 2021
Two friends of Thomas Hardin confirm that Hardin identified as a woman, but they both say he did not care whether they referred to him as a he or she. During both of my interviews they referred to Thomas as a he.

— Kristi O'Connor WBTV (@KristiOConnor_) May 21, 2021
The same day as Hardin's body was discovered, police in nearby Chester, South Carolina also received a report that Eugene Simpson — Adrienne's husband, who she was separated from — was missing.
Two hours after Hicks called police in York, a shooting took place in Chester and police responded, believing Simpson and Terry were responsible for shooting two more people in a home. Another shooting was reported to Chester police within the next hour at a Taco Bell.
That led York Police to conclude that their persons of interest were now their main suspects.
Simpson and Terry would allegedly resurface on May 15, committing another shooting that left two people dead in Brentwood and St. Louis, Missouri. Terry allegedly shot and killed 70 year-old Barbara Goodkin and her husband, Stanley, who survived because a bullet hit his cell phone first, in their car.
The pair then allegedly shot and killed Dr. Sergei Zacharev, then bought drugs, before returning to South Carolina. Missouri authorities found surveillance footage of Terry's vehicle driving away from the murder locations and also begun pursuing murder and attempted murder charges.
On May 17, over two weeks after Hardin's death, Simpson and Terry led police back in Chester on a police chase. Simpson drove while Terry fired on police officers, leaving bullets inside of police vehicles. The getaway vehicle eventually crashed, and Terry escaped on foot while Simpson was apprehended.
Two days later, police would uncover Eugene Simpson's body. Simpson and Terry were immediately charged with his murder as well. The FBI began offering up to $12,000 for tips leading to Terry's arrest.
A statewide manhunt immediately got underway for Terry on May 20, where a reported 300 officers from local, state, and federal authorities responded to a confirmed sighting, after Terry stole clothes and a gun from a business. He was apprehended in Richburg on the morning of May 24 and subsequently arraigned in Chester County on 1 count of murder and six attempted murders.
"We are very thankful for the work of the officers who took Mr. Terry into custody. We will now review our case and work to ensure that justice is done," Kevin Brackett, top prosecutor for York, said after his arrest. He will face murder charges there separately.
Terry is also receiving two murder charges and 12 other charges in St. Louis.
The Chester Co. Sheriffs deputy who had her windshield shot through in that high speed chase with Tyler Terry, also made the official arrest once he was captured. The deputies who were in the line of fire that night, are now speaking out about it. Beginning at 5pm on Channel 9 pic.twitter.com/bHTbjVSTCI

— Greg Suskin (@GSuskinWSOC9) May 26, 2021
Adrienne Simpson's mother, Carol DeWitt, reported that her daughter believes she was "manipulated" into the murders.
"I said, 'Adrienne, what were you thinking?' She told me she was manipulated," DeWitt said. DeWitt shared photos from times when Terry allegedly beat Simpson, calling him "toxic" and "abusive physically, verbally, mentally."
Terry was arrested for domestic abuse against Simpson last year. He allegedly beat Adrienne to the point that "she lost hearing in her right ear and her eye was swollen shut," WBTV reported. This was at a hotel around the time he was allegedly kicked out from Hardin's home.
Authorities in North Carolina had also charged Terry with domestic violence against Simpson and carrying a concealed weapon prior to the murder spree. He was sentence to 18 months of probation in 2020 — but absconded from reporting to the proper authorities.
It's not clear what set off or served as a motive for the crime spree, but Simpson and Terry allegedly have left four people dead and at least six more injured from gunshot wounds. Hardin may very well have been their first victim.
A funeral service was held on May 12. Hardin's family has not publicly spoken about their loss. The Human Rights Campaign mourned her loss earlier this week.
"In May alone, we know of the violent deaths of at least eight transgender or gender non-conforming people. This level of violence is both heartbreaking and horrifying," Tori Cooper, HRC's Director of Community Engagement for the Transgender Justice Initiative (TJI), said. "None of these individuals, including Thomas Hardin, deserved to have their lives cut short. Our hearts go out to all of her friends, family and community."
With the recent apprehension of #tylerterry, Detectives with #YourYPD was able to obtain additional information, coupled with physical evidence, to the homicide of Thomas Hardin on 5/2/2021 in York and have upgraded the charge against Adrienne Simpson from Accessory to Murder. pic.twitter.com/tTg7PHXeg8

— York Police Dept. (@YorkSCPD) May 26, 2021
Actual Story on LGBTQ Nation
Author: Juwan J. Holmes