Bisexual man who duped Donald Trump gets arrested for scamming thousands from his base
Author: Juwan J. Holmes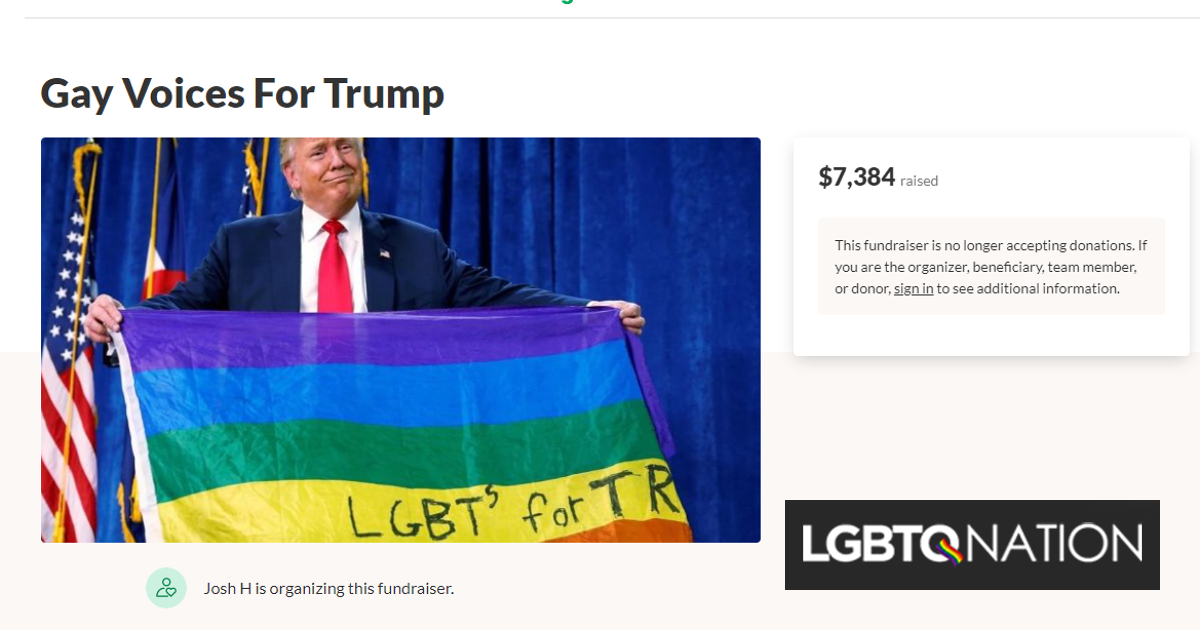 Federal officials have charged Josh Hall of Mechanicsburg, Pennsylvania with fraud and identity theft offenses after he ran a years-long scheme of impersonating family members of political figures, mainly the siblings of former President Donald Trump.
Hall, who used his impersonations to boost his own online persona as the "Bi Trump Guy," was arrested and arraigned in a federal court in Harrisburg, PA. He faces a maximum of 22 years in federal prison if he is found guilty of the charges.
Related: Caitlyn Jenner refuses to say Donald Trump lost the election & dodges question on trans rights
Without naming former President Trump or his relatives by name, the U.S. Attorney's Office in the Southern District of New York announced the charges this week after Hall had been taken into custody.
Hall's story was first reported in December 2020, after he did a tell-all interview with the New York Times. Hall, then 21, admitted to posing as several Trump family members, namely Donald's brother Robert Trump. He used these accounts to convince fellow Trump supporters to donate to his "Gay Voices for Trump" initiative, which was not officially sanctioned and apparently did not go to any actual cause supporting President Trump's re-election campaign.
"Hall led hundreds of people to believe they were donating to an organization that didn't exist by pretending to be someone he wasn't, as alleged," FBI Assistant Director-in-Charge William F. Sweeney, Jr. said in the Justice Department's statement. "As we continue to investigate fraud in all its many forms, we urge the public to remain aware of the prevalence of online scams and exercise due diligence when making donations online."
In 2016, Josh Hall was a 17-year-old high school senior from Pennsylvania, who had no interest in politics until Donald Trump ran for President. Hall went to college and chased a dream of becoming a radio talk host.
Less than four years later, Hall couldn't hold down a job. He had come out as bisexual, but had also been accused of harassment by a "radical leftist" ex-partner, in his words. He began selling shirts that proclaimed "Josh Hall did nothing wrong" and even a GoFundMe fundraiser that supposedly went to support his legal funds. That earned him at least $815.
At the beginning of 2020, with the coronavirus pandemic impending, Hall was working for DoorDash. He had self-published a how-to book detailing "38 essential rules to live life in order to be happy and successful," but then, his original Twitter account was deactivated.
Hall decided, "What the hell, I'm just going to have fun now." So, he decided to make money another way: posing as key political figures online.
Hall started in February with Rod Blagojevich — the former Democratic governor of Illinois who was jailed for "selling" Barack Obama's former U.S. Senate seat — after Trump granted clemency to Blagojevich and he was freed from jail. From there, Hall would pretend to be Dr. Deborah Birx, the White House's Coronavirus Response Coordinator for a short-lived stint.
Then he began researching members of the Trump family that were not already online, and that's when he began posing as Robert Trump.
First as @BigRobTrump and, after that account's removal, @UncleRobTrump, Hall pushed QAnon conspiracies for months to a combined following of over 100,000 accounts. He then recreated his own account, @TheBiTrumpGuy, on Twitter and Parler.
He used his impersonation accounts to promote himself, as a "good friend and partner-in-crime" with Robert, and eventually, he went into fake "business" with him starting in July, on the supposedly "grassroots organization" Gay Voices for Trump.
"Uncle Rob runs Gay Voices For Trump with @TheBiTrumpGuy," Hall tweeted from his Robert-impersonating account, "although I am very much a heterosexual male. It's the Trump genes – we love women… but we are trying to reach out to LGBT and other minority voters. Josh is doing great work so please give him a follow and support him!"
From there, Hall went further to start a GoFundMe fundraiser, this time for "field organizing, events and merchandise" for LGBTQ Trump supporters. He used his fake account to direct message conservatives online, asking them for their financial support in the name of the President.
Hall admitted that "Gay Voices for Trump" never formally existed in any way, although he denied pocketing any money and claimed he helped register 100 people to vote. "I should have used better judgment and stuff. But I didn't deliberately try and dupe people out of money," Hall claimed.
He also said that the money raised – $7,384 in total – was still held by GoFundMe, but the company said that it was withdrawn by the organizer, 'Josh H.,' already.
Hall's initial impersonation fell apart when the real Robert Trump passed away, suffering "for several months" from a still-undisclosed illness, in August 2020. So, he moved on to other Trump family figures – Donald's nephew, Fred Trump III; Maryanne Trump Barry, his sister and a federal judge who was revealed to be privately critical of her brother in August; and Barron Trump, the president's 14-year old son.
He also posed as Kamala Harris' father, economist Donald Harris, before moving on to Donald's more distant, private sister, Elizabeth Trump Grau, using the same account. Trump Grau, who recently married, has not spoken publicly in nearly five years – but pretending to be her, Hall claimed "this election inspired me to break my silence," supporting Donald's allegations that election fraud had deprived him of victory.
In under 24 hours, he had 20,000 followers, and soon one of his tweets prompted an article from Wayne Dupree's conservative website. That's when he caught Donald's eye. "Thank you Elizabeth," he wrote in a tweet on November 20 sharing the article, "LOVE!"
Hall claims he has "remorse" for how he duped people with disinformation and out of their money, but he says all of the accounts were clear parodies and believes he isn't liable in any way.
I wrote about it. Then I got to work figuring out who was behind the fake.

Eventually it was pretty clear: a 21-year-old Trump supporter named Josh Hall. So I called him up — and he fessed up.

"I was like, 'Oh, my goodness. He actually thinks it's his sister,'" he recalled. pic.twitter.com/knwtmcBQqO

— Jack Nicas (@jacknicas) December 8, 2020
Actual Story on LGBTQ Nation
Author: Juwan J. Holmes