Anti-gay evangelicals attack Sephora for including a happy gay couple in new commercial
Author: Juwan J. Holmes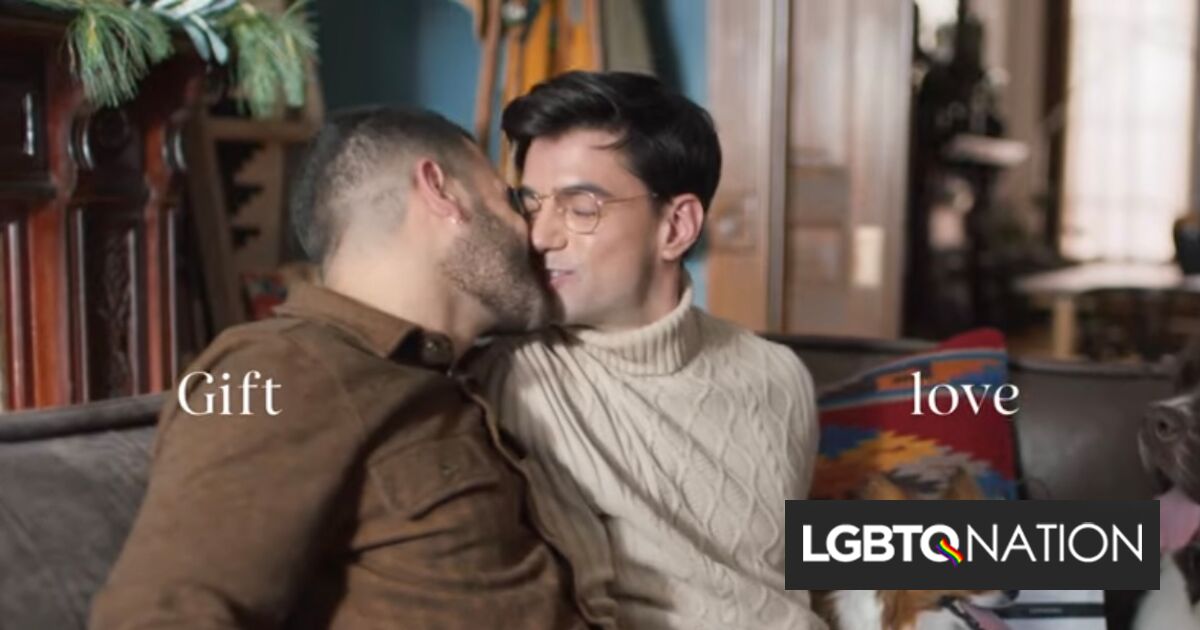 It was just a few months ago that One Million Moms, an evangelical astroturf group funded by the American Family Association (AFA) — which is a certified anti-LGBTQ hate group — was upset that a cosmetics company was promoting a razor product for women, calling it "inappropriate" to suggest women shave.
Now, unironically, the same group — led by one woman, Monica Cole — is calling for a boycott of Sephora because their new ad doesn't only feature women. In fact, Cole is peeved that the ad includes a two men in a relationship sharing a kiss when "Sephora's primary customer base is women."
Related: If you need an excuse to shop at Sephora, this is it
In a 30-second spot Sephora entitled "Holiday Gifting 2021, It's the Beauty You Give," several people are seen giving or receiving gifts while "Smiling" by Nicole Wray plays.
One moment in the ad is two men sitting on a couch with their dog. After one receives a Sephora gift from the other, they share a kiss as the ad reads, "Gift love."
The ad, which mostly features several other women sharing gifts with others beyond that one couple, has been viewed thousands of times online since Sephora released it in early November.
Now, Cole has caught wind, and she claims it is Sephora's attempt to "Glamorize Sin" and "make it clear where it stands on this controversial topic instead of remaining neutral in the culture war."
"The homosexual couple is the only romantic couple included in the advertisement," she whined in an email blast this week. "Sephora's primary customer base is women, yet the company ends the commercial with two men kissing. Promoting same-sex relationships should have nothing to do with marketing makeup and skin care products."
Cole also states her organization "stand up for biblical truth," citing biblical verse Romans 1:26-27, which pledges people who engage in sexual lust will receive "penalty" for their "error."
"Romans 1:26-27 is very clear about this particular type of sexual perversion," she warns. She finds Sephora "pushing the LGBTQ agenda" to be "very concerning," and calls for her supporters to join them in calling Sephora to withdraw the ad.
One Million Moms regularly decries "cancel culture," while launching continuous nonstop "boycotts" of various companies that offend their delicate sensibilities. The boycotts consist of launching "petition" campaigns, requesting people fill out a generic contact form on their page and sign up for the group's emails as a form of protest.
One of their current campaigns is against Gillette because of videos released by the company promoting their Gillette Venus line of razors and other products specifically made for shaving pubic hair. The video One Million Moms describes in their call for boycotting the company is a tutorial, not an ad.
"The current "How to Shave 'Down There'" commercial by Gillette Venus shows a woman explaining and demonstrating how to shave her bikini line," Cole wrote in an email blast. "This inappropriate commercial is airing during prime time when children are likely watching television so family viewing time is ruined. It is so suggestive it's disgraceful.
"Can you imagine what goes through the mind of a child when he sees this ad?"
Other recent campaigns launched by Cole include one against a mattress company that showed several same-sex pairs using their product in an ad,  Sonic Drive-In for featuring a commercial with people who don't wear bras, Eli Lilly and Company for promoting diversity and equality, Etsy for allowing people to sell art or dolls on their site, and General Motors for promoting electric cars.
In 2019, the group infamously caused Hallmark to ban an ad temporarily because it featured a lesbian couple, before the company's management stepped in and did a 180.
Since then, Cole and the AFA have made pushes against all sorts of brands that dared show support for LGBTQ people. Whether it was cartoons with dogs, dishwashing liquid, fruit, hummus, Oreos, movies with cyclops, or wrapping paper, the One Million Moms group has been there, trying to cancel anyone who dares recognize the existence of LGBTQ people.
Watch Sephora's ad below.
Actual Story on LGBTQ Nation
Author: Juwan J. Holmes