A drunk partygoer threatens a neighboring gay couple on camera & tries to kick down their door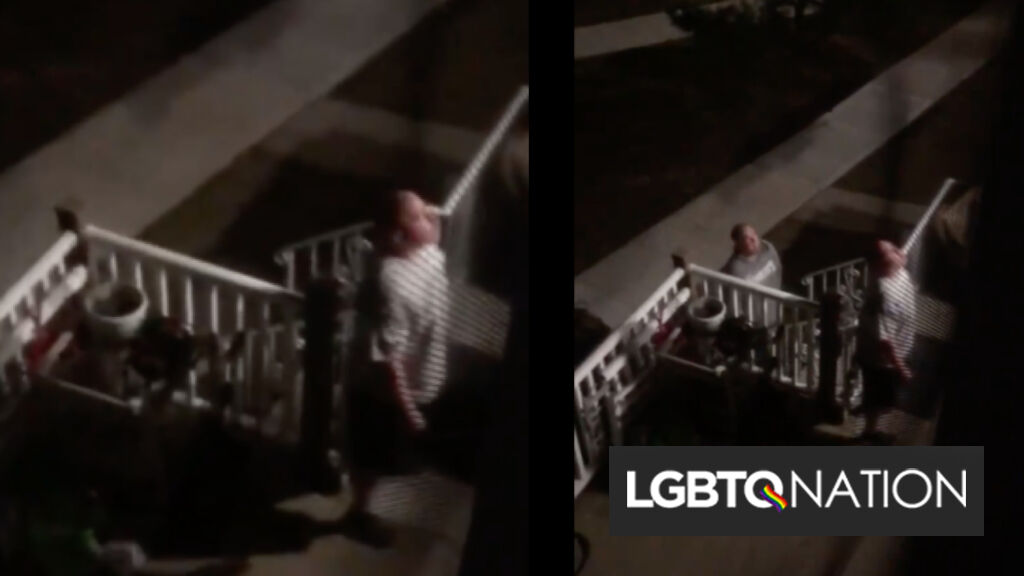 A couple endured threats, homophobic slurs, and an attempted break-in last week for simply asking a party taking place next door in the middle of the night — and a pandemic — to quiet down.
High school principal Joe Canale and his partner Raymond Gamarra were in their Staten Island home last Saturday night when their neighbors started disturbing them with loud noise. So they went next door to "politely [ask] them to keep it down."
Related: "Hooded homophobe" threatens to kill victim & punches him in the face

That request angered some of the partygoers, and one of them — identified as Clifford Hammel — made that known with a brazen, anti-LGBTQ tirade.
Gay City News, a New York City LGBTQ publication, first reported the news after obtaining footage from Canale and Gamarra that they took in the early morning hours of January 24. While they were holed up in their home, trying to keep themselves safe, Hammel — in the presence of another person — hammers at their front door and promises violence in the 45 seconds of video published online.
"I see you, fucking faggot," an apparently inebriated Hammel says in their direction. "You little bitch. Fuck you. You fucking faggot…."
"Wherever you go, I will get you," he pledged. He even names one of the man's gym of choice, Crunch Fitness, and the name of the school that Canale manages, the College of Staten Island (CSI) High School for International Studies.
"I will fuck with you," he yells at the couple.
Hammel continued with the abusive language, apparently trying to differentiate between his view of a "faggot" and gay people. "You fucking faggot — and that's not a homosexual. I don't care if you suck dick," he spewed.
The moment when a man harassed a gay couple with anti-LGBTQ slurs, threatened them, and kicked the door of their home in Staten Island. pic.twitter.com/S58jKx0ooX

— Gay City News (@GayCityNews) January 29, 2021
Police arrived as they were already called because a partygoer had passed out. The officers that were dispatched to respond to the couple's complaint was "largely dismissive," according to Canale. He also reported that he felt their response was "nonchalant."
He said that New York City Police Department (NYPD) Lieutenant Rosago and Officer Vincent of the 121st Precinct "were even reluctant to view the video footage" but eventually did. The two officers even told them that they weren't worried about the incident because they "think" that "the person they were talking about" was the one being transported to the hospital.
"So you don't have to worry or be afraid tonight and he won't remember tomorrow," they allegedly said, according to Canale. But it was the NYPD that didn't have a clear memory the next day.
Canale contacted the 121st Precinct the next day, they were not only told that Hammel was not the one being hospitalized, but the officers had taken his name down incorrectly as well. They identified him as Adam Hammel, instead of Jason.
Still, the official police report on the event as explained to Gay City News was that "the 45-year-old highly intoxicated male was removed to Richmond University Medical Center."
The statement offered by a NYPD detective when contacted regarding the matter concluded with "there was no property damage reported."
"Staten Island is not a bastion of tolerance. There are so many things that are disturbing about this that I don't even know where to begin," Canale said. "I understand there's COVID, but justice delayed is justice denied as far as I'm concerned."
The Staten Island District Attorney pledges that his office will investigate the incident further as well. "My office and our partners in the NYPD have zero tolerance for hate crimes," District Attorney Michael McMahon said in a statement, "and any time a serious allegation is brought to our attention, we work in tandem to thoroughly investigate and bring about criminal charges when appropriate under the law."
Actual Story on LGBTQ Nation
Author: Juwan J. Holmes