A block party protest is held outside of gay bar where Black woman was dragged by hair
Author: Juwan J. Holmes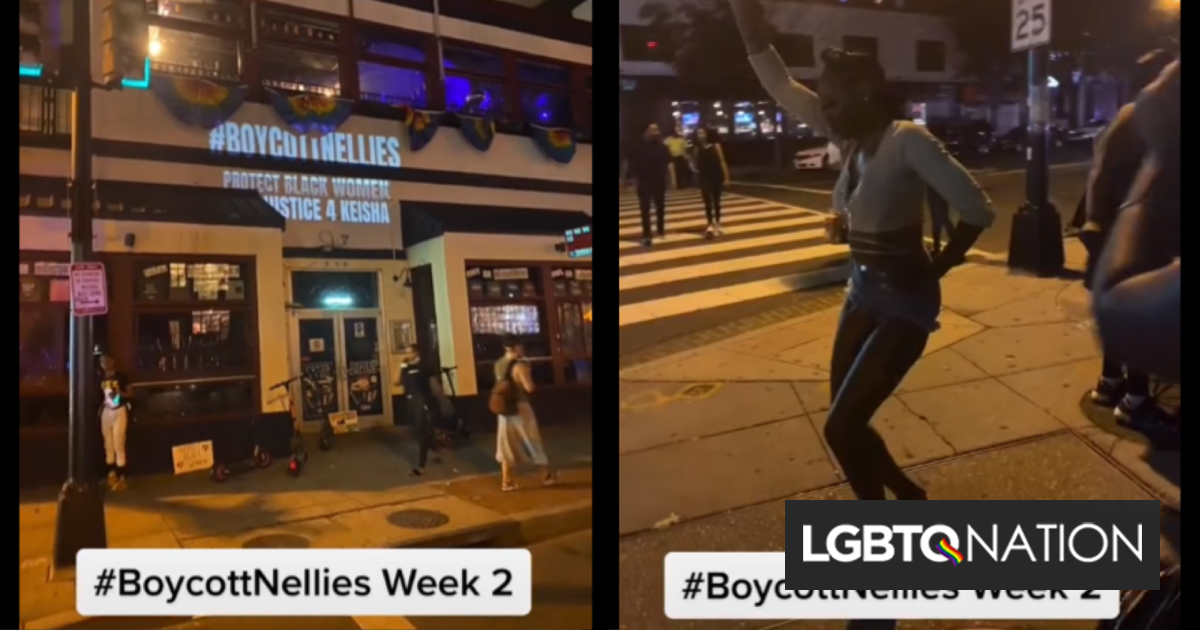 For the third week in a row, community activists in Washington, D.C. held a protest outside of Nellie's Sports Bar after the LGBTQ venue remains under scrutiny because security staff dragged 22 year-old Keisha Young down a flight of stairs by her hair.
The sustained boycott against Nellie's comes as the bar is a party to a hearing that deals with allegations that staff were intoxicated while working the night of the incident.
Related: Uber Eats apologizes for unintentionally outing transgender drivers to customers

The June 12 incident, which was captured on video and went viral, caused the bar to fire their security staff and apologize to all who "witnessed" it, but activists told LGBTQ Nation last week that the bar's owner, Douglas Schantz, refused to apologize to Young and has not returned all of her belongings.
Preston Mitchum, an attorney and activist that is the co-chair for the board of the Collective Action for Safe Spaces (CASS), and is also becoming the co-director of Advocacy and Government Affairs at the Trevor Project, has helped to organize to hold Nellie's accountable.
Mitchum told LGBTQ Nation that it's time for Nellie's to be replaced in the community. "Truth of the matter is, Nellie's is not a queer-friendly bar," he said.
"When violence ensues, and that is often, the staff at Nellie's has treated Black patrons differently than non-Black patrons."
Mitchum believes that "Doug does not want to be held accountable," so "the only answer for them was to close."
Nellie's drew attention in 2018 when the bar flew the "thin blue line" flag. They said they intended to honor police officers who were killed in the line of duty and later apologized for flying the flag that is associated with police brutality against people of color.
Makia Green, the co-conductor of Harriet's Wildest Dream, an abolitionist "defense hub," is one of the leaders of the ongoing rapid response to the incident. They told LGBTQ Nation prior to the first Block Party protest last week that they are seeking four demands from the bar. Those include release of the full security tapes and community-led listening sessions that Nellie's management and ownership must attend.
"It is a known thing to black and brown people that Nellie's is not the safe place," they also told LGBTQ Nation, noting the same "thin blue line" flag incident, but also their record of underpaying Black staff and DJs to play at the venue, the bar's "clear discriminatory practices when deescalating conflict," and, according to Green, their ban on hip-hop music "as a means to decrease the violence."
Footage and photos from the last night's protest Block Party are being shared by hundreds on Twitter and TikTok.
@fatfairygodmuva@harrietswildestdreams #BoycottNellies #releasethetapes #justice4keisha♬ I'm Coming Out – Diana Ross

After the protest, it came to light that the Alcoholic Beverage Regulation Administration (ABRA), Washington D.C.'s regulatory body for businesses providing alcohol, is holding a hearing of an "investigative" nature on June 30.
Nellie's is one of the businesses that will be a party to the hearing, closed to the public, that will discuss "reports concerning ongoing or planned investigations of alleged criminal or civil misconduct or violations of law or regulations."
The Palm Collective, a Black led collective action organization, and other activists have encouraged Nellie's patrons to file complaints with the ABRA regarding the incident. Harriet's Wildest Dreams said that this hearing is caused by complaints from patrons that staff on duty at the time of the incident were intoxicated the night of the incident.
@frankieccentricReply to @frankieccentric #nellies #lgbtq #boycott #pridemonth🏳️‍🌈♬ Monkeys Spinning Monkeys – Kevin MacLeod

Protestors were further enraged by Nellie's decision to take down the Progress Pride flag last week as the first Block Party took place.
Nellie's initially closed for a week after the incident and pledged to pay their non-security staff throughout the closure. They have remained closed for another week and it is unclear if, or when, they'll reopen. Schantz nor the bar have responded to requests for comments over the last two weeks from LGBTQ Nation.
Mitchum has said that he hopes patrons looking for a gay or queer-friendly bar will consider Mr. Braxton's Bar and Restaurant, Hook Hall, BIN 1301, and Fireplace instead.
Many explained their attendance at the Block Party and their issues with Nellie's to video journalist Chuck Modi. People partied and danced on U Street, a popular Northwest DC block, all night.
@fatfairygodmuvaQueer as In Fuck Nellies #boycottnellies #justice4keisha♬ original sound – fatfairygodmuva

Actual Story on LGBTQ Nation
Author: Juwan J. Holmes